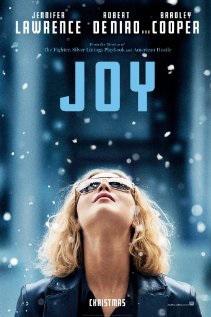 Director: David O Russell
Writer: David O Russell (Screenplay) David O Russell, Annie Mumolo (Story)
Starring: Jennifer Lawrence, Robert De Niro, Bradley Cooper, Edgar Ramirez, Diane Ladd, Virginia Madsen, Isabella Rossellini
Plot: Joy is the story of the title character, who rose to become founder and matriarch of a powerful family business dynasty.
There may be spoilers the rest of the review
Verdict: Interesting Story But Not Enough
Story: Joy starts with her grandmother Mimi (Ladd) introducing us to the family, her daughter Terry (Madsen) who is obsessed with soap operas, while Joy (Lawrence) always the extra creative still ends up with an air hostess job. Joy still lives with the rest of her family including her ex-husband Tony (Ramirez) as her estranged father Rudy (De Niro) needs to move back in.
Joy tired of just getting by she wants to bring back her ideas from her childhood and start making an invention that could stop her family from ever having to worry again. Joy starts by trying to build a new design for a mop with the support of all her family but can she make an impact in the industry.
Joy is a good story that shows how important it is to not give up while chasing a dream, I do like where this shows how determined Joy was but I would've liked to have seen more from after the events in the film showing more than we got. Making a movie about selling mops isn't ever going to be easy and this falls to really pull us in enough to make us interested in what is happening.
Actor Review
Jennifer Lawrence: Joy was always a creative person but life just seemed to hold until final she decides to take the risk a try and make something that could change the world, she creates a mop and along with her father she tries to sale this into the world where she goes to make a future for her family. Jennifer is great in this role as the strong woman.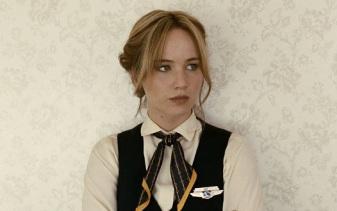 Robert De Niro: Rudy is Joy's father and a business man himself, when she wants to go into business he stands with her to try and make this happen. He isn't sure with every decision but doesn't want to let his daughter down. Robert is on this film but doesn't get too much screen time to really shine.
Bradley Cooper: Neil Walker is the sales manager at QVC who takes a chance on Joy's idea by putting in on his network, he respects her aggressive approach and lets her be the one to sale the product. Bradley is only in a supporting role but doesn't get enough screen time to have enough important impact.
Edgar Ramirez: Tony is the ex-husband of Joy but the two are still close friends, he lives in the basement and helps with the business and is the one who introduces her to Neil. Edgar is good but I would have liked to have seen more from him as he looked interesting.
Support Cast: Joy has a good supporting cast but I feel we could have seen more from all of them.
Director Review: David O Russell – David doesn't give us enough for what we know he is capable from behind the camera.
Comedy: Joy is classed as a comedy?
Settings: Joy uses the settings to make us feel like we are in the same time period.
Suggestion: Joy is a film to try as we get to learn about the woman herself Joy. (Try It)
Best Part: Lawrence is brilliant.
Worst Part: Would have liked to have seen more.
Believability: Based on the real lady.
Chances of Tears: No
Chances of Sequel: No
Post Credits Scene: No
Awards: Nominated for 2 Golden Globes
Oscar Chances: Lawrence could get a nod but that is it.
Budget: $60 Million
Runtime: 2 Hours 4 Minutes
Overall: Selling a mop movie, well this isn't going to be that bad but not interesting enough
Rating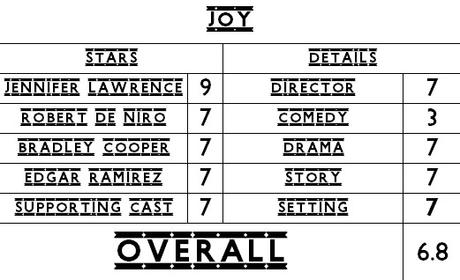 Advertisements
&b; &b;