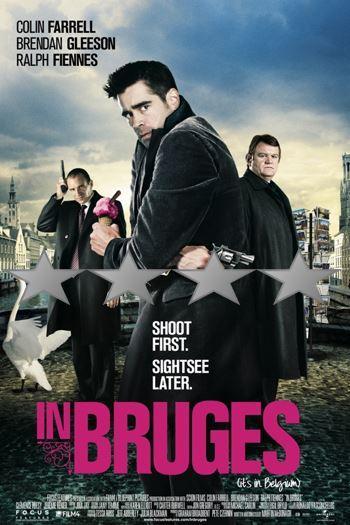 Director: Martin McDonagh
Writer: Martin McDonagh (Screenplay)
Starring: Colin Farrell, Brendan Gleeson, Ralph Fiennes, Ciaran Hinds, Zelijko Ivanek, Clemence Poesy
Plot: Guilt-stricken after a job gone wrong, hitman Ray and his partner await orders from their ruthless boss in Bruges, Belgium, the last place in the world Ray wants to be.

Tagline – Shoot first. Sightsee later.
Runtime: 1 Hour 47 Minutes
There may be spoilers in the rest of the review
Verdict: Brilliant Comedy
Story: In Bruges starts when Ray (Farrell) and Ken (Gleeson) must leave London after a job goes wrong, they must head to Bruges where they must wait for instructions from their boss. Ray hates being in Bruges he sees it has a boring horrible place, while Ken is loving the idea of being a tourist.
When Harry (Fiennes) gives Ken the next job, which is to eliminate Ray for his error, while Ray gets involved with low level criminal Chloe (Poesy). Ken must give Ray the best send off before the difficult moment of his life happens.
Thoughts on In Bruges
Characters – Ray is a hitman that has made an error on the latest job when a stray bullet kills a little boy, he is filled with guilt for the death, he hates being in Bruges and always gets himself into trouble while trying to keep a low profile. We can see by his actions just how guilty he is feeling about what happened too. Ken is the partner to Ray, mentor if you like, he bought him into the world and is the connection to the boss, he loves the sightseeing in Bruges, he is put in the difficult position of needing to eliminate his partner and doesn't want to go through with it. Harry is the boss that just wants loose ends cleaned up, seeing that Ray made a mistake, he ends up needing to get his hands dirty if he wants to get rid of the problems. Chloe is a dealer working around a movie set, she wins Ray's heart giving him the only beacon of light in his life.
Performances – Colin Farrell shows us here just how good he can be in a mix of comedy and unsettling behavior that he finds himself needing to put his character through. Brendan Gleeson is wonderful to watch too, while Ralph Fiennes proves once again that he can become a full-blown psychotic character with ease. The rest of the cast do add to the comedy we go through during the film.

Story – The story follows two hitmen in hiding after a job goes wrong while their boss decides what to do next, which is kill Ray for his mistake. We get to see how mixed the two are about being in Bruges with one loving and other hating it which plays into the tourist vibes we are meant to feel with the trip. We get religious elements in this film too which play into just where the two will go once their lives are over and what punishment they should face if they are caught or killed. This is a clever story because it shows us just how each character plays an important part to the final outcome of the film too.
Comedy/Crime – The comedy in the film comes from the reactions of just being in Bruges, they we add in the reaction to seeing a dwarf not wanting to offend him and ends up making things worse. The crime side of the film shows us just the world the three main characters are from being hitmen.
Settings – The film is set in Bruges which is a beautiful city, the setting shows us just how they can play into the comedy in the film because of the men's reactions to the location.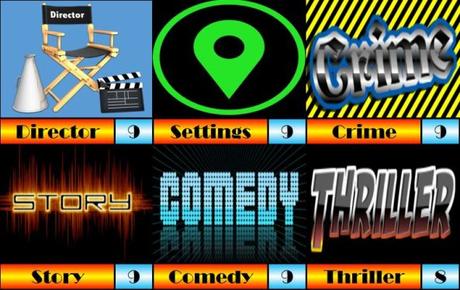 Scene of the Movie – The chase.
That Moment That Annoyed Me – The Canadian side of the film.
Final Thoughts – This is a fun dark comedy that isn't afraid to hold back on just where the jokes will come from.
Overall: Deliciously Dark Comedy.
Rating