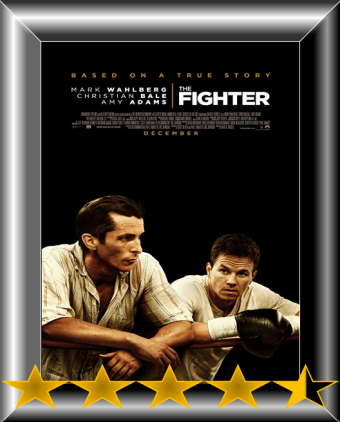 Director: David O. Russell
Writer: Scott Silver, Paul Tamasy, Eric Johnson (Screenplay) Paul Tamasy, Eric Johnson, Keith Dorrington (Story)
Starring: Mark Wahlberg, Christian Bale, Amy Adams, Melissa Leo, Jack McGee, Melissa McMeekin, Bianca Hunter
Plot: Based on the story of Micky Ward, a fledgling boxer who tries to escape the shadow of his more famous but troubled older boxing brother and get his own shot at greatness.

Tagline – Every dream deserves a fighting chance.
Runtime: 1 Hour 56 Minutes
There may be spoilers in the rest of the review
Verdict: Brilliant
Story: The Fighter starts as we meet Micky Ward (Wahlberg) as he is preparing to follow in his brother's footsteps Dicky Eklund (Bale) with a camera crew following them around because this is meant to be Dicky's big return to the boxing world after his famous win as Sugar Ray Leonard.
Micky is meant to have an easy win fight, but a surprise change leaves him defeated once again, he starts to date Charlene (Adams) a local bar maid, who pushes him into standing up to his pushy family of Dicky who is always at a crack house and his mother Alice (Leo) that always believes she knows what is right for Micky, can he still create his own chance or not.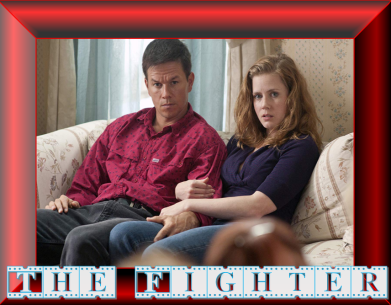 Thoughts on The Fighter
Characters – Micky Ward is the uprising boxer who is preparing for a big fight, he is trained by his older brother who has his own addiction, Micky lets his family guide him, mostly down the wrong roads, he meets a new woman in Charlene that helps him push back to restore his family's name. Dicky is the older brother and former boxer, he feel out of the spotlight with his drug addiction and is looking to bring his brother into the light by being his trainer, the problems start by the fact he can never arrive on time and is letting his drug addiction control his life, breaking the law to try and do the right thing. Charlene Fleming is barmaid that Micky falls in love with, she tries to help him go after his own path instead of letting his family hold him back. Alice Ward is the mother of the boxers, she is their manager, but doesn't always have their best interest in mind
Performances – Mark Wahlberg gives one of his career best performances of his career here, he doesn't turn to any of the wise cracking which is often his trademark either. Christian Bale once again proves he can adapt to any role which will see him do a body transformation. Amy Adams and Melissa Leo complete the brilliant performances in this film which shows us just how talented this cast truly is.
Story – The story here follows Micky Ward the brother of a former professional boxer that is looking to make his way to the top in boxing too, he is being held back by his controlling mother and fame seeking crack addict brother, until his girlfriend comes along to help put him back on the right path. This is based on the real boxers from the mid-90s and how they had to overcome their own personal problems to make it in boxing, we do a follow more of the family drama behind everything, how Micky was torn between who to take help from and how Dicky was full of himself due to his addiction. This does show us just how family can take life in negative directions if you let them take over your own potential if you let them and finding your own path can make you a success.
Biopic/Sports – The biopic side of the film shows just how difficult it can be to live in the shadow of a former professional and follows the family who have been through a lot, meaning the fighting is now for family honor. The boxing is limited till the final fight which is the longest any fight last and shows just how realistic you can be on the body.
Settings – The film uses the settings that the family is from a very close neighbourhood which idolises Dicky and want to be behind Micky on his rise, they help each other and support their local heroes.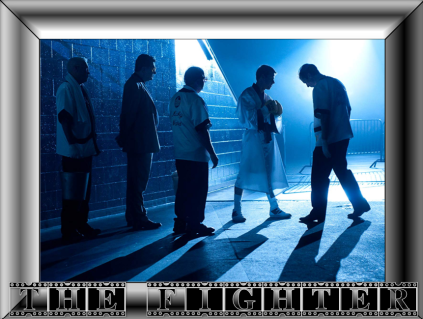 Scene of the Movie – Title fight.
That Moment That Annoyed Me – You could have seen more from the recovery process for Dicky.
Final Thoughts – This is an excellent fighting drama that shows how family can be the best and worst part of any boxer's life when they are going to try and make history.
Overall: Brilliant drama.