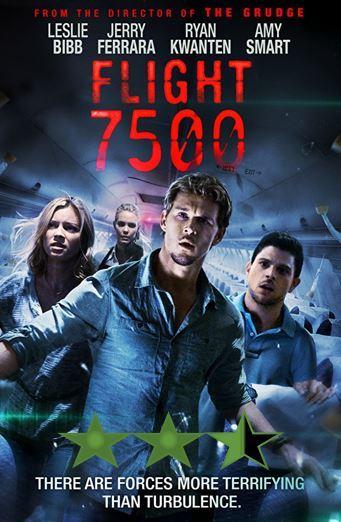 Director: Takashi Shimizu
Writer: Craig Rosenberg (Screenplay)
Starring: Ryan Kwanten, Amy Smart, Leslie Bibb, Jamie Chung, Scout Taylor-Compton, Nicky Whelan, Jerry Ferrera, Christian Serratos
Plot: Flight 7500 departs Los Angeles International Airport bound for Tokyo. As the overnight flight makes its way over the Pacific Ocean during its ten-hour course, the passengers encounter what appears to be a supernatural force in the cabin.

Tagline – At 30,000 feet. There's Nowhere to Run
Runtime: 1 Hour 37 Minutes
There may be spoilers in the rest of the review
Verdict: Tries too Hard
Story: Flight 7500 starts by letting us meet the crew Laura (Bibb), Suzy (Chung) and Captain Pete (Schaech), along with the passengers including couples Brad (Kwanten), Pia (Smart), Liz (Whelan) and Rick (Ferrara) along with a host of singletons Jacinta (Taylor-Compton), Raquel (Serratos) and Jake (Frost) who are traveling from LA to Tokyo on an overnight flight.
When a passenger suddenly dies on the flight, it is only the beginning of a nightmare journey, which brings a supernatural force to the plane, one that nobody is prepared to fight against.
Thoughts on Flight 7500
Characters – Brad and Pia are a married couple looking to take a vacation away from their normal lives, there is some tension between them because of the decision, Brad will help out more during the supernatural phases of the flight as he is prepared for an emergency situation. Laura and Suzy are the two flight attendants, one is having an affair with the pilot, the other is waiting for her wedding day, they are quick to judge the passengers on the flight. We do meet slightly too many characters in this film because we have newlyweds on their honeymoon, a rebellious looking woman, a prankster and a woman worried about her past. By giving us this many characters it makes it hard to learn everything about them.
Performances – We have a cast that are all known actors here, most you might not remember their names, but you will have seen them before, first we have Ryan Kwanten, who like most of this cast is going to get the same problem with their performance, they don't get time to make an impact, we seem to waste Amy Smart getting not enough time to make any impact for her talent. Leslie Bibb is stronger, but only because her character is in the position to be allowed to make a different.

Story – The story follows the passengers and crew of a 10 hour flight that start getting haunted by a supernatural presence mid-flight causing them to need to figure out what is going on before it is too late, with nowhere to run. This story does end up throwing us into a mystery about what is happening, which doesn't really get solved by the characters on the plane, only to end up trying to turn to a big reveal on the truth, which feels more like a cop out leaving too many unanswered questioned in the story.
Horror/Mystery/Sci-Fi – The horror elements are interesting because we do get to focus on the idea of something supernatural going on, this does dive into the mystery, sci-fi elements of the film because once we learn what the answers are.
Settings – The film is set on a plane which is important because once in flight, there is nowhere our passengers can go and when things start going through the supernatural events.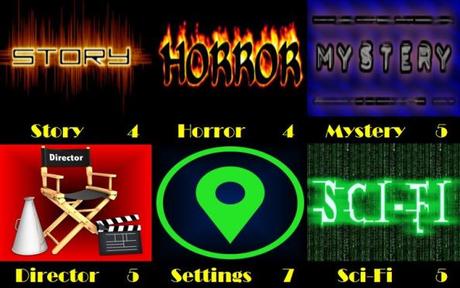 Scene of the Movie – Adding the pieces together.
That Moment That Annoyed Me – It just seems to end.
Final Thoughts – This is a horror mystery which starts off keeping us interested, only for it to run out of ideas and just end suddenly.
Overall: A horror without a true ending.
Rating

Advertisements