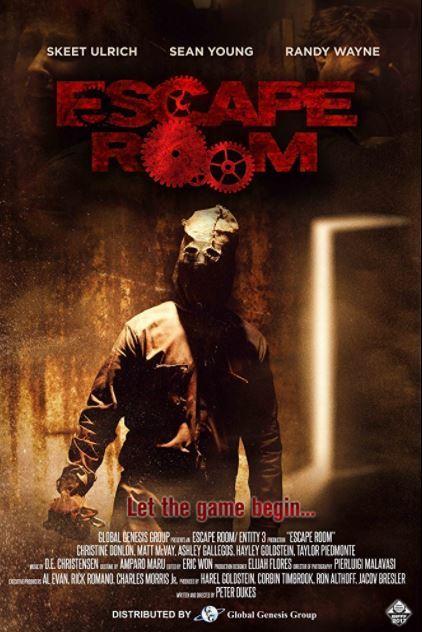 Director: Peter Dukes
Writer: Peter Dukes (Screenplay)
Starring: Skeet Ulrich, Sean Young, Christine Donlon, Randy Wayne, Matt McVay, Ashley Gallegos, Hayley Goldstein
Plot: Six friends test their intelligence in a game that takes a dark turn.

Tagline – Four friends. One room. One hour. One killer.
Runtime: 1 Hour 26 Minutes
There may be spoilers the rest of the review
Verdict: Could be Better
Story: Escape Room starts as four friends Jess (Donlon), Jeff (Wayne), Ben (McVay) and Angie (Gallegos) are taking part in an escape room run by Brice (Ulrich), an experience which will revolve around horror.
As the hour long experience starts, it seems to be going well until the mysterious killer in the room turns out to be a real killer, leaving the friends needing to figure out how to escape before the time runs out.
Thoughts on Escape Room
Characters – Brice is the owner of the escape rooms, he has been struggling of recent times, but with this latest player he hopes to improve his rating. When the camera goes out he is left wondering what will happen to his reputation if he opens the door early or what is going on. Ramona is the owner of the mysterious box which opens the doors for the nightmare. Jess is one of the reluctant contestants in the game because of her boyfriend's eagerness to play, she must use her own puzzle solving skills to make it out alive.
Performances – Skeet Ulrich became a horror icon with his performance in Scream, here he just looked mostly lost in the leading role, because he is meant to be on edge and you never feel it. Sean Young is more of a cameo performance which could have been done by anyone. The younger stars do there best to make an impact and due to the basic characters we never see their performance skills.

Story – The story here shows us what would happen is an escape room experience went terribly wrong, with possession being a key part of this. The problem here is that, this real-time experience doesn't feel real time and having to watch someone on the outside just makes us think lawsuit. The supernatural side is never that believable and by the end this does feel like an easy escape room to get out off.
Horror – Being locked in a room with a killer is always going to throw horror in our faces, this movie shines from that idea, but then it also holds back too much.
Settings – The film is mostly set in the one location, the escape room and if it was only set there I would say this is an excellent use of setting, but seeing events outside just drags us down.
Special Effects – The effects are god enough for the film, we get the basic blood and gore working for the film.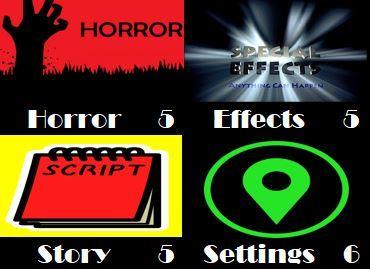 Scene of the Movie – First kill.
That Moment That Annoyed Me – Not enough focus on the real-time events.
Final Thoughts – This would be a good enough late night movie, it is short and sweet which will feed the horror fans enough.
Overall: Late night movie
Rating

Advertisements