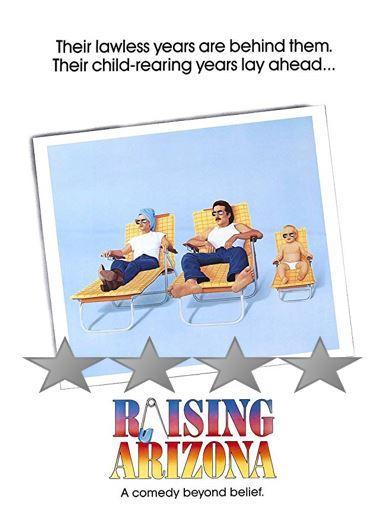 Director: Joel Coen, Ethan Coen
Writer: Joel Coen, Ethan Coen (Screenplay)
Starring: Nicolas Cage, holly Hunter, Trey Wilson, John Goodman, William Forsythe, Sam McMurray, Frances McDormand
Plot: When a childless couple of an ex-con and an ex-cop decide to help themselves to one of another family's quintuplets, their lives become more complicated than they anticipated.

Tagline – Their lawless years are behind them. Their child-rearing years lay ahead.
Runtime: 1 Hour 34 Minutes
There may be spoilers in the rest of the review
Verdict: Laugh Out Loud Comedy
Story: Raising Arizona starts as we meet H.I. McDunnough (Cage) a petty thieve that has a habit of robbing convenience stores, he falls for police officer Ed (Hunter) and after his third spell in prison he decides to settle down with Ed and hope to start a family.
When the couple learn they can't have children, their lives take a turn for the worse until rich businessman Nathan Arizona Sr (Wilson) has 5 babies, believing they can help, they steal one of the babies and the events of the film follows them trying to keep the baby and avoid the law.
Thoughts on Raising Arizona
Characters – H.I. McDunnough has been in and out of prison for the last decade each time getting closer to the arresting officer, deciding he wants to go clean he gets married and plans to start a family, only for his past to come back and haunt him forcing him to return to the life of crime. He is a character that has fallen into the life of crime and just can't get out of it. Ed is a police officer that hasn't had the best life, she falls for H.I. getting married and wanting to start a family. She learns she can't have child, turning to a life of crime to get her own child. Nathan Arizona Sr is the father of the five babies willing to pay anything to get his son back legally or not. Gale is one half of criminal buddies pairing of H.I. that after breaking out of prison turns to his friend for help.
Performances – Nicolas Cage is wonderful in the leading role, where we see him show moments of his crazy level while giving a performance you will remember. Holly Hunter is great too where we see her create a performance where you feel for the pain and confliction her character goes through. When we look at the supporting cast we do get good performances from everyone that will give us enough to enjoy what we saw.

Story – The story here follows an unlikely couple that decide to take a child because they couldn't have one of their own. We follow the build up to their relationship and focus on how the couple's life had the ups and downs before the incident.  By using a very real situation people could go through by not being able to have children and showing the fact the adoption process isn't the fairest on the people that would offer a good home is important for the film. the hapless events the couple go through adds to the story and as with most of the Coen bothers movies we get lots of arcs that come together to add up to a final act which pts everything together.
Comedy/Crime – The comedy in the film comes from the events that the couple must go through, usually coming from H.I. actions in what is a crime world where he is a petty criminal taking any advantages he can.
Settings – The film takes us to the open America where money would be tight leading to the mistakes being made by the people who are just desperate for anything to come their way.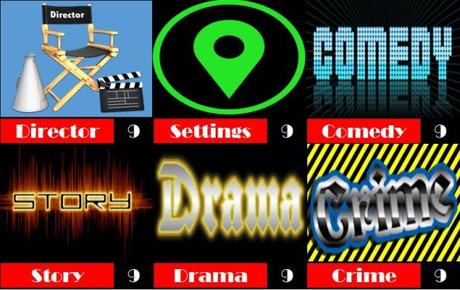 Scene of the Movie – The diaper chase.
That Moment That Annoyed Me – The baby forgetting scenes.
Final Thoughts – This is a classic crime comedy that shows us just how talented the Coen Brothers are, we get to see the best of Cage and a story which can be enjoyed by all.
Overall: Crime Comedy that is a must watch.
Rating

Advertisements