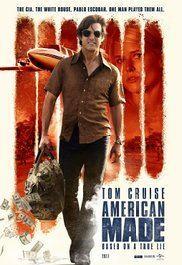 Director: Doug Liman
Writer: Gary Spinelli (Screenplay)
Starring: Tom Cruise, Domhnall Gleeson, Sarah Wright, Jesse Plemons, Caleb Landry Jones, Lola Kirke
Plot: The story of Barry Seal, an American pilot who became a drug-runner for the CIA in the 1980s in a clandestine operation that would be exposed as the Iran-Contra Affair.

Tagline – Based on a True Lie
Runtime: 1 Hour 55 Minutes
There may be spoilers the rest of the review
Verdict: Enjoyable
Story: American Made starts as Barry Seal (Cruise) a pilot gets offered a job by the CIA agent Monty Schafer (Gleeson) to fly over different parts of Northern and Southern America to take photos for the CIA, the job is exclusive but as his family grows with Lucy (Wright) having children, he needs more money.
When one if his flights takes him to South America he meets businessman Pablo Escobar (Mejia) and his partners who recruit him to smuggle drug into America. Before long Barry is getting pushed into other forms of smuggling both to and from America.
   Thoughts on American Made
Characters – Barry Seal was a small-time cigar smuggling pilot before he gets recruited by the CIA to fly over other parts of the Americas to spy, soon he becomes involved in large scale smuggling across America both in and out, he believes he is working in the CIA but always seemed to be getting slightly in deeper than first thought. He struggles to keep his personal life together with his wife and children suffering his sudden changes in location. Monty is the CIA agent that recruits Barry to smuggle, he believes he is in control of the whole situation as he bails Barry out of trouble and gives him the instructions from the American side of the events. Lucy is the wife of Barry that must deal with his lifestyle but once there is a large amount of money involved she embraces the life of luxury for her family. We do have the drug dealing side of the characters that Barry deals with but we only see them in the dealing side of the story.
Performances – This is another Tom Cruise vehicle where he shows just how talent he is, this helps his credibility after the disaster which was The Mummy, this could be his best full ranged acting performance in years. Domhnall is great in his supporting role showing he can work in nearly any genre right now. Sarah Wright is good but we don't get to see enough of her characters struggle or enjoyment of the money.

Story – The story follows Barry Seal and how he went from small-time cigar smuggler into one of the most infamous drug and gun smugglers in modern American history. We follow the events from how he remembers them explaining how he just didn't seem to know how things just kept falling his way but he went with the flow and how the government helped support the international gun trade. This was a lot more interesting that I could imagine showing us just how corrupt the government could be when it needed to be.
Action/Biopic/Comedy – The action comes from how Barry would get the job done, he has edge of the seat moments of when it comes to the flight sequences, the comedy is lightly toned into the story which sounds like a comedy over a real story but seeing the story of Barry Seal and his smuggling makes for an interesting biopic.
Settings – The film does take us across difference parts America to show where Barry ends up going to which all look like the time being presented in the film.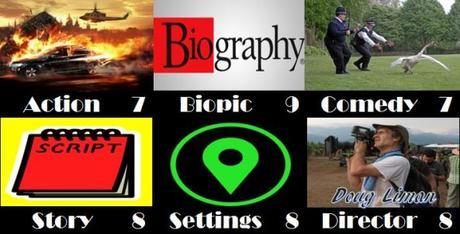 Scene of the Movie – Emergency Landing
That Moment That Annoyed Me – It does make the idea seem like a good thing rather than a criminal in action.
Final Thoughts – This is an entertaining biopic that shows how a smuggler ran a multi-million-dollar organisation that even the government supported.
Overall: Enjoyable movie all around.
Rating

Advertisements