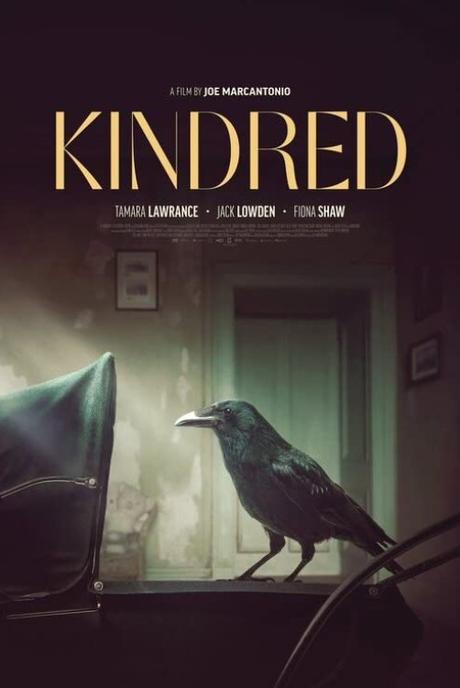 Director: Joe Marcantonio
Writer: Joe Marcantonio, Jason McColgan (Screenplay)
Starring: Tamara Lawrance, Fiona Shaw, Jack Lowden, Edward Holcroft, Chloe Pirrie, Anton Lesser, Kiran Sonia Sawar
Plot: Plagued by mysterious hallucinations, a pregnant woman suspects that the family of her deceased boyfriend has intentions for her unborn child.

Tagline – Mother Knows Best
Runtime: 1 Hour 41 Minutes
There may be spoilers in the rest of the review
Story: Kindred starts when Charlotte (Lawrance) and Ben (Holcroft) are looking to move to Australia to start a new life, only for Charlotte to learn she is pregnant and Ben's family wanting to keep Charlotte in the country.
After an accident sees Ben killed, Charlotte is taken in by his family mother Margaret (Shaw) and overly close family friend Thomas (Lowden), who between them always look to find a way to keep Charlotte leave the home.
Thoughts on Kindred
Characters & Performances – Charlotte is the young woman that is looking to start her new life in Australia with her boyfriend, which will leave her making herself becoming distant to his family until he ends up getting killed after learning she is pregnant. She wants to get back to her life, but his family leaves her needing to stay with them, cutting off her seeing, speaking or contacting any of her friends, becoming obsessed that she has become trapped. She finds herself trapped, alone and away from the world with a family that seems to want more from her. Tamara Lawrance is great in the leading role, showing us just how uncomfortable she feels in each and every scene in the film. Margaret is the mother of Ben, she welcomes Charlotte into her home after his death, wanting to make sure she has everything she needs for the baby. Fiona Shaw does give this character the perfect blend of caring and being creepy. Thomas is the family friend that has always been in Ben's life, he lives in the mansion and does most of the work around the home, he shows more interest that would be expected in the baby coming, like it was his own. Jack Lowden does also give us a disturbing performance where he is both friendly and creepy in each scene.
Story – The story here follows a young woman who finds herself pregnant as her boyfriend is killed in an accident, leading to her finding herself trapped in his family home. This is a story that will take us down the road of seeing someone held against their will by a family, who have everyone convinced they are doing it for the right reason, unlike most stories where there is no communication behind why they are doing it. The story does have affine balance between overprotective and doing the right thing with everyone involved. The one biggest weakness in the story does come from the motivation, which does seem like it leaves everything feeling a little bit empty, as we don't seem to get one.
Themes – Kindred is a horror thriller showing us how one family will look to make the pregnancy of a young woman a nightmare, while explaining it is more for her own good, trying to teach her that they are here to help, while keeping her locked away from everybody. The mansion does take the confined pregnancy storyline in a different direction, avoiding the idea of hidden evils in the world, which are usually used for the story.
Final Thoughts –Kindred is a creepy horror balancing disturbing with unsettling well.