ABC Film Challenge
Anticipated for 2019
E
The year 2018 is coming to a close and it is time to look ahead to the new year, through December the subject is the films I am looking forward to seeing, hopefully I will be able to select one film for each letter even if we dive into actors, directors or themes. Join in if you want and let's get this conversation going about the next hopefully wonderful year in film.
Escape Room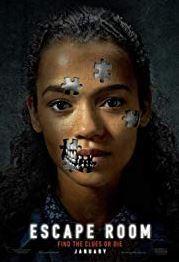 Stars – Deborah Ann Woll, Tyler Labine, Taylor Russell
Synopsis – Six strangers find themselves in circumstances beyond their control, and must use their wits to survive.
The Main Reason I Want to See It – This is one of the first horrors of the year, we have seen two pretty poor escape room horrors in recent years, so it is about time we got one that does feel as special as it should be. This does look like the highest budget of them and the idea of strangers involved only adds a mystery about it.
Release Date (UK) – 1st February 2019
Advertisements