ABC Film Challenge
Anticipated for 2019
B
The year 2018 is coming to a close and it is time to look ahead to the new year, through December the subject is the films I am looking forward to seeing, hopefully I will be able to select one film for each letter even if we dive into actors, directors or themes. Join in if you want and let's get this conversation going about the next hopefully wonderful year in film.
The Best of Enemies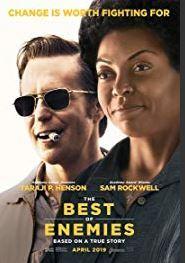 Stars – Taraji P Henson, Sam Rockwell, Wes Bentley
Synopsis – Civil rights activist Ann Atwater faces off against C.P. Ellis, Exalted Cyclops of the Ku Klux Klan, in 1971 Durham, North Carolina over the issue of school integration
The Main Reason I Want to See It – Rockwell, Henson in the leading roles, how can that not be the selling point, well we do have a massive moment in American Civil Rights History being shown to us to. This will continue to show the errors of the ways of the old in America and how they continue to look to improve from their mistakes.
Release Date (UK) – 5th April 2019
Advertisements