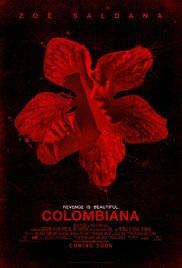 Director: Oliver Megaton
Writer: Luc Besson, Robert Mark Kamen (Screenplay)
Starring: Zoe Saldana, Jordi Molla, Lennie James, Amandla Stenberg, Michael Vartan, Cliff Curtis
Plot: A young woman, after witnessing her parents' murder as a child in Bogota, grows up to be a stone-cold assassin.
There may be spoilers the rest of the review
Verdict: Good Pay Off Action Film
Story: Colombiana starts as a young Cataleya witness her parents murder by Marco (Molla) and his men for Don Luis (Benites) in Bogota, Columbia. Her father gives her the means to escape and Cataleya makes it to America where she reunites with Uncle Emilio (Curtis) who offers to teach her how to be a killer.
15 years later Cataleya (Saldana) is all grown up, she is now an assassin for hire and a brilliant one at that. Cataleya has been making a name for herself as a mysterious unknown killer leaving messages on her victims' bodies, this is against her Uncle's will and finds special agent Ross (James) tracker her down. Can Cataleya keep her secret life away from the authority and get her revenge on Don Luis that is what we are left to guess about.
Thoughts on Colombiana
Characters/Performance – Cataleya is the assassin who witnessed her own parent's murder, she has trained for 15 years to get her revenge but now she must continue to pay the price for wanting to see the people responsible die. She is strong, determined and deadly one of the better assassins we know. Marco is you typical villain that breaks the rules and is willing to do anything to stay on the wrong side of the law. Ross is the agent looking to do the right thing on every step of the way.
Performance wise, Zoe Saldana is always going to make for a beautiful sexy assassin, Jordi Molla is fine throughout but isn't used as much as you would think, and Lennie James is good as you would expect in a law role.

Story – A young girl that witness's parent's murder and turns into an assassin to get revenge, this has been done before and is a classic tried and tested formula for the genre which I feel does get the good pay off here without being the greatest in the genre. There isn't too much we need to see for it to be new but what the hell it is fun.
Action/Crime – The action is plenty of shooting with bullets and bodies flying around, this is all good fun and having the assassin revenge angle also works.
Settings – The settings are all what you would have come to expect from the genre without being anything original.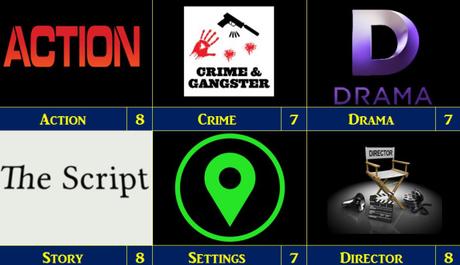 Final Thoughts – This is a good watch, it checks all the boxes without needing to make you think about what is going on.
Overall: Sit back and enjoy the action.
Rating

Advertisements