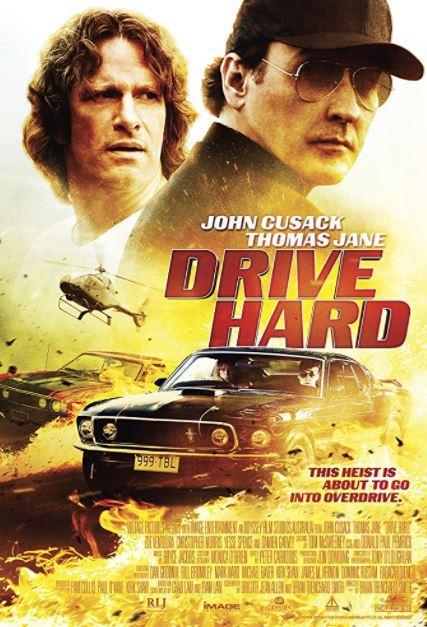 Director: Brian Trenchard-Smith
Writer: Brigitte Jean Allen, Brian Trenchard-Smith (Screenplay) Chad Law, Evan Law (Story)
Starring: John Cusack, Thomas Jane, Zoe Ventoura, Christopher Morris, Yesse Spence, Jerome Ehlers
Plot: A former race car driver is abducted by a mysterious thief and forced to be the wheel-man for a crime that puts them both in the sights of the cops and the mob.

Tagline – This heist is about to go into overdrive.
Runtime: 1 Hour 32 Minutes
There may be spoilers the rest of the review
Verdict: Enjoyable Switch Your Brain off Movie
Story: Drive Hard starts as we learn that former race car driver Peter Roberts (Jane) who runs a driving school is struggling with money as his wife Tessa (Spence) pushing him to take on a new job. When Peter goes for his client it turns out to be American Simon Keller (Cusack) who ends up robbing a bank, forcing Peter to be his getaway driver with cops, feds and gangster chasing them through the Australian countryside.
Thoughts on Drive Hard
Characters – Peter Roberts is a former winning race car driver that is now struggling to keep his driving school open, he finds himself being selected by Keller to be his getaway driver, where he finds that he is trapped in the middle of a crime needing to work with Keller even though he wants nothing to do with the crime. Keller is the seasoned criminal who forces Peter to be his getaway driver, he tries to make Peter a more forward thinking person, as the two end up on buddy comedy level. Agent Walker is the standard fed who is trying to investigate the robbery, we learn very little about her.
Performances – Thomas Jane is good in a role where he gets to play against the usual strong character we have gotten used to seeing him in and he does work well with the unhinged performance from John Cusack. The rest of the cast as fine without being anything special or memorable.

Story – The story follows a criminal that makes a former racing driver become his getaway driver and over the course of the robbery they become unlikely friends as the whole of Australia is in search for the two. The two together is great entertainment to watch, but most of the other characters just seem to be in something that can only be described as a series of adverts because the story gets dull with them.
Action/Comedy/Crime – The action involves a couple of good chase sequences including one around a city on the Gold Coast of Australia, the comedy comes from the two men working on different sides of the crime as they must learn to work together to escape.
Settings – The film is set in Australia which is new and refreshing from the usual America setting for a similar story.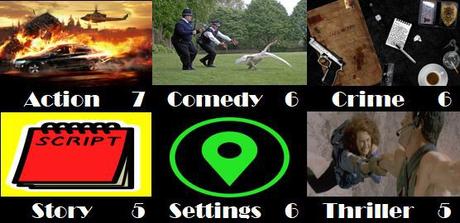 Scene of the Movie – First getaway chase.
That Moment That Annoyed Me – The lack of importance about the rest of the characters.
Final Thoughts – This is a standard enjoyable action movie that doesn't have too many brains but will entertain from start to finish.
Overall: Action movie 101
Rating

Advertisements