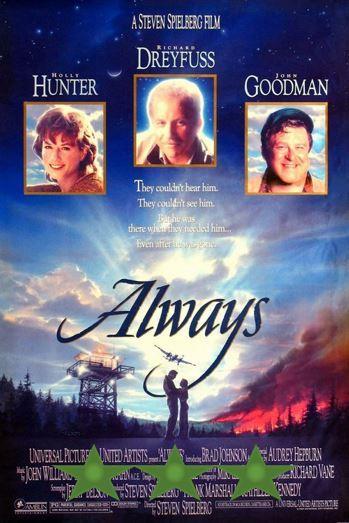 Director: Steven Spielberg
Writer: Jerry Belson, Dalton Trumbo, Frederick Hazlitt Brennan (Screenplay) Chandler Sprague, David Boehm (Story)
Starring: Richard Dreyfuss, Holly Hunter, Brad Johnson, John Goodman, Audrey Hepburn, Roberts Blossom, Keith David
Plot: The spirit of a recently deceased expert pilot mentors a newer pilot while watching him fall in love with the girlfriend that he left behind.

Tagline – They couldn't hear him. They couldn't see him. But he was there when they needed him… Even after he was gone.
Runtime: 2 Hours 2 Minutes
There may be spoilers in the rest of the review
Verdict: Fantasy Romance 101
Story: Always starts as we see how daring pilot Pete Sandich (Dreyfuss) is when it comes to dealing with fires from the air, he always risks his life, but now he has fallen in love with Dorinda (Hunter) he must start to think about his future, Pete takes one last rescue mission which sees him save his best friend Al's (Goodman) life, only to get killed in the fire.
Pete returns as a ghost 6 months later, here he gets to see Al following through with the training idea, where he new batch of trainees include young pilot Ted Baker (Johnson) who is trying to get back into the game. Pete witnesses Dorinda still dealing with his death and the broken promise he made and ends up helping Ted give her the happiness she deserves.
Thoughts on Always
Characters – Pete Sandich is a daredevil pilot that risks his life putting out fires, his girlfriend wants him to take a safer job which he promises to do, until his last call sees him killed in action. He does return as a ghost watching over a new pilot, his best friend and the woman he loved, where he gets watch and guide them to become happy with the rest of their lives. Dorinda is the woman Pete loved, she worked at the airport and is just as good a pilot, she wants to move into a safer role still involving planes which doesn't go as planned, she is left filled with loss until Ted brings new light to her life. Ted is a pilot who is trying to get back into the game after problems in his past, he meets Pete when he is alive, only to try and track down Dorinda because he had fallen for her on the moment they met. Al is the best friend to Pete who had seen his friend save hi life only to lose his own in the process. He doesn't like Ted because of his reckless behavior and is easy to trick.
Performances – Richard Dreyfuss in the leading role is good through the film, we get to see how much off an emotional impact seeing the woman you love move on with their life after they die can have on a person. Holly Hunter is good too as we get to see how the grief can be shown while being hidden through new emotions of happiness. Brad Johnson is the weakest of the main four because he just lacks the charm you feel the character requires. John Goodman gives us the light-hearted moments in the film which shows us his comic timing.

Story – The story shows us how the life of an air firefighter can be turned upside after his death, his loved ones must cope without him and his ghost visits to help keep a young pilot on track and make sure his former love lives the rest of her life happy. This film does have the heart it wants to give the characters, only for it to lack the fantasy elements you want to be seeing, it wants to explain how the promises will be broken and the regret we have from breaking them will tear you up in the afterlife.  We try to have some sort of message about being able to saw goodbye, but it is completely overplayed through the film falling into the average material we have seen before.
Fantasy/Romance – The fantasy elements of the film revolve around how Pete can watch over his loved ones and finds a way to push people into following certain actions to get where they want to be. The romance shows the undying love that Pete will have for Dorinda that will stay with him even after passing on.
Settings – The film keeps most of the action around an airport or in the air showing us just how intense the firefighting can be from the skies and how the bond between the people on the base will be strong throughout.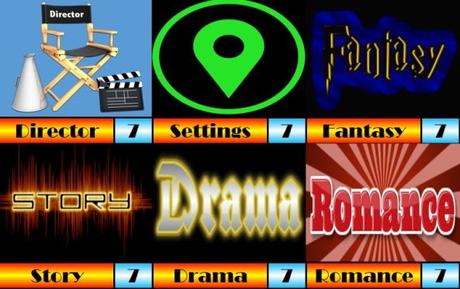 Scene of the Movie – Dorinda's flight.
That Moment That Annoyed Me – It doesn't feel as fantasy based as it wants to because we should have a lot more of the maybe seeing each other moments.
Final Thoughts – This is a fantasy film that wants to give us hope of an afterlife, where someone will watch over you when they are gone, it doesn't hit the marks it wants to only feeling disappointing, while enjoyable at the same time.
Overall: Fantasy made simple.
Rating