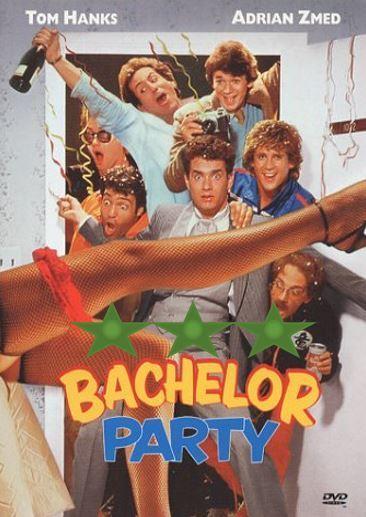 Director: Neal Israel
Writer: Neal Israel, Pat Proft (Screenplay) Bob Israel (Story)
Starring: Tom Hanks, Tawny Kitaen, Adrian Zmed, George Grizzard, Barbara Stuart, Robert Prescott, William Tepper
Plot: A soon-to-be-married man's friends throw him the ultimate bachelor party.

Tagline – Shocking, Shameless, Sinful, Wicked. And the party hasn't even started.
Runtime: 1 Hour 45 Minutes
There may be spoilers in the rest of the review
Verdict: Wild Party
Story: Bachelor Party starts when Rick (Hanks) announces to his friends, Jay (Zmed), Rudy (Diamond), Gary (Grossman), Ryko (Dudikoff) that he is going to marry his girlfriend Debbie (Kitaen), which means one thing for the guys, a bachelor party. Rick is trusted by Debbie, but her father Ed (Grizzard) doesn't like him and wants his selection Cole (Prescott) to marry his daughter.
With the bachelor party underway, the boys think they are going to have a couple of strippers, few drinks and a good time, only for Cole to bring problems to the party in his attempts to break up the couple, meanwhile Debbie is having her own quieter party with her friends, which is also in Cole's plans.
Thoughts on Bachelor Party
Characters – Rick is considered a bit of a slacker, he drives a school bus and hasn't ever put his life into any order, he does however decide to marry his girlfriend against her father's wishes, he is used to getting abused by people who look down on him, though he is the friend that will always be there for a friend in need. Debbie is the future bride, she comes from a rich family which she is tired of the lifestyle that looks down on people and sees the pure nature in Rick. Jay is the best friend that is always trying to get Rick in trouble, he loves to party too. Ed is the father of Debbie, he always looks down on Rick never seeing him as good enough for his daughter and wants to end the relationship before it gets started.
Performances – Tom Hanks is the clear standout in this film, you get to see how he has a different level of acting abilities than most people in the film being able to do the sleazy moments, while bring a human friendship figure to life. The rest of the cast do work for their roles, the party animals work well, the upper-class characters and the one trying to steal the girl work too.

Story – The story here follows a slacker that is going to marry the love of his life, but before he must have a bachelor party which soon gets out of control. This film doesn't have the deepest story, it dives into the idea parents don't always approve of the potential loved ones, your friends will want you have one last mad night before you get married and needing to avoid the person trying to take apart you life. This is everything that we know from the wild party film, it plays out like a checklist without being anything new, but easy to enjoy.
Comedy – The comedy in this film enters us into the wild party, we get to see how things go wrong, they will get us laughing at times even if certain jokes might not have aged well.
Settings – The film is set in a hotel room for the party, we get to see how the guests get themselves into trouble through the night, looking for extra people to join the party.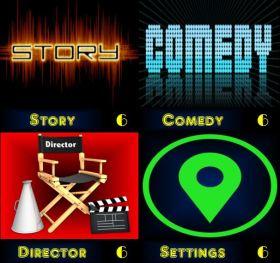 Scene of the Movie – 3D experience.
That Moment That Annoyed Me – The donkey.
Final Thoughts – This is a fun 80s party movie, which bought us an early role from Tom Hanks, it is everything you expect and can be a good time for all.
Overall: Simple, fun and entertaining.
Rating