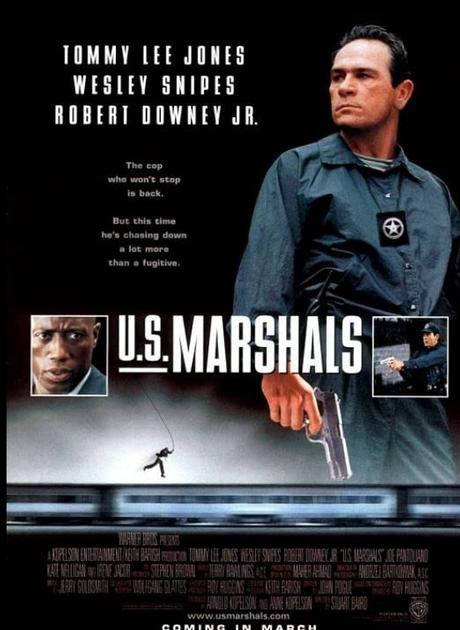 Director: Stuart Baird
Writer: John Pogue (Screenplay) Roy Huggins (Characters)
Starring: Tommy Lee Jones, Wesley Snipes, Robert Downey Jr, Joe Pantoliano, Daniel Roebuck, Tom Wood, LaTanya Richardson Jackson, Irene Jacob
Plot: U.S. Marshal Samuel Gerard and his team of Marshals are assigned to track down Sheridan, who has been accused of a double-murder.

Tagline – The cop who won't stop is back. But this time he's chasing down a lot more than a fugitive.
Runtime: 2 Hours 11 Minutes
There may be spoilers in the rest of the review
Story: U.S. Marshals starts when Mark (Snipes) is arrested for a double-homicide he didn't commit and on his transfer on a prison plane, with US Marshal Samuel Gerard (Jones), the plane crashes, giving him a chance to escape.
With Mark on the run, Samuel puts together his team along with an agent from outside his circle Royce (Downey Jr), who isn't willing to play by his rules. Mark is searching for the truth about the murders he is accused of committing.
Thoughts on U.S. Marshals
Thoughts – U.S. Marshals will see Samuel Gerard return to track down another fugitive free in the US, like the first film, the man is innocent, with his job just to capture the guy before what could be a danger to the world is freed, in his eyes. Much like the first film, we are left with the mystery of what is really going on, with a bigger picture this time. Tommy Lee Jones shines as Gerard, being the dominate leader of the team, while Wesley Snipes was on top of his game in this era of films. The action is just as big, with the plane crash starting things off, before the relentless amounts of chase sequences through different territories looking for answers. The other big plus is that you don't need to have seen the first film, because it is only another story for Samuel Gerard a US Marshal that is assigned to track down criminals.
Final Thoughts – U.S. Marshals is an all out action thriller never giving you a chance to breath.