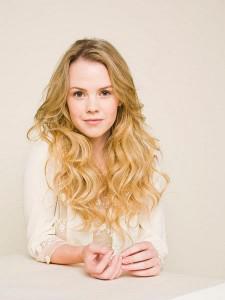 Twice is a charm for Abbie Cobb who just booked a role on True Blood. She auditioned last year for a part on season 4 and didn't get, but this time around she had better luck. On her Facebook page she announced: "OMG y'all…I booked Trueblood. Shoots next week! WIND IT UP!"
So what part will she play? The casting call for episode 3 has 3 possible roles for Abbie.
[LINDSEY] In her 20s, attractive in a small town kind of way, she's fixing a flat tire in a narrow country road when a vampire comes upon her. 1 speech & 3 lines, 1 scene. Co-star.
[MOLLY] In her 20s, bubbly, with a retro Bettie Page/Suicide Girl vibe, "cute as a button if buttons had fangs," she works for the Vampire Authority and outfits two prisoners with complicated deadly devices. Visible tattoos a plus. One-day guest star. Possible recurring.
[DOROTHY] Seen in flashback to 1905, this pretty young prostitute has been glamored and is being drained by two vampires when another vampire saves her. 1 line, 1 scene. This role requires nudity.
Since Abbie looks like such a sweet girl my guess is that she would play Lindsey.