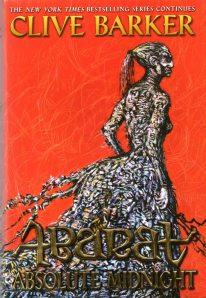 Abarate (Absolute Midnight) by Clive Barker
Harper Voyager, 2011, First Edition (Hardback)
569 pages 
http://en.wikipedia.org/wiki/Absolute_Midnight
BLURB FROM THE COVER 
A dazzling fantasy adventure for all ages, the third part of a quintet appearing at two yearly intervals, richly illustrated by the author. 
The Abarat: a magical otherworld composed on an archipelago of twenty-five islands – one for each hour of the day, plus an island out of time.
Candy Quackenbush, escaping her dull, dull life from the most boring place in our world, Chickentown, USA, finds that in the Abarat she has another existence entirely, one which links her to marvels and mysteries; and even to murder… 
In this, the third volume in Clive Barker's extraordinary fantasy for both adults and children, Candy's adventures in the amazing world of the Abarat are getting stranger by the Hour. Christopher Carrion, the Lord of Midnight, has sent his henchmen to capture her. Why? she wonders. What would Carrion want with a girl from Minnesota? And why is Candy beginning to feel that the world of the Abarat is familiar to her? Why can she speak words of magic she doesn't even remember learning?
There is a mystery here. And Carrion, along with his fiendish grandmother, Mater Motley, suspects that whatever Candy is, she could spoil his plans to take control of the Abarat. 
Now Candy's companions must race against time to save her from the clutches of Carrion, and she must solve the mystery of her past before the forces of Night and Day clash and Absolute Midnight descends upon the islands. 
A final war is about to begin. And Candy is going to need to make some choices that will change her life forever… 
EXTRACT 
ON THE EARLY COAST of Idjit, where two a.m. looked south over the darkened straits toward the island of Gorgossium, there was a house, its facade much decorated, set high upon the cliffs. Its occupant went by the name of Mr. Kithit, and several others besides, but none of the names were truly his. He was known simply as the Card-Reader. The cards he read were not designed for games of chance. Far from it. He only ever used the Abaratian tarot deck, wherein a reader as expert as Mr. Kithit might find the past murmuring, the present in doubt, and the future barely opening its eyes. A decent living could be made from interpreting the way the cards fell. 
REVIEW 
I loved Absolute Midnight. The novel is the third volume in Barker's Abarat series. I also have hardback, first edition copies of the other two books, Abarat and Days of Magic, Nights of War. Absolute Midnight picks up right where Days of Magic, Nights of War finished after Chickentown has been almost destroyed by Izabella, the Abaratian Sea and Candy has discovered Princess Boa has been living inside her head since Candy was born with her soul inside her.
I would like to say a word about the first edition copy of Absolute Midnight before I continue. The hardback contains over 100 prints of paintings Barker created especially for this volume. The book is printed on very thick, glossy paper. The title of the book is embossed on the front cover. Overall, the novel is a very attractive package and well worth the money. It's book demanding to be read. Very impressive.
Absolute Midnight is packed with tension, action and adventure as things really take off. Almost from the start Candy is plunged into chaos. She uses magic to have Princess Boa removed from her mind into a physical body. Too late, Candy realises Boa is a nasty piece of work when she tries to kill Candy and then kills the son of the sorceress who separated them when Candy evades her. One adventure follows another at a dizzying pace. Events are much more space out in Abarat and Days of Magic, Nights of War. Barker gives you more room to breathe in the first two volumes. You barely have time to catch your breath in Absolute Midnight. I enjoyed this much faster pace. Everything that happened in the last two volumes has been leading up to this. Absolute Midnight is much, much darker than the previous two volumes. Hence the title. Christopher Carrion's gran, evil old bitch Mater Motley unleashes an army of darkness on the islands. Queue big battle, massacres and lots of blood and guts. Absolute Midnight contains some truly chilling moments. One of my favorite scenes is when Candy visits her mother in Chickentown in her dreams and is captured by her father, who's lost his mind and formed a church. He has been corrupted by a set of magical Abaratian hats of a nasty piece of work Candy killed. Candy's father and his attempts to remove Candy's memories with an Abaratian machine were truly chilling. There are so many moment I loved and that made me turn the pages over and over again.
One of the best things about Barker's Abarat series is the characters. Absolute Midnight is no exception. Candy becomes a much more mature and stronger character when she expels Boa from her body. Candy's father becomes a true, full blood villain and not just the violent thug who haunts Candy's memories. Mater Motely is every bit as evil as Barker has hinted in other volumes.
Day of Magic, Nights of War was published in 2004, seven years before Absolute Midnight. That's a long wait. I read Day of Magic, Nights of War for the first time not long after it was published. I've forgotten some of what happened in Day of Magic, Nights of War. I found myself getting confused a few times with some of the references in Absolute Midnight to the other volumes. I hope I don't need to wait as long for the next volume or I may need to do some re-reading.
RATING