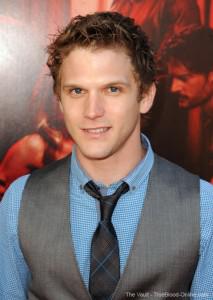 True Blood's Aaron Perilo is one of the new vampire sheriff's, Blackburn who was introduced in tonight's episode 5. Aaron has other interesting projects including a new film called, "In Time."
IN TIME stars Amanda Seyfried and Justin Timberlake with Alex Pettyfer and Cillian Murphy, from the acclaimed writer-director Andrew Niccol ("Gattaca", "The Truman Show", "Lord of War"). Aaron Perilo is also in the cast as the character, "Bell,"  but isn't in this particular clip. The film is scheduled for release on October 28, 2011.
The story is about Will Salas (Timberlake) who is falsely accused of murder, and must figure out a way to bring down a system where time is money — literally — enabling the wealthy to live forever while the poor, like Will, have to beg, borrow, and steal enough minutes to make it through another day.
The clip from the film below, debuted exclusively at Comic-Con 2011.  The film looks like it might be a winner.
source: youtube.com