February 26, 2014
Yahoo: Things had been pretty quiet on the Aaron Hernandez front, as the former Patriots tight end waits for his murder trial. A big reason for that is Hernandez has been kept away from the general population.  Presumably that was for Hernandez's safety as a high-profile inmate, but maybe it was the other way around.  Hernandez was involved in a fight with another inmate at Bristol County Jail, TMZ reported. NBC 10 News confirmed that Hernandez was involved in an altercation.  The TMZ report said Hernandez "attacked" the other inmate, and "beat the guy up pretty good," which we think is a technical term. TMZ said although Hernandez has been kept away from the general jail population, he was allowed to take a walk in an isolated hallway and came in contact with the other inmate, who TMZ said had been harassing Hernandez.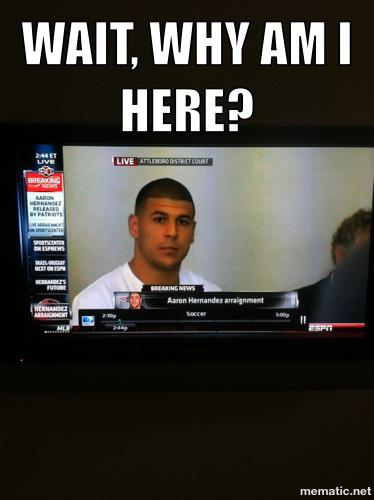 Don't think I wasn't going to take a shot here.  Just too easy.  Bro is basically in lockdown, walked one hallway with a guy who'd supposedly been giving him a hard time (even though he's in a special part of the jail) and beats the hell out of him.
By the way, why the hell would you mess with Hernandez?  Guy is in peak physical condition (at least he was,) is on trial for killing about 100 people and is definitely affiliated with a gang.  On top of that, it's pretty clear he's bat shit crazy.  I'm pretty sure if I saw him walking my way, I'd just smile and keep my mouth shut.
Post navigation
← Apparently Steve Elkington Has Twitter Jokes.