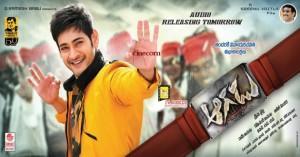 BUY NOW! Atharintiki Daredi Official Merchandise

@CelebOutfit
Enjoy reading cinecorn.com on your Smartphones. Download the FREE App right now.

Android App

/

iOS App
So here we are at the end of the first week of the film Aagadu. What began as a super exciting and keenly awaited box office tracking on Day 1 today has become a joke that no longer is funny. Everyone including the fans have resented to inevitable fate of the film post Sunday. The way the film dropped from Monday it was always going to be difficult to regain momentum, unfortunately for the makers the collections did show momentum but it was in fall. Each day in the weekdays saw a new low for the film.
At the end of the first week the numbers in Andhra Pradesh and Telangana are estimated to be around 19.20Cr – 19.45Cr region. Considering the opening weekend itself was around 16.45 Cr, to then say the first week numbers are extremely poor would be akin to prising the film for its good performance. The film simply collapsed after the weekend.
Keep checking this space as we update the final worldwide numbers for the film later in the day.