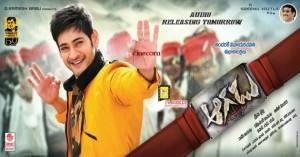 BUY NOW! Atharintiki Daredi Official Merchandise

@CelebOutfit
Enjoy reading cinecorn.com on your Smartphones. Download the FREE App right now.

Android App

/

iOS App
Aagadu starring superstar Mahesh Babu released worldwide in record number of prints, theaters. It came with huge expectations of creating new Day 1 record in Andhra Pradesh & Telangana. So where does it stand at the end of the first day? Well, early estimates suggest that the film is highly unlikely to create the new Day 1 record but it has every possible chance to emerge as the second biggest opener of all time by beating Baadshah.
The collections in the cities were phenomenal for the film as we had reported in our advance booking report. But the smaller centers and Ceded territory in particular and predictability with the talk it has, have come out with lower numbers than expected putting the overall day 1 down. There are few surprises in store as well with the film expected to put up record numbers in unexpected territories, courtesy huge hires with the biggest surprise being Nizam, a strong territory for Superstar Mahesh Babu, not finding place among those.
Early estimates for Aagadu are around 9.7-10 Cr (once again courtesy of huge amounts as hires). Keep checking this space as we update the complete day 1 numbers throughout the day.
Nellore – 0.47 L
West Godavari – 1.01 Cr (including Hires)
Note: These are early estimates and final number could be a little higher or bit lower.