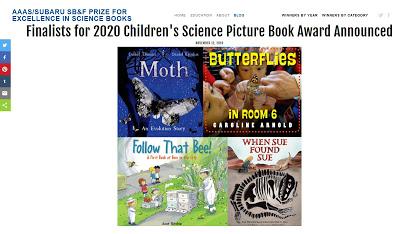 I am happy to learn that
BUTTERFLIES IN ROOM 6
is on the short list for the AAAS/Subaru Children's Science Picture Book Award short list.
AAAS and Subaru are proud to announce the finalists for the 2020 AAAS/Subaru SB&F Prize for Excellence in Science Books in the Children's Science Picture Book category. The Prize celebrates outstanding science writing and illustration for children and young adults and is meant to encourage the writing and publishing of high-quality science books for all ages. Longlists for all four categories were announced in October.The 2020 winner will be selected from among the following finalists.
Butterflies in Room 6: See How They Grow, by Caroline Arnold. Charlesbridge, 2019.Follow a classroom of real kindergartners as they participate in a popular activity: raising butterflies. Astonishing photographs show the life cycle of the painted lady butterfly, from egg to caterpillar to chrysalis to adult. Engaging text captures the children's wonder and explains the science behind metamorphosis.
Follow That Bee! A First Book of Bees in the City, by Scot Ritchie. Kids Can Press, 2019.This playful book mixes narration, facts and appealing illustrations to introduce young children to why the world needs bees, and how people can help them thrive. The book encourages children to look closer at the natural world around them, including in cities, and raises their awareness about how each person can do something to help the environment.
Moth: An Evolution Story, by Isabel Thomas. Illustrated by Daniel Egnéus. Bloomsbury Children's Books, 2019.A clever picture book text about the extraordinary way in which animals have evolved, intertwined with the complication of human intervention. This remarkable retelling of the story of the peppered moth is the perfect introduction to natural selection and evolution for children.
When Sue Found Sue: Sue Hendrickson Discovers Her T. Rex, by Toni Buzzeo. Illustrated by Diana Sudyka. Abrams Books for Young Readers, 2019.From a very young age, Sue Hendrickson was meant to find things: lost coins, perfume bottles, even hidden treasure. Her endless curiosity eventually led to her career in diving and paleontology, where she would continue to find things big and small. In 1990, at a dig in South Dakota, Sue made her biggest discovery to date: Sue the T. rex, the largest and most complete T. rex skeleton ever unearthed.
AAAS will provide resources based the 2020 finalists, and once again the books will be offered to schools across the country as part of the Subaru Loves Learning initiative. Through this partnership between AAAS and Subaru, more than91,000 books were donated in 2019.Winners will be announced in January and awarded at the 2020 AAAS Annual Meeting in Seattle, W.A., February 13-16, 2020.