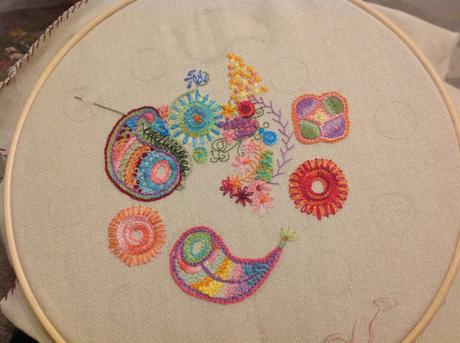 Back in January I shared a new project, called a Year in Stitches and I thought it was time to do an update.
Essentially the idea is that you stitch each day adding to your piece of work. The project is being undertaken by a few thousand people around the world, who all post a picture every Sunday on the Facebook group of their progress to date. Some people are working on proper pictures, some have patterns, and some are more random like mine. Some have already completed one hoop but I am hoping to make the one hoop last all year.
I have released that I'm not very good at random and I need some structure. I decided early on that I would add a flower for each day in the garden or visiting a garden. Since my last post I have also decided to do one of the large circles for each month of the year and I have added two more Paisley fish, one of which is nearly completed.
I am enjoying the project and found it very frustrating when my shoulder and arm were in spasm and I couldn't see for a couple of weeks. The project is making me think about colour and pattern which is good as I have only followed other people's instructions before. This and another project I am working on have given me the confidence to sign up for an embroidery course to help me develop my skills both with stitches and design.
Whilst I am learning lots from the doing what I really like about this project is seeing what others are doing and getting inspiration from around the world.