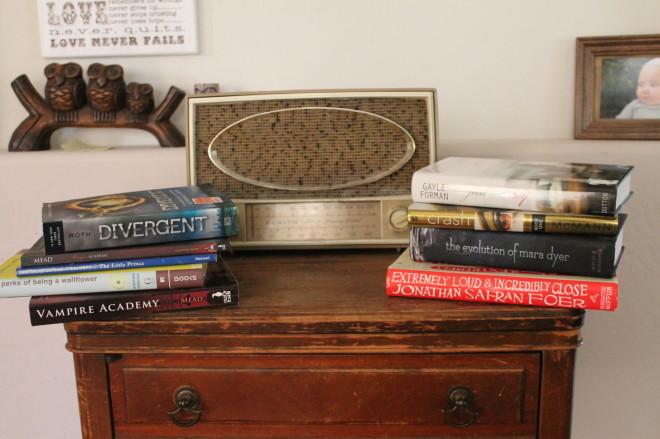 It wouldn't be a book blog anniversary without giveaways (check), the year's favorite posts (check and check), as well as our most popular (check), but we're still missing one thing: a celebration of this year's books!
Until we started doing this blog Justine and I were still avid readers but nearly as involved in the community.  Now all of that has changed!  To visually showcase the fun we've had with our new books we've taken pictures of how we've displayed the books we've acquired this year.
First Justine's: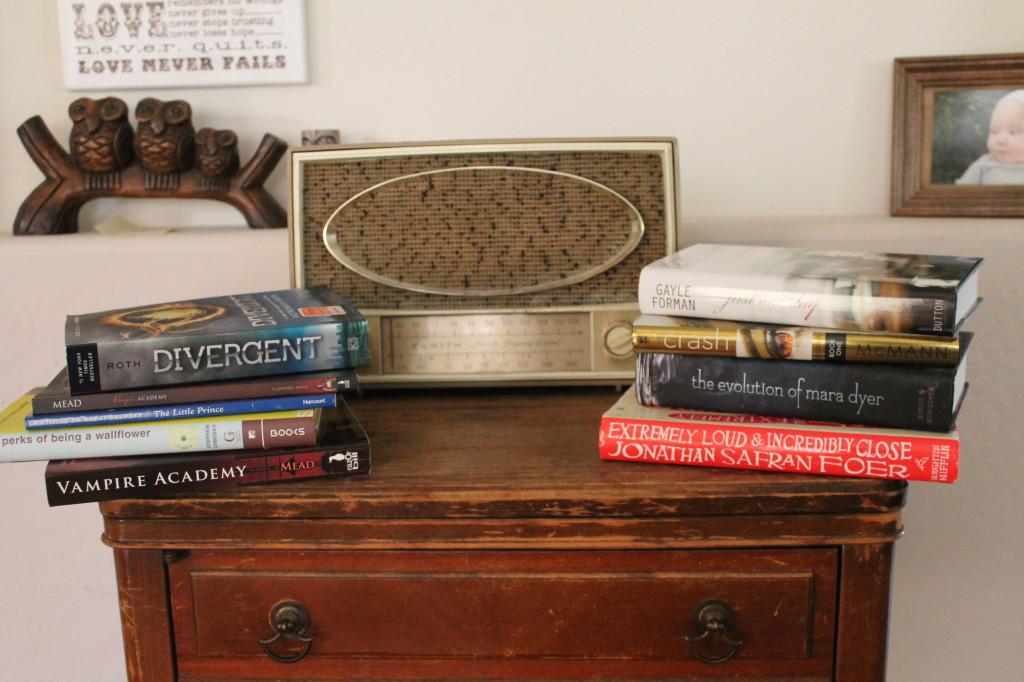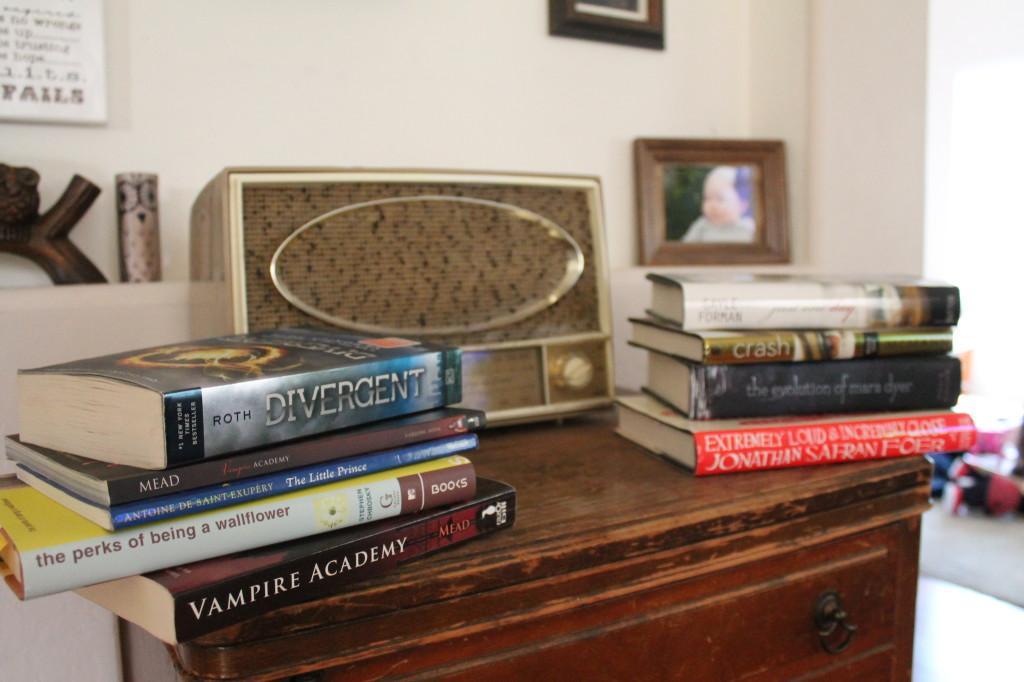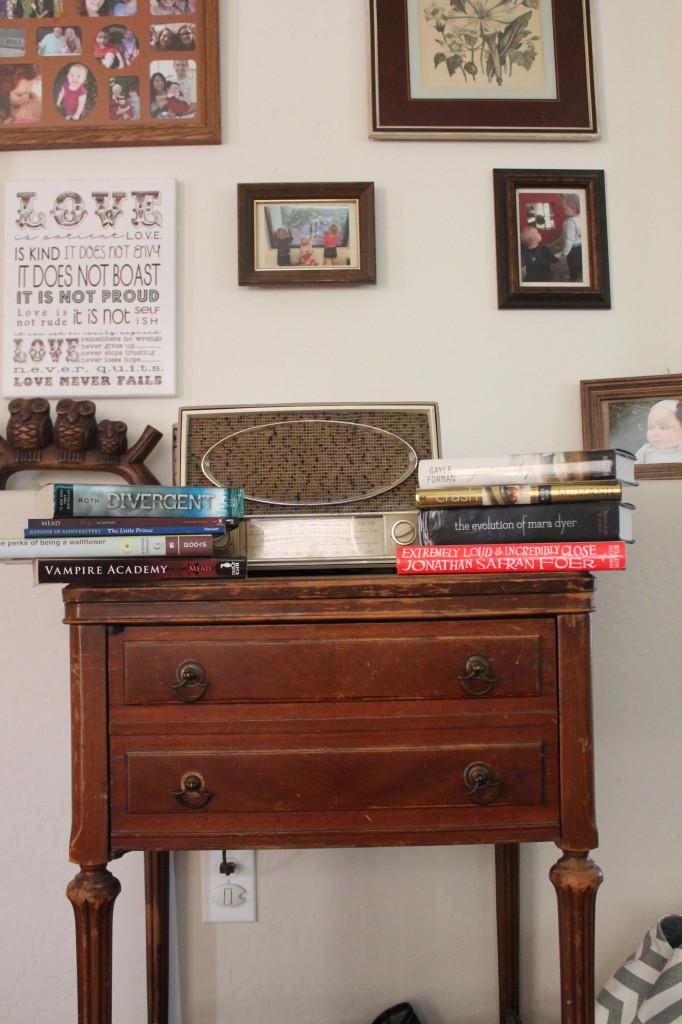 Both the desk (there's actually an antique sewing machine inside!) and the radio are gifts from my grandma.  The books I'm displaying are Divergent by Veronica Roth and Vampire Academy by Richelle Mead (both signed at the Smart Chicks Kick It tour in Las Vegas), The Perks of Being a Wallflower by Stephen Chbosky (signed at Changing Hands Bookstore), Just One Day by Gayle Forman (signed at the Tucson Festival of Books), Crash by Lisa McMann (signed at Changing Hands bookstore), The Evolution of Mara Dyer by Michelle Hodkin, and Extremely Loud and Incredibly Close by Jonathan Safron Foer.  My favorite event of the year was seeing Stephen Chobsky at Changing Hands bookstore.  I also loved the Smart Chicks Kick It tour, but my flight was delayed so that I got there at the very end and only caught the last 15 minutes of the signing.  I wish I could display my signed The Fault in our Stars  by John Green but I can't find it!
And Amanda's books: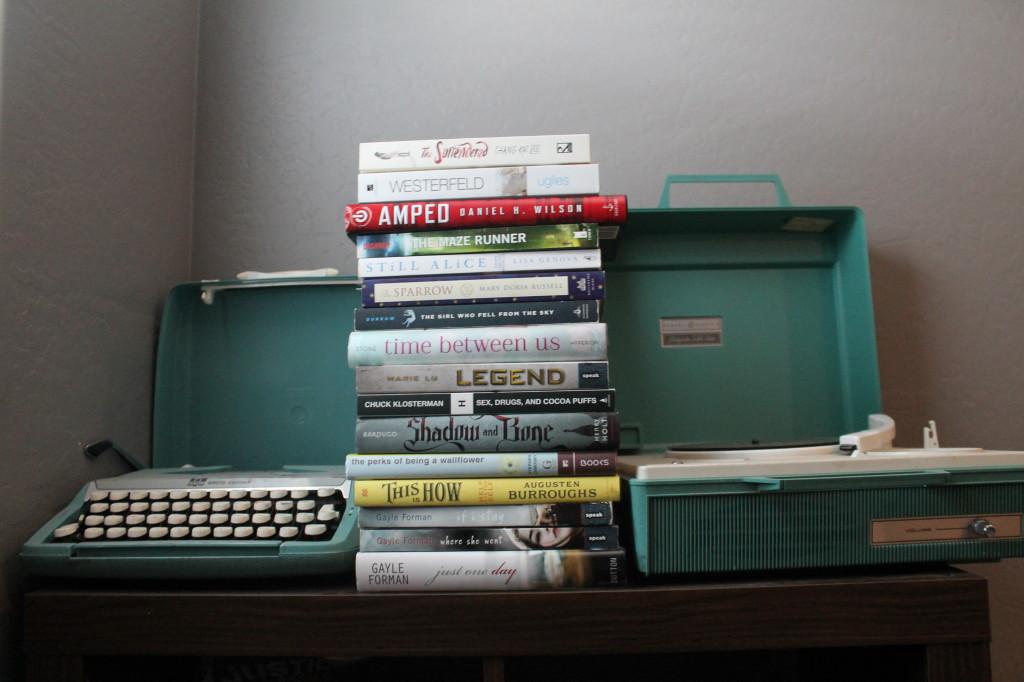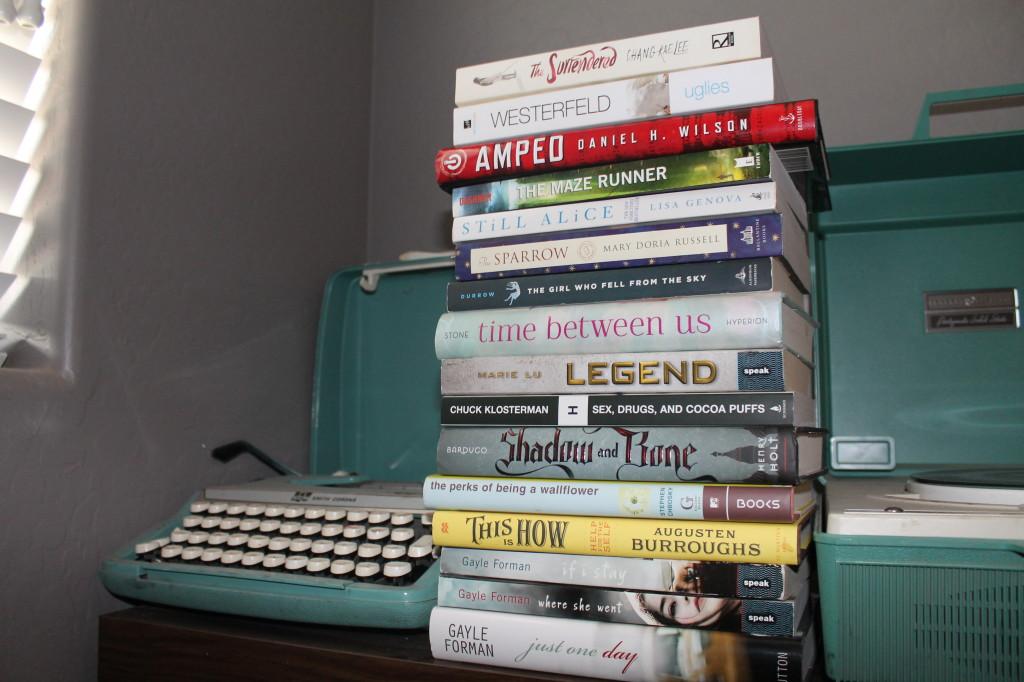 The display I used is a typewriter that my husband got me for Valentine's Day in 2011 that matches the record player he got for Christmas.  I love these little items because their both relics that have been replaced by better technology but have a timeless style.
The first signing I ever went to was right after we started the blog to see August Burroughs at Changing Hands Bookstore.  Ever since then I've been hooked!  I'm featuring many of the same books as Justine (Just One Day, The Perks of Being a Wallflower) I also got to meet these authors at the 2012 San Diego Comic Con: Shadow and Bone's Leigh Bardugo, Legend's Marie Lu, as well as Scott Westerfield and James Dashner.
I'd also have to say that meeting Stephen Chbosky was one of my favorite events (he said I had good fashion!) and I also loved meeting the author of my favorite book The Sparrow, Mary Doria Russell.  Why I haven't done an entire post on that yet is a great question, hopefully one of these days I will get around to it!  I also loved meeting Amped author Daniel H. Wilson.  He was so great in his panel and when I met him in the autograph line he really took his time explaining his story and gave me websites to look at for his backstory.
We're so thankful for the opportunities this blog has brought us and how it's connected us with the author and reader community.  Here's to the next year!