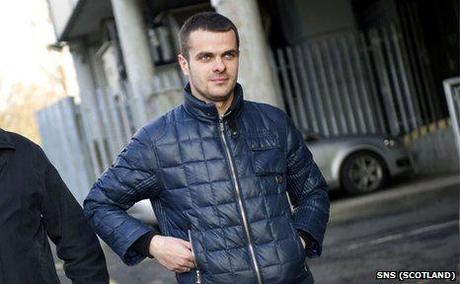 New Striker Pawel Brozek
Celtic completed their transfer dealings with a day to spare as Pawel Brozek joined on loan from Trabzonspor until at least the end of season having already concluded deals for cover in midfield and defence in the Winter window.  Rabiu Ibrahim, a young Nigerian midfielder, has vowed to wow the fans with his flamboyant and skillful game which he models on a hybrid of Zinedine Zidane and David Silva, (a cross between the two would be just fine!) and the view from the manager and my Lennoxtown scout is the boy is something special. Denied any quality game time at PSV, Lennon has taken a worthwhile gamble on the twenty year-old who has received nothing bar glowing reports along the way – and the next few years at Celtic will hopefully be a productive one for player and club.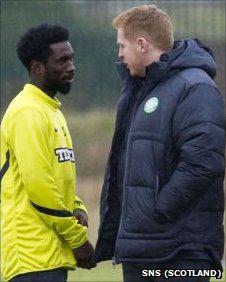 Rabiu Ibrhahim out to impress
Announced back in November, Mikael Lustig was the first player through the door arriving on a pre-contract from Rosenborg. There is still much debate surrounding this right-sided defender given the abundance of riches at the sides disposal in this department – Adam Matthews & Cha Du-Ri are already vying for the first team position, whilst the experienced Mark Wilson and young development player Andre Blackman also work towards a starting role. A fully fledged Swedish international in his prime playing years will not be arriving at Celtic Park for a place on the bench, however comfortable.
There were three heading the opposite direction with fringe youngsters, Paul Slane, James Keatings and Lewis Toshney going on loan to MK Dons, St Johnstone and Kilmarnock respectively for some valuable first team experience. The one disappointing story of the frantic final days proceedings, was that of Mark Wilson and the breakdown of his move to Leeds United. Disjointed & frustrating are words you would use to sum up the defenders spell at the Hoops since joining in 2006 – long-term injuries and rehabilitation being the route cause. And with additional back-up in Lustig his playing days with the Bhoys may now well be at an end. The opportunity of some game time in the Championship on the road back from his latest knee problem would have been essential if Wilson is to ever play competitive football for a sustained period.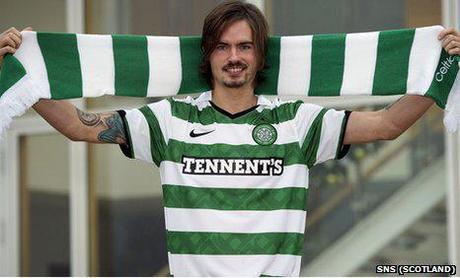 Lustig in the Classic "Signed" Position
The main purpose of this window in my opinion, was for Celtic to maintain their current squad and especially their prized assets such as the striking combination of Gary Hooper and Anthony Stokes.  As I mentioned last month in "When The Saints Come Marching In" http://thebhoymcclay.com/2012/01/18/when-the-saints-come-marching-in/ - No good could emerge from Celtic letting their star striker leave at this point in the season, for any amount of money. Polish international striker, Brozek is waiting in the wings for an opportunity but again, how long will it take to get an understanding with another partner? Will he adapt to Scottish football in the short period he has to impress Lennon before he makes a decision on whether to make his stay permanent? Current squad members, who some may have not lost sleep over moving on to pastures new, such as Samaras and Ki – will prove their worth in the coming months also. Both players have individual styles of play with a lot of fans struggling to comprehend what they bring to the team. The Greek is direct and pacey, meaning the team can quickly switch to counter-attack or when struggling to break down a well parked SPL double decker. The Korean Player of the Year on the other hand, is able to command a game with the ball at his feet – his vision to pick a killer pass or dictate the play when under pressure could be vital.
Growing the side from a position of strength is something relatively new to Celtic, there is usually a diminution or two within the playing staff as has been seen in the last few windows. Rangers on the other hand, have adapted a polar opposite and not only let go of their most prized possession in Nikica Jelavic, but allowed another dozen or so players leave on loan or for good – if Celtic to fail to deliver the knockout punch in the coming months, it would have to go down as the most disappointing and unbelievable league campaigns of recent history. It is sport, human nature and one man versus another and of course, anything can happen – but to have such a dominating & dynamic young squad and positive mental edge, the forecast for green and white ribbons to be fluttering in May looks a sure thing.
55.866070
-4.304078
Advertisement