I'm going to start this with a bit of a confession. I love chocolate.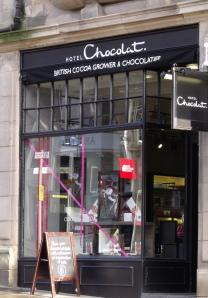 Right, now I've got that off my chest we can move forward. More specifically, move ourselves to Frederick Street (in Edinburgh) where we shall find ourselves standing outside one of the older shop fronts, but one that has just found itself some large plate-glass windows and the modern styling you'd expect to find on some designer boutique. But it's not what you think. It's much more exciting than that, it's Edinburgh's
Hotel Chocolat
! I've been a fan of these lovely people's chocolate for some time now and the prospect of them opening a shop here was greatly exciting. One might even compare my glee to that of a child in the proverbial sweet shop; but this is more than a sweet shop, it's a chocolate shop, and one for grown-ups at that.
As with all things nouveau in town I've wanted to have a look since it opened (back in December), but have struggled to find the time – such a busy social life, what can I say? Ahem… Anyway… I managed to have a quick look in the door the first time I was in town this year, but apart from realising they had a little coffee shop at the back and that it was all rather shiny I got no further. So I enlisted my partner in crime for all things culinary, Mel, and we decided that the 14th was the date for sampling the coffee shop. Then I had to bail. We finally made it last Saturday morning (21st) and, quite frankly, it was not worth the wait.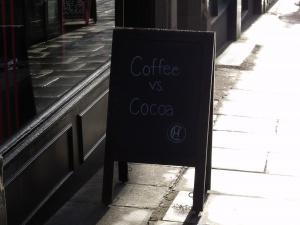 Admittedly they didn't appear to have been open particularly long when we arrived, but as we stood waiting to order, the barista seemed more intent on prodding a paper cup full of something (one would presume chocolate-based) that she proclaimed (to no one in particular) 'had gone a bit solid in the fridge overnight'. One prod should have been sufficient for this deduction, however, Sherlock persisted and then went on to elaborately create make a butchered attempt at two cappuccinos  without so much as an 'I'll get you in a minute'. Not the most ideal of starts, but I didn't want to jump the gun. What was I really expecting? Something resembling Hot Chocolate from the wonderful Polar Express was probably a bit much for a Saturday morning (and the size of the shop), but something a little more professional wouldn't have gone amiss.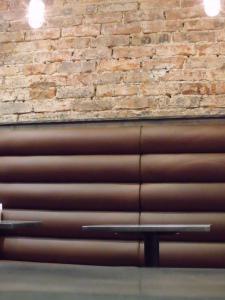 The place isn't exactly what you'd call expansive – it can fit maybe 18 people, if they all stand – so not a place to come with a book and settle down for a morning, but for a shop of that size it's not small. They've gone for a bit of a 'diner-style rustic barn' look for the decor, but it works well. Inviting, but not so comfy that you're not going to want to leave. It also seemed to be a bit of a hot spot for people with young children (I'm not entirely sure why) and several passed through in the 30 or so minutes we were there (accompanied, obviously).
After a fashion our two Chilli Hot Chocolates (£2.75 a piece, served in a somewhat unglamorous branded paper cup) were ready and we sat down to enjoy them. They weren't piping hot (again a subtle hint you're not expected to stay long?), but pretty much just right to start sipping. Whilst picking up on the various problems thus far can easily be put down to being pedantic my major gripe starts here: The chilli flavor started as a barely noticeable 'I'm not sure it's there' background noise and reached the peak of its crescendo as a subtle (very subtle) undertone. To say that we were both disappointed would be a bit of an understatement. So much so that I decided to break the stereotypical 'shuffle your feet, keep your head down and say nothing' approach and as we were leaving went up to the barista (a new one, not our original Sherlock). Now, as the (rather smug) barista helpfully pointed out, I wouldn't want the flavor 'smacking me around the face' – undeniably true – and that some people 'don't like too strong a chilli flavour' (perhaps they should be ordering something else then?) all of which is perfectly reasonable, but personally I'd quite like to easily taste the two flavours that the drink claims to have. And I wouldn't regard that as being selfish or overtly fussy. Also, saying 'oh, well no one else has complained' was not of particular conciliation to me either.
We left somewhat aggrieved.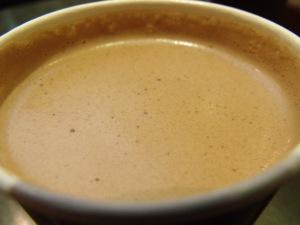 Now, perhaps I am being too harsh. Whilst their competence and customer service was utterly hopeless I should point out that the other member of staff who served me in the shop was very helpful and chirpy (verging on too chirpy for a Saturday morning, in my opinion) and that had my drink just been a plain, ordinary hot chocolate I would probably have been much more up beat. However, it was not. Perhaps they weren't made properly – entirely possible considering the cappuccino making we witnessed – maybe the second barista I complained to was new and unsure of how to handle such a comment, possibly many things; but my over-riding impression of the trip was that I was in a designer shop staffed by Primark's newest trainees. Not what I expected from a company whose mantra of authenticity, ethics and innovation has won them shedloads of fans and critical acclaim and whose chocolate tastes so damn good.
I do want to go again (perhaps I was expecting too much?), hopefully quite soon. And I hope to be able to chalk this trip down to experience, but one thing is for sure next time I want to be as impressed with what I drink as I am with what I buy in their shop.