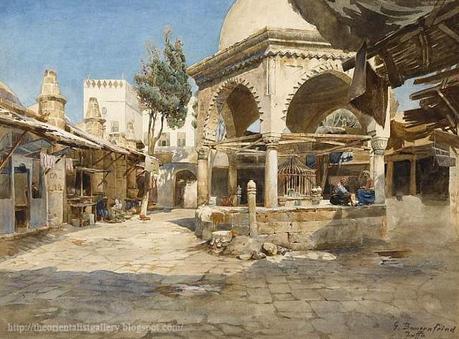 Artist: Gustav Bauernfeind (1848-1904)
Title: A Well in Jaffa (1880)
Medium:Watercolor on papper
Size: 357 x 480 mm (14 x 18 7/8 in)
Bauernfeind visited Palestine and in particular Jaffa in 1880. He wrote a letter
during his stay stating: "Two days before Christmas I took leave from Jerusalem and went to Jaffa, where I arrived in one piece by evening. After the stony wastes of Jerusalem, the luxuriant vegetation of Jaffa impressed me wonderfully, and you cannot conceive the magnificence of the orange gardens with their trees fairly bursting with hanging golden fruit. Although I had to wait for the steamer for several days (over Christmas) I could not get a stitch of work done, as I would be immediately waylaid by acquaintances."
Since Bauernfeind worked with watercolour he was able to quickly make renditions drawings of the sites he visited in Israel.
~
Painting Commissions are Happily Accepted ~
 Layaway Plans are Available!
★Thank you for Visiting!★ 
Join Me on Facebook
~ Return to Portfolio ~ Return to Blog