So it's been a week after Top Drawer London and boy are we exhausted! After two long days of setting up, you probably saw the pictures via twitter (more below) the stand came together and looked great. Our 'Shop by Colour' concept worked really well and allowed us to re-emphasize how we are now arranging and coordinating our products. I think it says, "we love pattern" don't you?!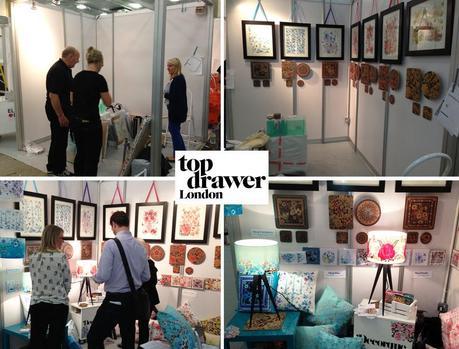 This Top Drawer was continuously busy, I've not seen it like that for a good few years, so it must mean things are on the up for retailers and in-turn small businesses like us! People were interested, taking their time to walk around and even visiting two days in a row.
We had a lot of interest from Interior Designers, other online market places, individual gift shops and many more. Our 'Products that sell' were definitely the orange color range of items, like the Earth Display cards, cushions and lampshades, but also our more trend-led black and white tropical prints caught buyers eyes too!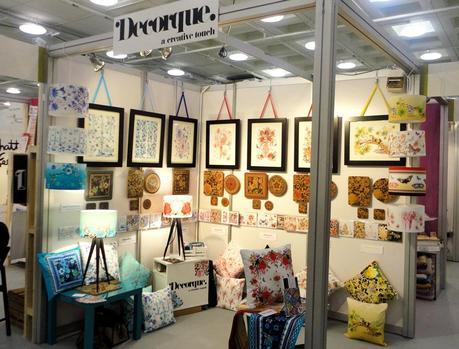 We proudly presented our full range to the public, including our new cushion and lampshade ranges which went down extremely well. It was such a lovely moment to see the stand sketch come to life and the teams hard work pay off.
We were situated just on the edge of Home and Gift, giving us plenty of footfall and surrounding us by some fabulous creatives. We'd like to thank Sue Ure Ceramics, More Than Words typographic art, Hop & Peck for being fabulous neighbours for the three days! Very proud that our friends at Hop & Peck won the the Best New Product Gift award too with their gorgeous oak designed contemporary home accessories!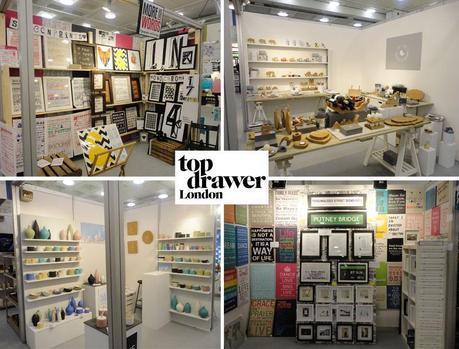 Not only did we make orders and create a full Decorque brochure to hand out to trade buyers and press-alike, but we also while at the show won Theo Paphitis's #SBS (Small Business Sunday) so we were inundated with tweets, comments and interest through that fabulous bit of promotion. You can check our our business page and we are looking forward to meeting other small businesses at the SBS 2013 event in November! We are very proud to have been recognised for our hard work over the last 2 years, and for people to see the potential for Decorque to become a household brand name, so thanks for all your kind wishes!

If you've seen our site, like our products and are a trade buyer, do get in touch as we can send you a brochure and trade price list. Please contact us via the website or email directly to [email protected] We may be packing orders but we're very keen to hear from any prospective buyers – however large or small!
Author information

Harriet Stevens
Head of Print, Social and Graphic Design
Heading up Decorque's online presence through social media, as well as managing all of the businees print production and graphic design needs - right through from product production through to marketing and advertising collateral. I also create designs for the collection, combining my love of surface pattern, textiles and graphics.Twitter
Google+