It's not every day (week / month / lifetime) that you get an invitation to a Royal Wedding, so what's a girl to say?
I was delighted, honoured (and excited!) to receive an invitation to attend our Hasher friend Prince David Wasajja's wedding on April 27th 2013.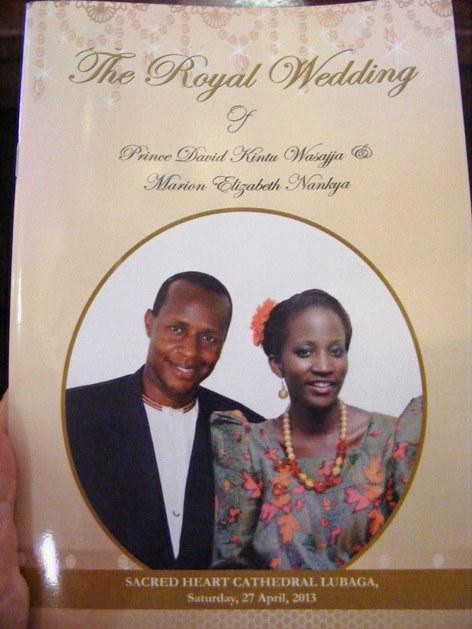 Wedding service programme. David Wasajja, Buganda Kingdom
A big part of the excitement was seeing the Kabaka for the first time. I would translate the word Kabaka as King but my Ugandan friend D.K. says "the word King doesn't really convey the grandeur we attach to the Kabaka, this symbol of our cultural well-being!"
Note from the Muzungu: between (unintentionally!) drenching my laptop with tea, a house move and meeting client deadlines, the Royal Wedding has hardly had the full Diary of a Muzungu treatment yet – but it was a fascinating day in Buganda Kingdom history from start to finish. Here are a few of my favorite photos and video clips (er…ok one) to give you a feel for the festivities. Click here to see the full photo album on the Diary of a Muzungu Facebook page – read the article alongside the photos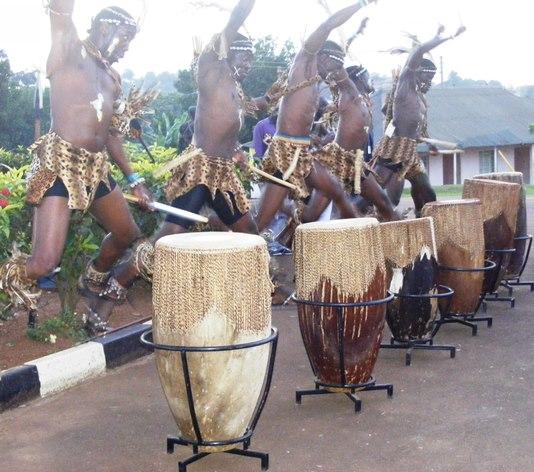 Zulu drummers! Absolute magic.
According to Wikipedia, Prince David 'Daudi' Kintu Wasajja is "the youngest brother of Muwenda Mutebi II the current Kabaka of Buganda. He is the youngest son of the late Kabaka Muteesa II, the 35th Kabaka of the Kingdom of Buganda, and Winifred Keihangwe, an Ankole princess."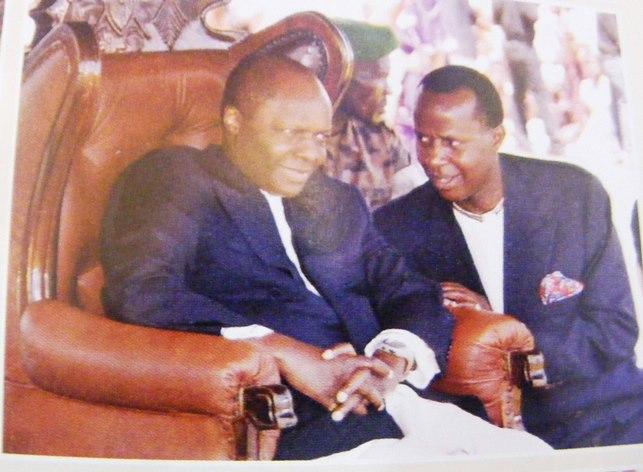 The Kabaka of Buganda and his brother Prince David Wasajja pictured at another function. Photo via Google images
There were some real characters at the Royal Wedding! Part 1: meet the bakongozi ba Kabaka, the clan whose duty it is to get the party going – literally!
A truckload of these guys rocked up, dressed in barkcloth and leopardskins, with (replica) spears – all part of the fanfare that announces the arrival of the Kabaka. Fireworks were let off and the throng went into meltdown.
"Let's get it started…. yeah …. Let's get it started…"
It was fascinating to see the Buganda culture 'live in action.' There was an explosion of noise as the Kabaka arrived for Prince David Wasajja's wedding at Rubaga Cathedral, Kampala. The crowd's excitement was tangible! Check out this teeny weeny (but LOUD!) video clip.
The Kabaka is rarely seen in public except for at a few official kingdom functions. In fact, it is his youngest brother who is often called upon to represent him at such occasions (but I hear he was busy that particular day).
David is very humble, so we easily forget Who He's Related To.
That said, his wedding was not your average Ugandan wedding.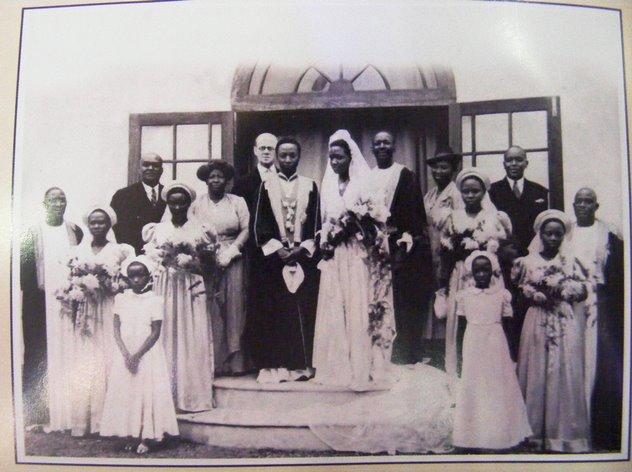 A previous Royal Wedding – of their father Kabaka Muteesa II and Winifred Keihangwe, an Ankole princess
Traditional and modern, the Royal Wedding was a very inclusive affair: Baganda and other tribes, the Kingdom and the State, Catholic and Anglican, friends and family, Hashers and non-Hashers – they'd even thrown in a handful of bazungu for good measure!
Apparently David is only the third prince to wed at the Catholic Rubaga (Lubaga) Cathedral. Unlike most of the Royal Family, David is Catholic (as his mother was).  The Archbishop of Kampala, Dr Cyprian Lwanga, presided over the marriage ceremony, also attended by Ugandan Vice President Edward Ssekandi. Bishop Livingstone Mpalanyi Nkoyoyo, the retired Archbishop of the Church of Uganda, offered some words of wisdom to the newlyweds. No idea what he said – but his words seemed to go down well!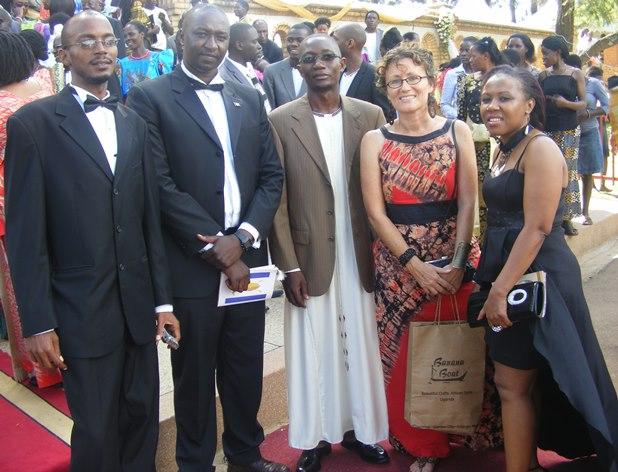 Outside Rubaga Cathedral aka Lubaga Cathedral. I have to say the Hashers scrubbed up well, not a dirty trainer to be seen!
And we were well behaved (or did I leave too early?)
Wikipedia also states "Local media claims Wasajja to be one of the eccentric "Hash Harriers", a group of Kampala socialites."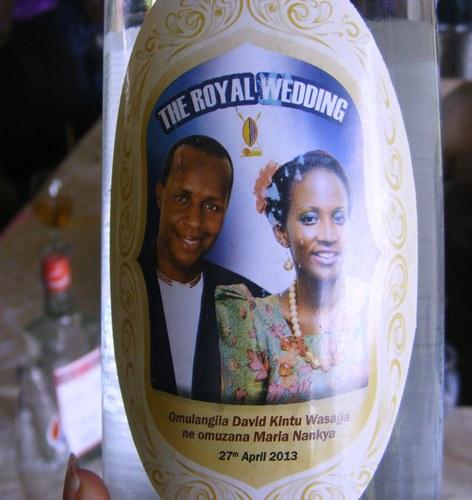 No-one went home thirsty! The happy couple beamed at us
So, thinking I'm doing them a favour, I offer three Hash friends a lift to the reception in my (admittedly TINY) Mini Pajero. The seats in the back are great – if you're a short-legged kid!
"You should at least think of your passengers before offering them a lift" one of them complained seriously, his long legs up around his ears as we bumped downhill on the shortcut past the Kabaka's Lake. I had to laugh.
And then we hit traffic. "Just drive to the front!" they shouted! "We're VIP."
I hesitated – were we really? As the only Muzungu for miles, I really didn't want myself to stand out even more than I did already. I was happy to wait in line if everyone else had to.
"No, go on," they urged. "We have a VIP sticker" – and indeed we do, I still haven't removed it from the windscreen

So I overtook everyone, drove right to the front of the queue, and without hesitation a traffic policeman yelled in my face "WHAT ARE YOU DOING? DO YOU THINK YOU ARE BETTER THAN EVERYONE ELSE?"
Oh.
Before I could think what to say, all three friends screamed back, "How dare you talk to her like that! DON'T YOU KNOW WHO SHE IS?"
… And we were inside the Lubiri!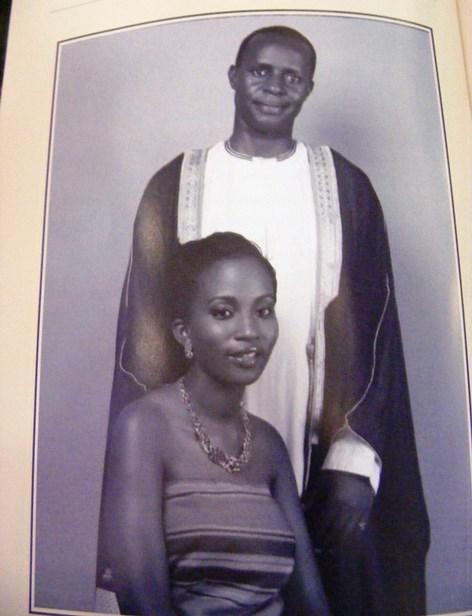 Official portrait of Prince David Wasajja and Marion Nankya before the Royal Wedding
The Will Smith-lookalike bodyguard pushed me in front of the bride to get a better shot "yes, use your zoom lens!" he ordered. I tried my best to record this piece of Buganda Kingdom history
Princess-to-be Marion really seemed to struggle up the steps to the Cathedral. She kept her poise but the dress seemed very heavy – especially when people kept treading on it!
The speeches, oh the speeches… in Luganda… for three and a half hours… Friends told me it would be ok to take a book along to keep myself occupied during the speeches, but it didn't feel quite right. Instead I fiddled with my camera. Everyone assumed the Muzungu was a journalist I think (no complaints from me!)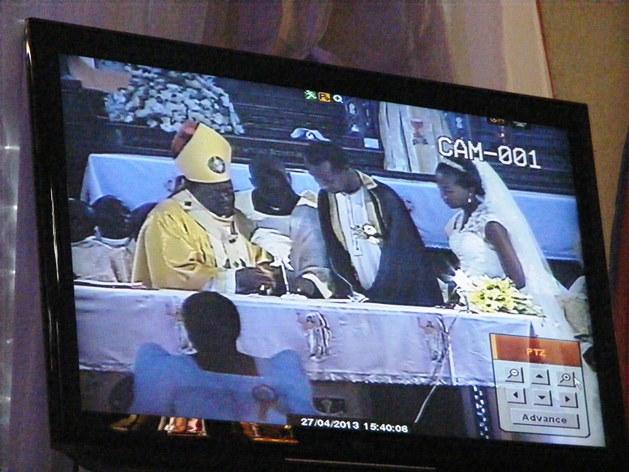 Done deal! De Prince signs de book – the Muzungu felt quite emotional at this point!
There were some real characters at the Royal Wedding! Part 2… obviously a diehard Baganda… (happy to ask me for money though, even at a Royal Wedding!)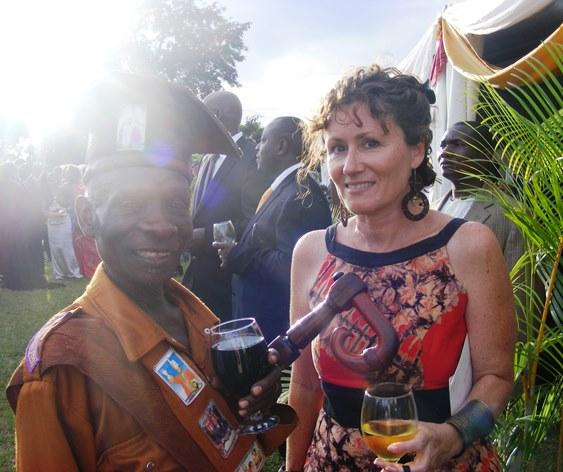 A diehard royalist Baganda enjoying the Royal Wedding reception at the Lubiri, Mengo
There were some real characters at the Royal Wedding! Part 3: "what's the (homemade) uniform about?" I asked. "We love UGANDA!" they replied, grinning.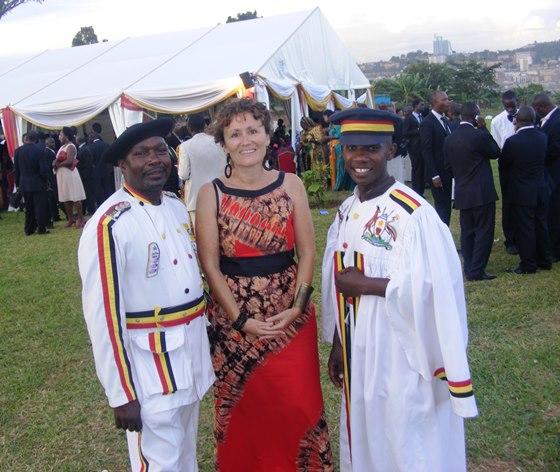 Royal Weddings bring out some colourful characters – I should know, Great Britain's full of them!
MINISKIRT ALERT! (See the Facebook photo album). This lady obviously didn't read the newspapers banning miniskirts from the wedding. But how did she get in? (I suspect she arrived in a traditional, long flowing Basuti and removed it once she'd got through security, but that's only a guess!) She looked a lot more presentable than the woman who came dressed as a butterfly, complete with huge stick-on wings!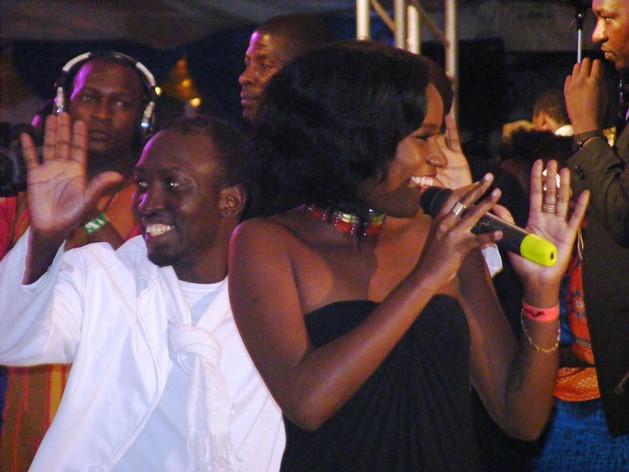 Fun on the dancefloor with the beautiful Juliana Kanyomozi
The day was full of music: Catholic choral music, traditional Buganda songs, the Uganda national anthem, some serious drumming from the Zulu contingent, some Lingala from a funky Congolese band, top Ugandan artists including Radio and Weazel, Juliana Kanyomozi, Dr Hilderman, the obligatory Jose Chameleone, Bobi Wine and Ragga D.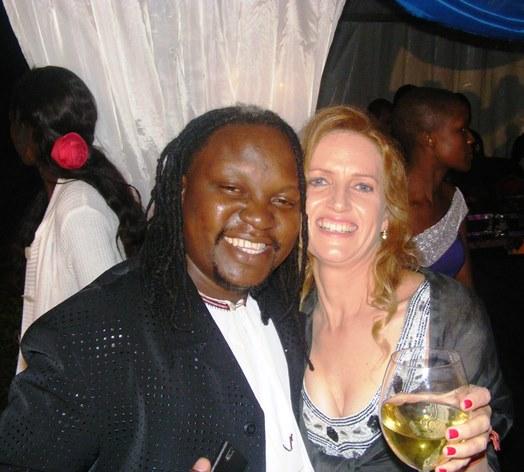 Fun at the bar with the equally beautiful Julia and Ragga D
During his speech, the 47 year old prince explained why he had taken his time to marry. According to the Monitor newspaper, this "for understandable reasons had a few people genuinely worried."
Come on, if you were a good-looking Prince, would you give up the single life to rush into marriage?
"I do not rush into doing things," he explained during his speech. Indeed!
In Britain, when someone is frequently late, we say "he'll be late for his own funeral"- at least the Prince wasn't late for his own wedding…
"Slowly by slowly…" I say…  mpola … mpola… isn't that the way things are done around here?
I chuckled to read "His youthfulness, which many of Kampala's nightlife have known, will probably take the attention away from the very-hard-to-ignore age difference between the prince and his wife."
Ah well, we Hashers are well-known for being young at heart.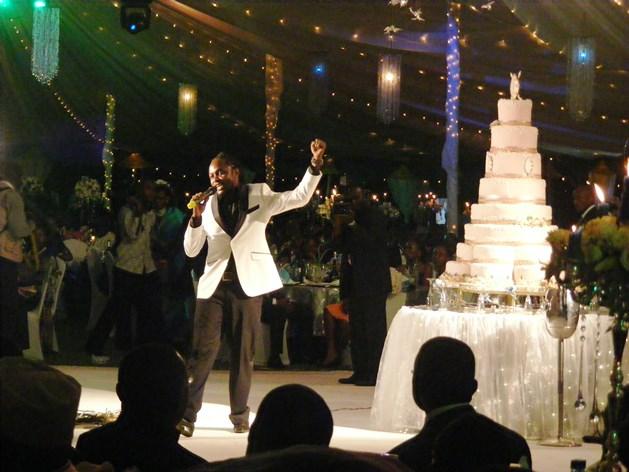 A Prince AND a pink wedding cake? A girl's dream come true surely