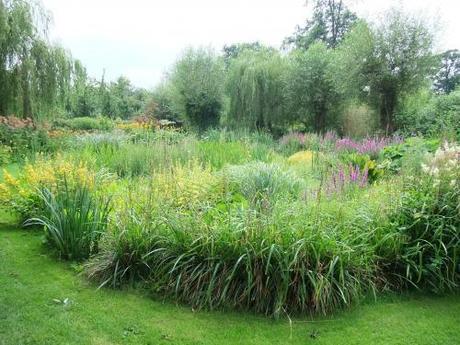 In the midst of the Herefordshire farmland there is a small but perfectly formed oasis – Westonbury Mill Water Gardens.  The 3 acre garden is made up of a complex system of streams surrounded by lush planting with the odd quirky building to distract you.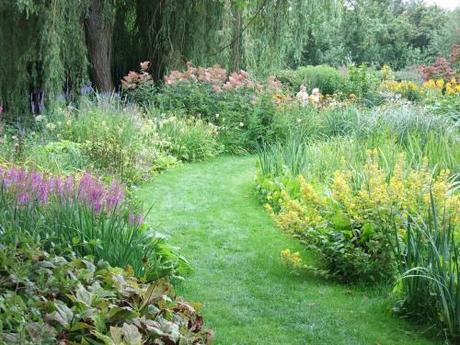 This is not a garden of thought provoking design nor is it full of rare and unusual plants.  This is a garden of stillness, tranquility, water and abundance.  The paths meander through the planting just as the streams meander through the garden.  There is a lot of repetition in the planting which adds to the gentle flowing rhythm of the garden.  At this time of year, late July, various forms of ligularia, purple loosestrife, monardas and meadow sweet dominate.  As well as Lysimachia ciliata 'Firecracker' a plant I have a deep loathing of in my garden where it is a thug but in this setting it looked amazing.  As they say 'right plant, right place'.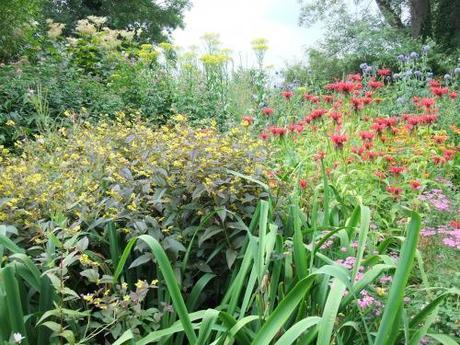 Lysimachia ciliata 'Firecracker looking quite nice
As I have said this is a garden not only known for its streams and moisture loving planting but for its quirky structures.  As you arrive there is the water tower, well that's what I call it, which is a castellated tower with gargoyles around the top.  There is a water tank in the top of the tower which is fed via a sort of water wheel, when the tank is full the water spurts out of the gargoyles.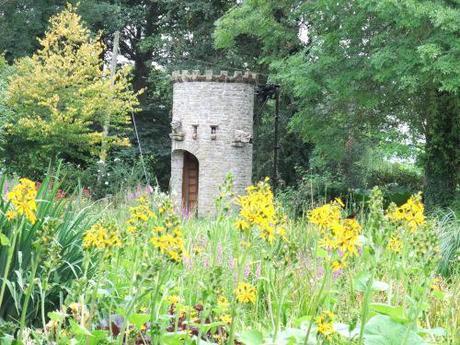 Since the last time I visited some four years ago an igloo type building made of bottles has been completed.  I love this building and the way the light filters through into the ferny grotto inside.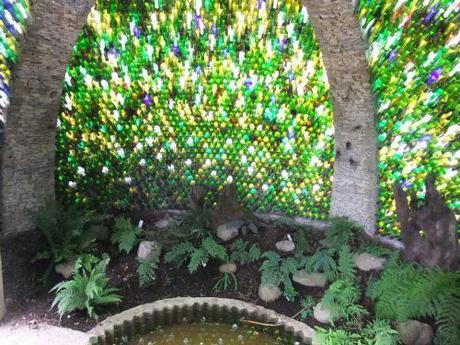 Both these structures feature in Follies of Europe – Architectural Extravaganzas.
However, my one quibble with the bottle dome is that I'm not convinced it sits very well in its surroundings.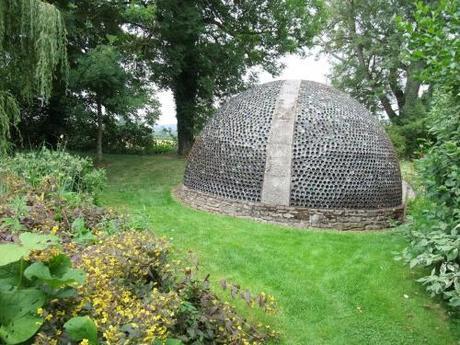 As well as these two eccentricities there is a thatched garden house and an Oak Tower is currently under construction which will provide a viewing platform across the garden along with a water driven clock which will have a bird singing on the hour – I can't wait!  The garden is bigger than at the time of my last visit and now extends out into the surrounding meadow-land.  Here there is a neat juxtaposition of water gardening and meadows with a canal which is obviously intended to be full of water cress in the future.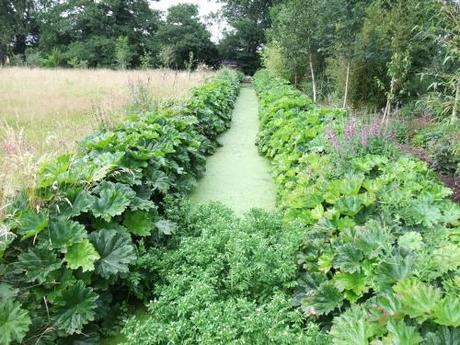 And unsurprisingly out in the meadow there is another structure – this time made some earth.  A wonderful earth spiral which children were running up and down whilst the crickets chirped and the swallows whizzed overhead.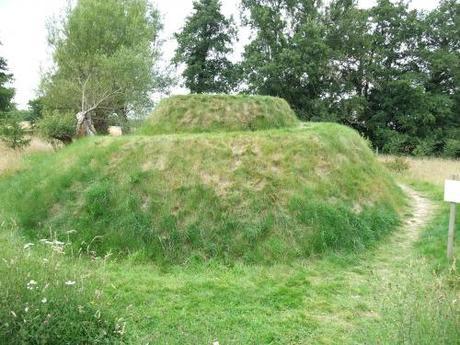 I enjoy the sense of fun in this garden and it was certainly well received by the younger visitors.  I do think sometimes that gardens open to the public can be a little stuffy and stiff with their neat edges, pristine weed free borders and perennials staked to attention.  Westonbury Mill is not like this; there are weeds, there is some flopping of plants and there are no neat edges.  It feels relaxed and as you wander along the meandering paths your mind also wanders off and you forget the passage of time.  I haven't been to Ian Hamilton Finlay's Little Sparta but I suspect that the creator of Westonbury Mill has a similar approach to gardening.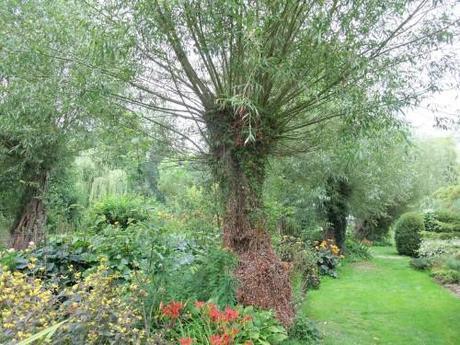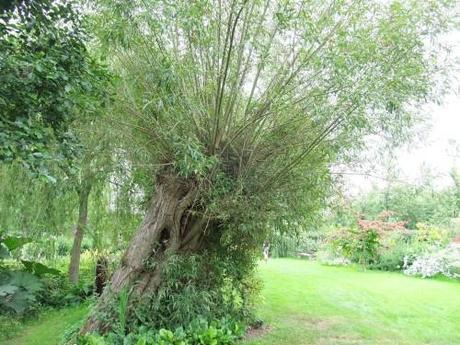 But this garden isn't all quirky buildings it has strong bones.  There are numerous pollarded willows which stand sentinel over the garden.  From the size of some of the trunks I am assuming they have been there some time.  I can imagine that when the garden is cut back hard by winter snow and frost the willows form a wonderful scene.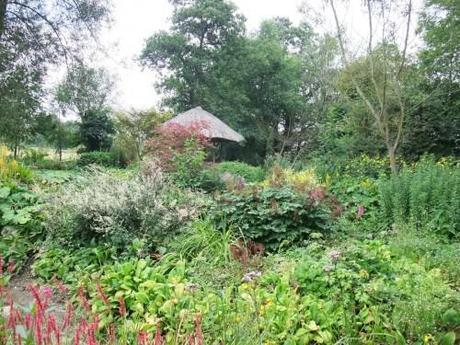 The funny thing about this garden visit was that it was a spur of the moment thing.  I wanted to go somewhere and for some unknown reason Westonbury Mill popped into my mind, amazing since I haven't been there for years.  I am currently very irritated with my pond, in fact if I am honest it hasn't worked properly since it was put in, and I had decided that this autumn I would sort it out once and for all.  So maybe it was a sub-conscious decision but I am really glad I did go.  It got my mind working, running through all sorts of ideas and possibilities.  I drove home head spinning but having wandered round my considerably smaller garden I now have a plan for the Autumn.  So today was the ideal garden visit – a lovely afternoon out, beautiful surroundings, great cake and a head full of inspiration.