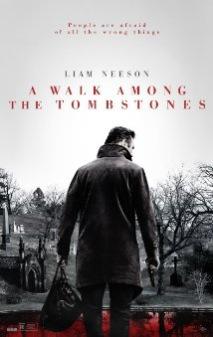 Director: Scott Frank
Writer: Scott Frank (Screenplay) Lawrence Block (Novel)
Starring: Liam Neeson, Dan Stevens, David Harbour, Boyd Holbrook, Mark Consuelos, Olafur Darri Olafasson, Adam David Thompson
Plot: Private investigator Matthew Scudder is hired by a drug kingpin to find out who kidnapped and murdered his wife.
There may be spoilers the rest of the review
Verdict: Slow Burner
Story: A Walk Among the Tombstones starts by in 1991 we meet Matt Scudder (Neeson) a nonsense detective who while having his morning Irish coffee ends up going into a shootout. Flash forward to 1999 Matt is now a private investigator and when a former junkie Peter Kristo (Holbrook) invites him to meet his brother Kenny (Stevens) for a job. Kenny's wife was kidnapped with the ransom paid and murdered; he wants Matt to bring him the names of the people responsible. Matt rejects the offer wisely because it would involving working with a drug trafficker but Kenny won't take no for an answer.
Kenny tales the story of what happened and how gruesome the murder was, this brings Matt into the case to track down the people responsible. Using all his skills he starts the investigation by questioning the locals. The killers prove to be professionals who cover their tracks when committing their crimes. When it becomes apparent they have been doing this for years Matt finds himself investigating cold cases. Tracking down the leads he does come up with a potential name and a place he could meet them, but nothing could prepare him for the nature of the men.
A Walk Among the Tombstones starts very nicely with the broken protagonist trying to make up for something he could never actually make up for, it is hidden from us but we do see he has personal problems. The whole drug dealers being targeting by serial killers also works nicely, giving us a chance to keep guessing on whether it is actually a large scale revenge type thriller than Matt is stuck in the middle off. It goes downhill slowly because of the pace and then turning it into the simple idea that they are just two killers doing it for fun. It is sad because this had a lot of potential from the start but in the end just fizzles out. (6/10)
Actor Review
Liam Neeson: Matt Scudder a private detective who against his better judgment ends up investigating serial killers who enjoy nothing more than kidnapping and killing their victim even if they get their money. He is a former detective who has been recovering from his alcoholism which cost him his job. Liam does do a good job in the role and goes away from the new action star he has created. (7/10)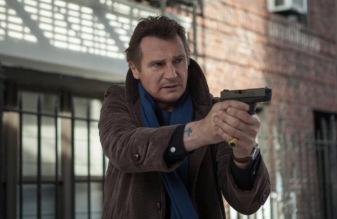 Dan Stevens: Kenny Kristo drug trafficker whose wife was killed and hires Matt to find the people responsible for it, it will mean risking his connection to help expose the truth. Dan does a good job as the mobster out for revenge for a crime that is personal rather than work related. (7/10)
Support Cast: A Walk Among the Tombstones has a supporting cast that includes the two killers who are very much evil in what they do, we have other mobsters who are the victims of those killers and we also have a street wise kid trying to help Mark out. They all help the story flow along very well.
Director Review: Scott Frank – Scott does a solid job directing this to make it an interesting thriller with a very dark side to it. (6/10)
Crime: A Walk Among the Tombstones enters into the crime world without going too far over the top with its double crossing, instead focusing on one angle the whole way through. (7/10)
Mystery: A Walk Among the Tombstones does keep you guessing to what would be the motives of the characters creating a nice mystery about the story. (8/10)
Thriller: A Walk Among the Tombstones starts off pulling you in especially when you hear about the murdered wife but afterwards slight starts to fade away. (7/10)
Settings: A Walk Among the Tombstones creates a world that is similar to 1999 New York. (7/10)
Suggestion: A Walk Among the Tombstones is one to try and the fans of Neeson will be watching this, it might not keep everyone happy because it isn't as dark as its source material. (Try It)
Best Part: The shock of what Kenny finds in the boot of that car.
Worst Part: Falls away by the end.
Believability: No (0/10)
Chances of Tears: No (0/10)
Chances of Sequel:  No
Post Credits Scene: No
Similar Too: Cold in July
Oscar Chances:  No
Box Office: $53 Million
Budget: $28 Million
Runtime: 1 Hour 54 Minutes
Tagline: People are afraid of all the wrong things.
Overall: A Thriller That Hits Hard Early but Tires Near the End
Rating