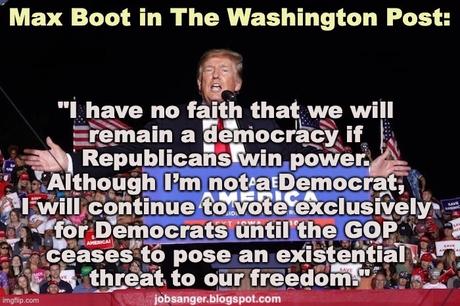 In the past, I've posted the comments of former Republican Steve Schmidt (campaign coordinator for John McCain in 2008). And just a couple of days ago, I posted Republican Christine Todd Whitman (former GOP governor of New Jersey). Both urged their fellow Americans to vote for Democrats in 2022. Now I bring you the words of former Republican Max Boot (a columnist for The Washington Post). All are in agreement. The Republican Party has mutated into and authoritarian party, and the only party that respects our democracy is the Democratic Party -- and a vote for Democrats in 2022 (and 2024) is a vote to save democracy in the United States.
Here is just part of what Mr. Boot wrote:
There appears to be a consensus in Washington that the success of the Biden presidency will hinge on the outcome of the massive infrastructure and social-spending bills now before Congress. That may be true, but their fate won't affect how I vote.
I'm a single-issue voter. My issue is the fate of democracy in the United States. Simply put, I have no faith that we will remain a democracy if Republicans win power. Thus, although I'm not a Democrat, I will continue to vote exclusively for Democrats — as I have done in every election since 2016 — until the GOP ceases to pose an existential threat to our freedom.
If you want to know why I'm so alarmed about the current state of my former party, look at the dueling documents released last week by the Senate Judiciary Committee about President Donald Trump's attempt to pressure the Justice Department into helping to overturn the 2020 election.
Committee Democrats issued a lengthy report documenting all of the pressure Trump applied to acting attorney general Jeffrey Rosen to substantiate bogus claims of election fraud. Assistant Attorney General Jeffrey Clark was nauseatingly eager to cooperate by sending a letter to Georgia's governor and legislative leaders urging them to convene a special session to appoint pro-Trump electors in a state that Trump lost. When Rosen wouldn't cooperate, Trump threatened to replace him with Clark.
Trump wasn't subtle about what he wanted: "According to Rosen, Trump opened the [Jan. 3] meeting by saying, 'One thing we know is you, Rosen, aren't going to do anything to overturn the election.' " , , ,
Yet the committee Republicans issued their own report to whitewash the former president. They pretended that his refusal to accept the election results had nothing to do with his desire to stay in office. Heaven forbid! He was merely, selflessly "ensuring that . . . the American people would have confidence in the results." . . .
Are the Judiciary Committee Republicans this gullible — or this cynical? Which would be worse? . . .
It is mind-boggling that a defeated president won't accept the election outcome — the sine qua non of democracy. That has never happened in U.S. history. What is even more alarming is that more than 60 percent of Republicans agree with his preposterous assertion that the election was stolen and want him to remain as the party's leader. . . .
To prevent a successful coup in 2024, it is imperative to elect Democrats at every level of government in 2021 and 2022 — to state legislatures and governorships, as well as the House and Senate. Democrats should break a Senate filibuster to pass voting rights legislation that would help ensure free elections. But even if that doesn't happen and Republicans rig the rules, small-D democrats can still prevail by turning out en masse to vote for Big-D Democrats.
It doesn't matter if you think the Build Back Better bill is too small or too big. What matters now is preserving our endangered democracy. We must not get so distracted by relatively minor policy quibbles that we lose sight of the true stakes in 2021, 2022 and 2024.