I had reason to be in Worcester the other day and I thought on the way home I would find a snowdrop garden.  After a bit of looking around, I realised the Croome was sort of on the way home, so it became the destination of choice.
I first visited Croome about eight years ago, it was in a period of transition at that time as I think the National Trust were just starting to lease the house.  I remember that the house was empty except for exhibitions inviting comments on what they might do with the house.  The house and grounds have had a varied history of ownership, including a period as a school, a conference centre, a hotel and also requisitioned in World War 2.  As ever though, my focus was on the grounds.  Croome was the first landscape completed by Capability Brown and it is a fine example of his work.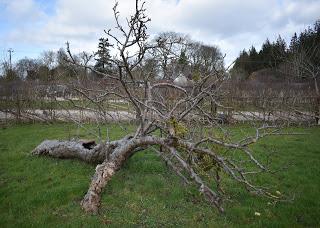 I start though with the first thing I saw when I parked, this wonderful ancient apple tree that has fallen over.  I am pretty sure it is still alive and if you look you can see there is mistletoe growing on it.  I never fail to be impressed how some trees refuse to give up.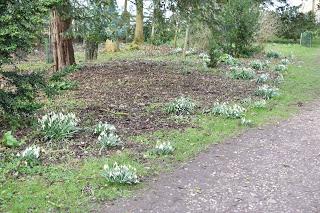 Croome is a big estate to walk around, so I asked at the ticket office where the snowdrops were so that I did not miss them.  Instructions duly received I set off and I soon found them.  They are mainly around the Church....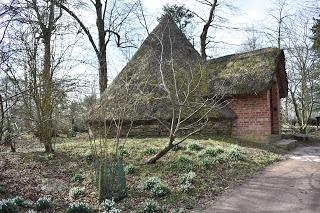 and around the rather wonderfully thatched ice house.  It is not the longest snowdrop walk you will ever experience, but it was nice and made a good lead in to the rest of the grounds.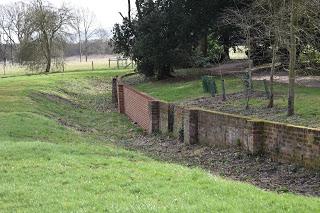 I paused to admire the ha ha.  I love a good ha ha and I love a good curved wall.  A curved ha ha is probably my idea of heaven.  There is something about the simplicity and the skill of them that makes my heart sing.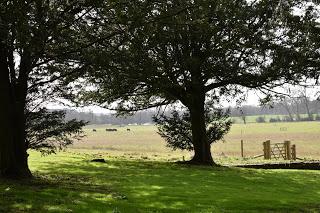 The sun decided to come and out shine for a while, this had to be cherished as we have seen little sun in recent days.  Croome is set in the most wonderful landscape.  I realised how much I needed this walk as I was going along.  I needed the time to let my mind relax and just be for a while.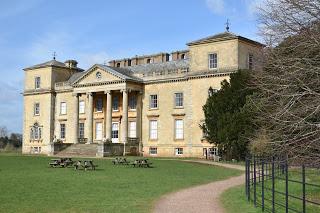 The house is the most wonderful mellow color.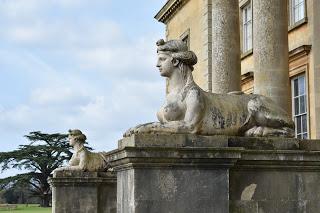 and is guarded by these wonderful sphinxes.  Ok they are a bit bosomy, but they are wonderful creatures. I am starting to think my garden needs a sphinx.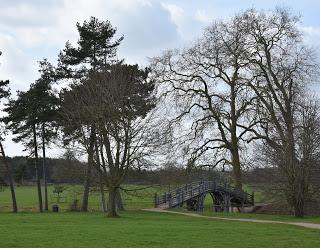 From the house you walk around to this rather wonderful bridge.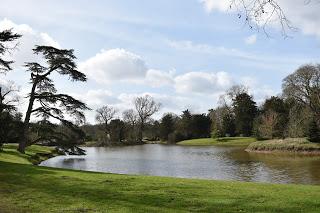 and you walk along the water towards where the follies are.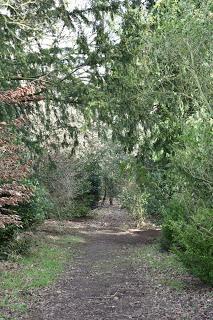 The walk does that 'light and dark' thing and you do feel like you are exploring.  There were quite a lot of people there on the day I was but the park is big enough that you can feel like you are the only one there at times.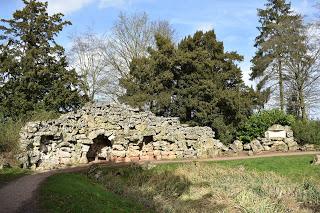 My favorite bit of Croome is the grotto.  How I would love a grotto.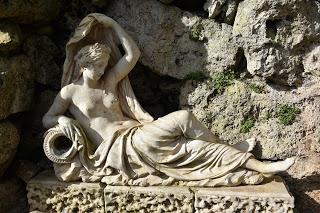 Whilst I stood and admired Sabrina (I call her Brenda, but apparently her real name is Sabrina) a passing couple told me that she was going to be restored so that water pours from her pot again.  I think I might have to come back and see this. There is an inscription in the stone by the grotto that translates to something like: "A

cave of hanging rocks. Inside, there are sweet waters and seats of stone. Nymph home". It is not a bad home, though I hope it has central heating too as she is a little half-clothed.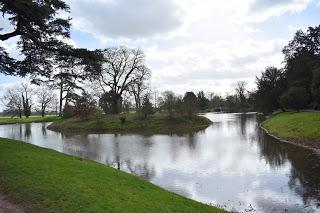 The view from the Grotto is wonderfully peaceful.

There is a monument to Capability Brown, which is apt.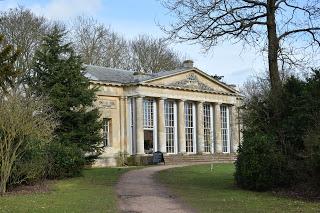 I am deliberately not showing all the follies, but I did like the temple greenhouse very much. What a fine greenhouse it is.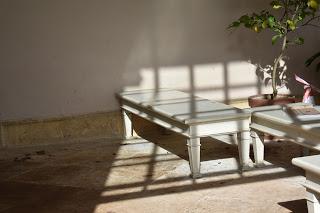 It is currently under restoration but I had a moment of bench-envy.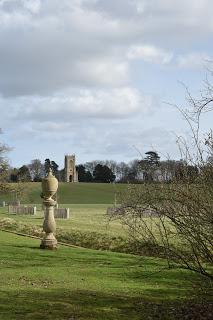 and again the view across from the temple is rather wonderful.  As you would expect from Mr Brown, everything lines up perfectly.
I was probably walking for around an hour and it was such a good way of clearing my head.  I returned to the car a tired but happier person.
Other snowdrop gardens visited this year:
Hodsock Priory
Easton Walled Gardens
Little Ponton Hall
Thenford
Blackberry Garden
Holme Pierrepont Hall