On a sunny day in early April I was lucky to take time out from my normal life to visit one of my favourite gardens with a dear friend. The Beth Chatto Gardens in Colchester are a destination place for garden lovers worldwide. This is a garden for all seasons with a stunning gravel garden and a beautiful woodland. Sadly we had missed the opening act of snowdrops, hellebores and narcissi, but there were plenty of other beauties emerging in the early spring sunshine.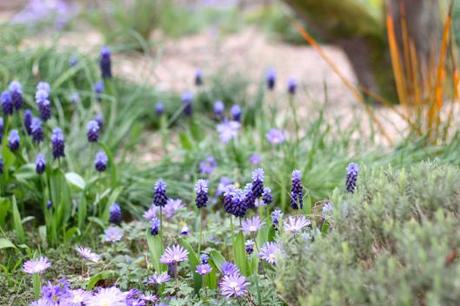 There was a time when I had no idea who Beth Chatto was or that her beautiful garden was so close. When we moved to our first house with a large garden in 2003 I was determined to learn how to grow fruit and vegetables in the already well developed kitchen garden. Prior to that I had been a suburban gardener with a very small patch in London – just shrubs, grass and a few roses.
The gardening bug bit when we first moved to Suffolk. Looking for suitable books to give me guidance I came across  one called 'Gardener Cook' by Christopher Llloyd, who I had also never heard of before. From there I was introduced to his garden at Great Dixter and his learnt of his friendship with Beth Chatto and of her beautiful plot in Colchester. My reading lead me through 'Dear Friend & Gardener', a series of letters between the two and then on to Beth Chatto's own books about her garden. All these books played their part in fuelling my passion for my new garden.
I have not yet visited Great Dixter, but I have been to Beth Chatto's garden a few times, although never in the spring so I was keen to see how the garden would look so early in the season.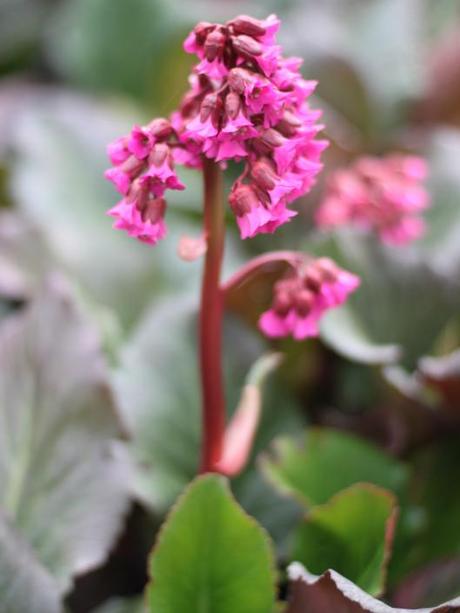 On a previous visit I had bought a copy of the book 'A Year In The Life Of Beth Chatto's Gardens' and I love the opening comment from Beth Chatto:
"I often say a garden is not a picture confined to a frame left hanging on a wall, it is something that changes constantly with the movement of light and the passing of time".
This is what makes gardens so fascinating to photograph – the same shot will produce a miriad of results depending on the season, weather and time of day. I had my camera at the ready on this trip and hope you do not mind looking at quite a number of photos – it was very hard to whittle the day down to a handful!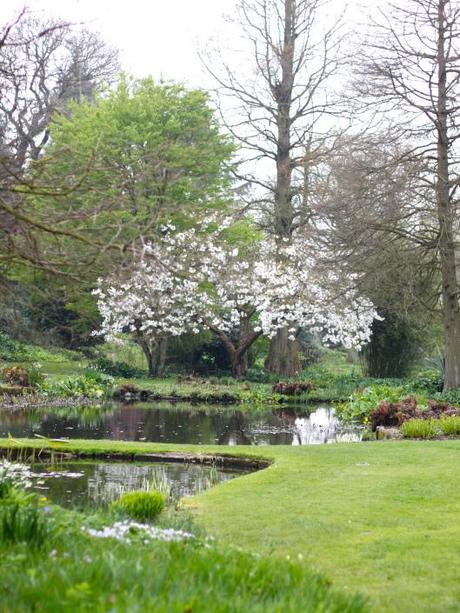 From the viewpoint of my new garden (we moved again in 2009) I find great reassurance when I visit Beth Chatto's garden. This too was a blank canvas, 'a wilderness, entirely overgrown with blackthorn, brambles and willows underneath an over-storey of ancient oaks'. Beth Chatto has been developing her site for over 50 years now – I cannot hope to have so long here, but her achievements give me encouragement that I will make a difference.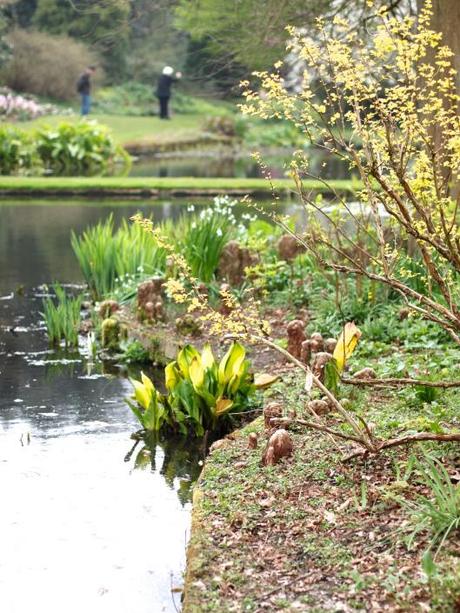 A series of small interconnecting lakes form the centre of the garden with paths around all sides. The water provides beautiful reflections which add to the atmosphere of this peaceful oasis. Along the edges of the lakes were many white skunk cabbages (Lysichiton camtschatcensis).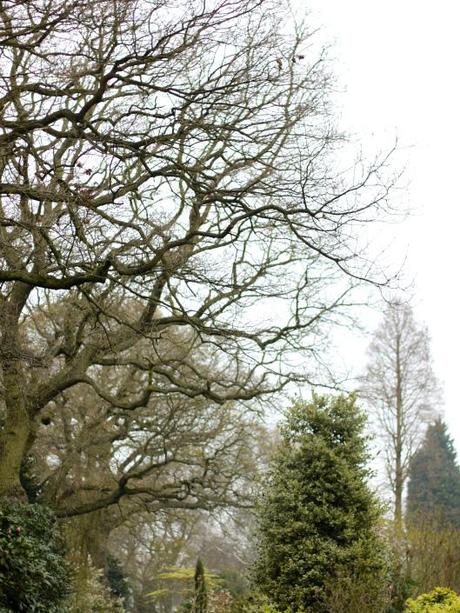 Overhead many of the ancient oaks still stand and they protect and enclose the garden with a shady canvas later in the year.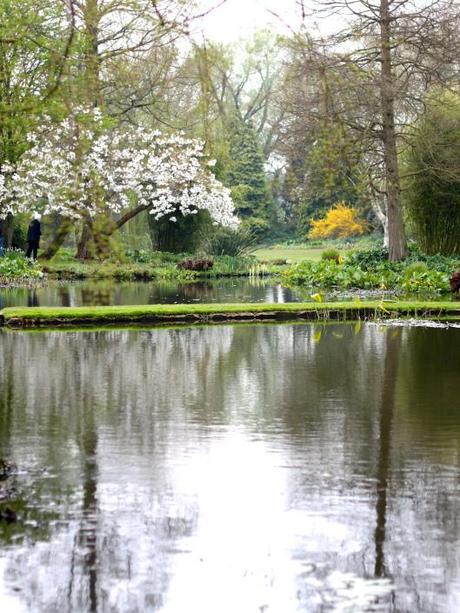 Looking over the lake you can see a magnificent Prunus Tai Haku – the Great White Cherry in full blossom. I hope that my little specimen will grow to look like that one day.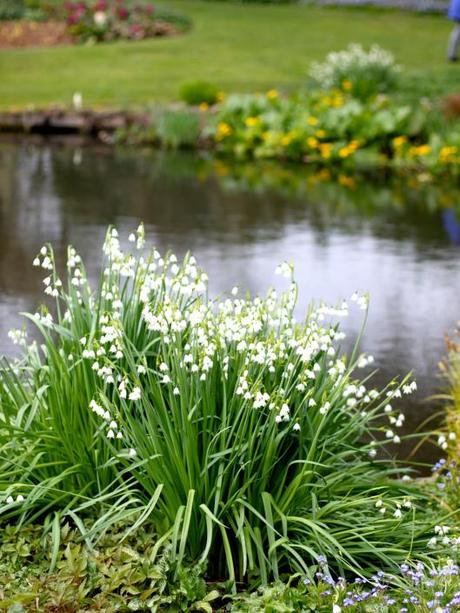 Throughout the garden there were large clumps of Leucojum aestivum 'Gravetye Giant', the summer snowflake. I have one clump of these, which is ready for splitting this year.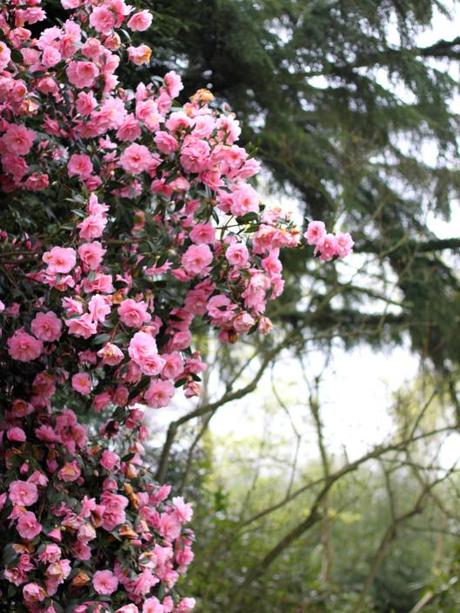 Moving away from the water, along paths that lead to the extensive woodland, I came across this breathtaking camellia 'Donation'. I have never seen such a large camellia with so many flowers. As they are very particular regarding conditions and, like rhododendrons and azaleas, need an acid soil I know that I will never be able to have such a large beauty in my garden.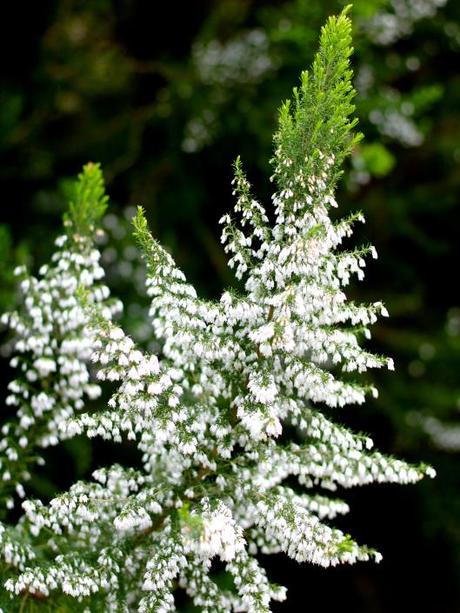 Close by I saw this stunning flowering evergreen – again I have never seen anything like this and would love to identify it. I will have to review my books about the garden to see if there are any references to it.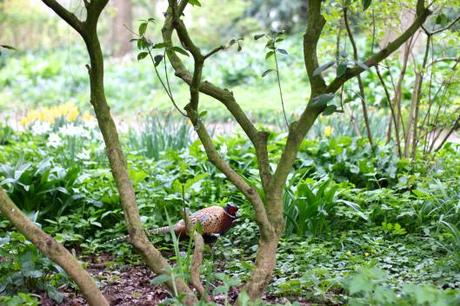 Down in the woodland there were quite a number of pheasants lurking about – I wonder if it was the many flowering snake's head fritillary that were attracting them?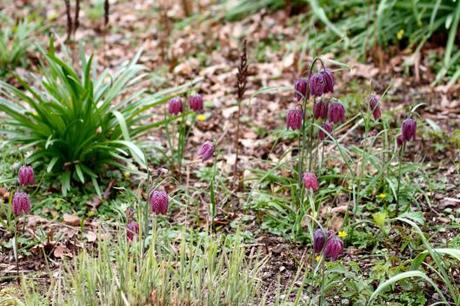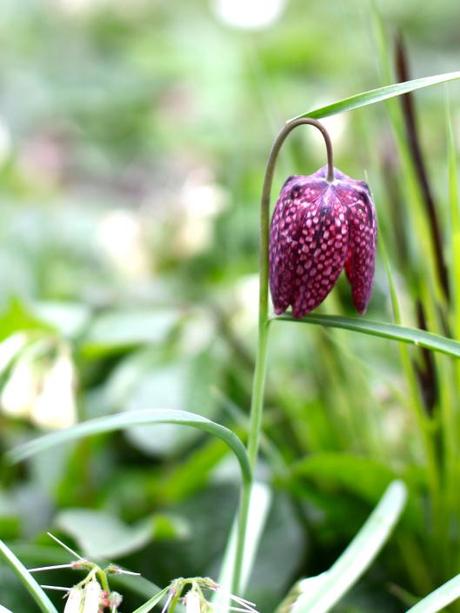 If so there were still quite a few left to enjoy – above is Fritillaria meleagris.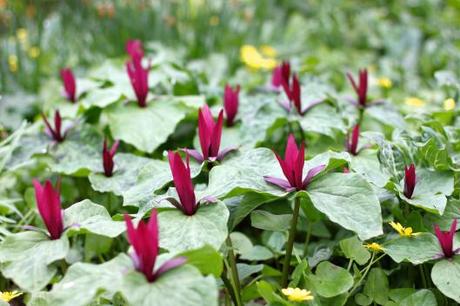 There were a few beautiful clumps of Trillium chloropetalum – this is something I have never grown, but hope to add to my small woodland one day.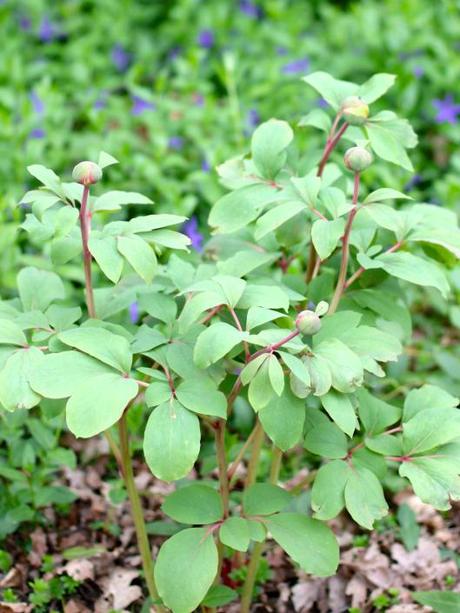 I also fell in love with this peony –  Paeonia mlokosewitschii thrives in a woodland setting. I brought one of these home with me from the nursery, so hope to have my own flowers soon.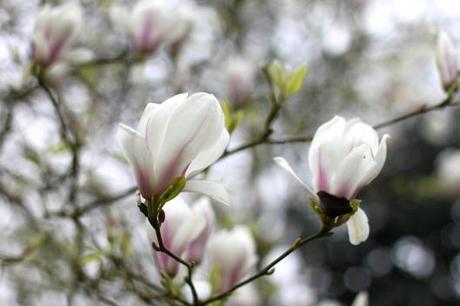 As we walked back to the centre of the garden I came across this beautiful magnolia x soulangeana. Again I can only dream about the day that my tiny specimen might look something like this!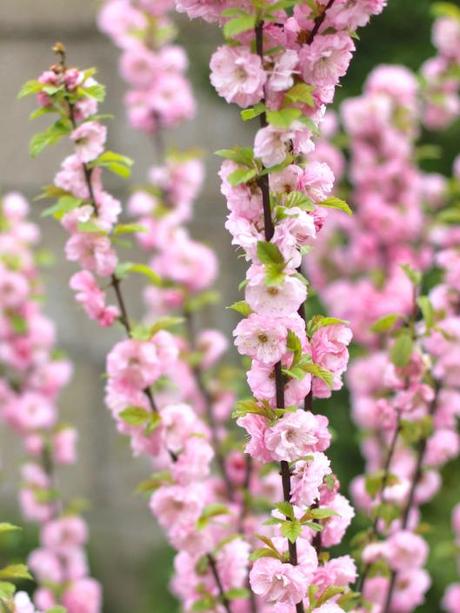 Another shrub that I struggled to identify was this beautiful pink blossom on very upright stems – any ideas?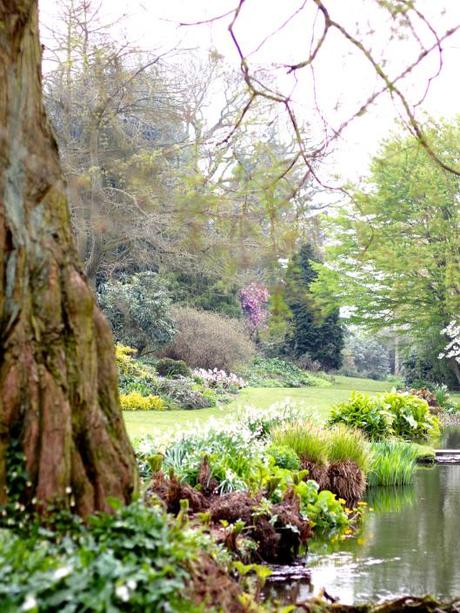 As we headed up towards the Gravel garden there was time for a last lingering view of this beautiful setting.
I hope you have enjoyed this very brief look at a truly inspiring garden. There are regular courses and events at the garden that are worth looking into if you live anywhere near – I am hoping to return in early June for a Creative Writing Workshop.
I hope you are looking forward to the long Easter weekend  - I am off with my camera in search of lambs tomorrow!