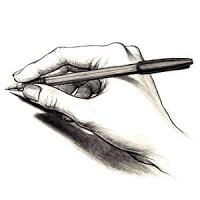 Welcome AuthorJodie Pierceto the Blog today! 
Tell us a bit about yourself: 

I an 37, live with my wonderful hubby John in Cleveland, Ohio. I have had a fascination with vampires since I was a child but didn't start writing about them until I was about 20 years old after I read an Anne Rice book. You will find researched facts and real life experiences (I was an exchange student in Brasil) in my stories. I absolutely LOVE vampires and no matter what genre I write, it always involves vampires. I currently have eight published books available on Amazon.com.

Do you work another job when you are not writing?


Well…kinda. I'm a full time wife and daughter to ailing parents and a wonderful hubby. Writing then is my other job.

What is your favorite thing to do when you aren't writing?


Watching TV with hubby or reading!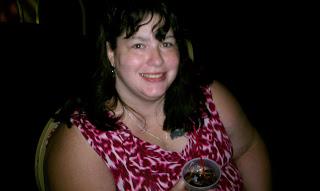 What is your favorite color? Why?


Purple is my favorite color. It's the color of Royalty, Psychics and Power. Plus it goes good on anything…LOL!

What is your favorite season? Why?


I love the spring. I love to be driving by and see the tops of flowers trying to peek out of the ground. However, my favorite holiday is Halloween so fall is awesome too where the leaves have changed colors, the temperature is perfect and soon kids will be trick or treating.

If you could live anyplace on earth, where would it be? Why?

  




Brasil! I was an exchange student there in 1991 for 6 months and loved it! The country and it's people were beautifully amazing. Yes, it's a third world country and poverty was very real but I lived 2 blocks from the beach and the water was so amazingly stunning. The people are non-judgemental and everyone to them is beautiful. Plus, I still think and dream in Portuguese.

If you could have any car, what would it be?


A 1939 Studebaker (my dad had one once), 1969 Nova, a Monte Carlo or a 1957 Chevy Bel-air.


Tell us about your writing: 

First and foremost, I write about vampires. I've written erotica, YA, horror, contemporary and an anthology but all have vampires in them. If it doesn't have vampires, I get bored so I know the reader will be bored then too.

How long have your been writing? Was it a dream, a goal or is it just a hobby?


It has been a dream of mine to become a best-selling author since I was in middle school. In high school, my freshman English teacher took me under her wing and encouraged me to write. I have been writing ever since but it wasn't until I read an Anne Rice book that I decided to write about something I really loved, vampires.

How many hours a day do you devote to writing? Do you have a set routine or do you write when the mood strikes?
My latest book was released on November 8th so after the editing was done, I've mostly been working on promoting. Lately, I've been reading others' books for reviews, promoting and blogging. I have a story I just started but I just can't sit down and make myself write. I have to write when the mood strikes me. I wake up at 3am sometimes and just have to write. It's a little haphazard.Is there some place special you like to be when you write?


I like to sit in my recliner, laptop on my lap, hubby next to me watching tv, dog at my feet and cat on the top of my chair. It's very family oriented.

Do you listen to music or do you need a quiet place to write?


I go through both. Usually, hubby is watching tv but sometimes, when I'm struggling, I need to have quiet so I put in ear plugs and write.


Tell us about your book: 

My book is about the Vampire Queen who has taken over a school for 'different' children in Scotland. She rules with an iron fist and finally oversteps her bounds. Others step in to intervene in an attempt to over throw her from the throne. Past lover from books 1 & 2 unite in the plan.

What is the name of it and is it part of a series or a stand alone novel?

  




The book is, Demise of the Vampire Queen and it is part 3 of my Vampire Queen trilogy.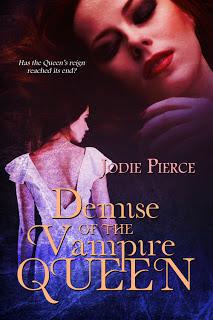 Where did the idea come from?

  




I had originally written book 1 and 2 as a single book but then broke it up into 2 books. I then decided I wanted to be able to say I wrote a trilogy so I started working on it. The book came fairly quickly and easily. The idea came to me in a dream and I worked feverishly on it.

How long did it take to write?


It only took me about 3 months to write but a little longer to edit.


Your other work:

Book 1 is The Vampire Queen. Book 2 is The Vampire Chronicles. My first erotica novella is Condemned by a Vampire. I wrote two anthologies, Tales of the Vampire: From A-Z and then a compilation with other-Midnight Thirsts 2. I wrote a YA story, The Reluctant Vampire and a Contemporary Bisexual vampire story, Once Sanguist, Twice Bi. All of which can be found on Amazon.com.

Do you have any upcoming projects in the works or other books that have been published?


I've pulled out a short story from the dust bunnies that is a vampire horror story that I plan on reworking and editing. Also, hubby gave me an idea of a vampire romance so I've started working on that.

Where can readers connect with you?  


You can find me on my blog at :

www.thevampirequeen1.blogstpot.com

on twitter: vampiregds. My website:

www.thevampirequeen1.weebly.com

and at my email,

[email protected]


Where can we buy your books?