For many people, myself included, one of the highlights of Christmas is the food. In my family, we always have a Christmas eve buffet (whose leftovers tend to see us through the rest of the holiday) and a traditional roast eaten at lunchtime on Christmas day. I may be the only vegan in my household but it doesn't mean that I await the food any less eagerly!
Because a traditional Christmas dinner is so heavily focused around the meat, to many the idea of a vegan equivalent may be completely alien. So when the news that a vegan is coming for Christmas arrives, even the most competent host may feel a twinge of panic.
Maybe you are wondering how to cater for vegan (or veggie) guests or you yourself are wondering what to tell your relatives, so here are my top tips for creating a very vegan Christmas!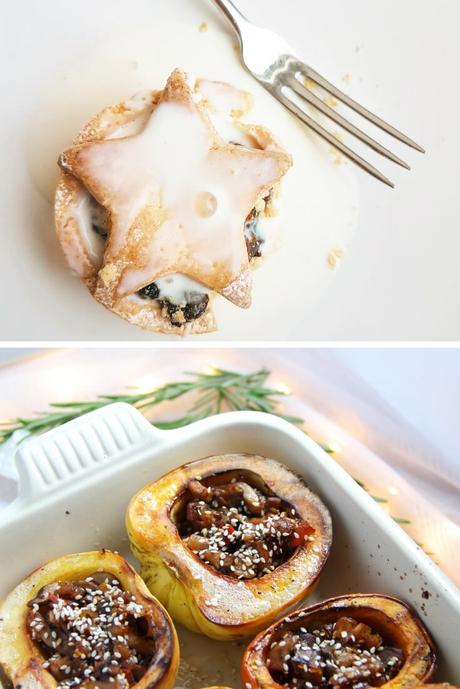 For hosts

1. Talk to your guest beforehand!
If you feel at a loss, your guest will most likely appreciate being asked rather than be served something they have to turn down. Most of us vegetarians and vegans don't automatically expect others to know about our diets and are more than eager to help out.

2. Separate
Do not use the same utensils for meat and for veg dishes, both behind the scenes and at the table, to avoid any cross contamination (i.e. bits of meat in the veg).
Cook roast potatoes separately from the meat and ensure they are cooked using a vegetable oil, not animal fat.
You will need a veg-friendly gravy, which can be easily bought or, if you are more adventurous, home made. You be surprised to learn that some shop-bought gravy granules are accidentally vegan, such as the red Bisto granules [current as of Christmas 2018!].
3. Make sure there is enough
When tasty meat-free treats are served up, don't be surprised if everyone wants to dig in and try some. It is always better to overdo it and have too much of each vegan option as any leftovers can always be frozen or taken home by your guests.
4. Check the labels
Although UK supermarkets are getting better at also labelling vegan items, it is common for items to be perfectly suitable for vegans but not labelled as such. It's therefore a good idea to get brand recommendations from your guests since many ready-made ingredients, such as pastry, are often accidentally vegan.
'Free from' and allergy labelling is a godsend when you're shopping for vegan food, but beware that 'dairy-free' items may still contain egg or other non-vegan ingredients.
As a side note, if you're preparing festive food for a vegetarian, most vegetarian foods are clearly labelled so look out for these to ensure that desserts don't contain gelatine and cheeses don't contain animal-based rennet.
5. Be adventurous!
Use it as an opportunity to experiment; try new ingredients and recipes you would otherwise never have thought of trying!

For guests
1. Talk to your host beforehand!

Check with your host that they are comfortable catering for you. Let them know what you can/can't eat and offer to bring your own extras, if necessary. Don't feel bad mentioning any dislikes too; if you are a vegan who doesn't like mushrooms for example, always tell people or you will almost certainly be served them…
2. Make recommendations
Your host might not be familiar with vegan-friendly brands so will appreciate any pointers. If you know that one brand of veg stock is vegan where others are not then save them the effort of checking every label.
3. Have a sense of humour
You already know this but you will almost certainly get asked why you are vegan, asked where your protein comes from, and told by others that they could never call it a Christmas dinner without turkey. Take a deep breath and don't let it ruin your day.
Overall, whether you are a host or a guest, the most vital thing is to be understanding of each other's situation. For more inspiration take a look at my tasty vegan treats, like these Vine Tomato and Aubergine Rolls, Vegan Pigs in Blankets and Boozy Mince Pie Bites that will delight any vegan guests at your table this holiday season.
What top tips would you add?
Pin this post for later: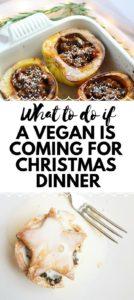 This post was originally published in December 2014 and has been updated for 2018.