In collaboration with Asda.
Likes, dislikes, allergies, preferences, ethical choices; there are a lot of reasons why a traditional Christmas dinner isn't for everyone. In fact, I was surprised to learn that there are now around 6 million Brits who won't be able to eat a traditional Christmas dinner this year.
Food is emotional for a lot of people and Christmas is a time of year heavily steeped in tradition; it's full of food that brings back memories of time spent together. But for many of us who can't or choose not to eat turkey and all the trimmings (for even the veg may be cooked in butter!), that emotion might be disappointment. A couple of years ago, at a work Christmas dinner, I was served a jacket potato and baked beans as a vegan alternative to my colleagues' full roast.
That said, Christmas day and the run up to it is still very much about the food for me and I'm fortunate to have a family who are very accommodating; but when Asda got in touch with me to ask me to contribute to their guide on inclusivity at Christmas, it really got me thinking about what that means.
View this post on Instagram

A post shared by Natalie Tamara ⓥ (@thetofudiariesblog) on Dec 19, 2017 at 12:20am PST
The more I've thought about it, the more I've realised that I love the concept of inclusivity at Christmas Asda is championing. I truly feel that time spent together is all the more special if it is inclusive of everyone's needs. There's a huge difference between catering for someone's needs (which is still awesome by the way!) and true inclusivity.
If we focus on inclusivity at Christmas, we can create our own traditions.
If you're spending Christmas together as a family and cooking together, then it's an ideal opportunity to work together to create something that is inclusive, involves everyone, and where no one feels their needs have gone unheard. With a little communication and cooperation, an inclusive Christmas doesn't have to be difficult.
View this post on Instagram

A post shared by Natalie Tamara ⓥ (@thetofudiariesblog) on Jan 18, 2018 at 2:06pm PST
Here are my tips and ideas for making your Christmas an inclusive one:
Treat everyone's preferences and needs as equal
Inclusivity is intricately tied to our outlook: taking catering for everyone equally as a starting point is a great way to overcome the stress of trying to come up with separate meals and separate options for everyone. Begin by looking for the common ground, as seeing everyone's preferences or needs as disparate is a surefire way to get overwhelmed!
Come up with an inclusive menu
Inclusivity means that no one is an afterthought; a great way to celebrate this is to come up with a menu that is designed for everyone from the start. Begin by thinking about the foods you usually eat at Christmas that everyone can enjoy, then move on to thinking about what can be easily adapted (like vegan pigs in blankets!). For example, could you steam the vegetables this year or glaze them with a dairy-free alternative to butter?
I mentioned earlier about creating your own traditions – is there a dish everyone in the family loves and can eat? Make it part of your celebration!
This is also a good point to get everyone involved. Tracking down "accidentally vegan" items won't bump up your shopping bill in the same speciality foods can and means that everyone can enjoy the same Christmassy foods. You'll find most vegans are aware of which festive foods are often accidentally, including mince pies and Christmas pudding, and can definitely offer their expertise!
View this post on Instagram

A post shared by Natalie Tamara ⓥ (@thetofudiariesblog) on Dec 20, 2017 at 11:59pm PST

Shop together
By the time I started doing my own shopping I'd already given up meat, so reading labels is something I've done my whole adult life. It's second nature. I am, however, fully aware that this is not how the vast majority of people shop!
My point here is, if it's possible for everyone to shop together then you'll ensure you find exactly what you're looking for and will know any ingredients or ready-made items meet everyone's requirements.
Alternatively, grab a copy of Asda's handy shopping list of all the wonderful free from and vegan products they have in this festive season.
Cook mindfully
Keep any special requirements at the forefront of the way you do things by assembling dishes in an order that avoids cross contamination and keeping utensils separate or using them for vegan food first.
Enjoy!
The thing about inclusivity that really resonates with me is that it doesn't start from the point of view that anyone will be missing out. An inclusive Christmas is an ideal opportunity to try something new with a fresh perspective.
View this post on Instagram

A post shared by Natalie Tamara ⓥ (@thetofudiariesblog) on Dec 25, 2017 at 12:03pm PST
Pin this post for later: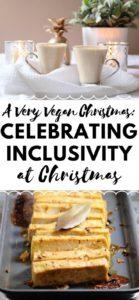 Thank you so much to Asda for sponsoring this post and helping to keep The Tofu Diaries up and running! All thoughts are my own. Please see my disclaimer for more details.