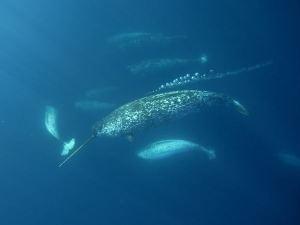 You would probably recognise them by their distinctive appearance, but how much do you know about the toothed whale, the narwhal? It turns out researchers are also vague about the specifics of a narwhal's life and how it may change as a result of global warming.
The WWF are trying to establish how Arctic melting is affecting ice – associated species such as the narwhal. Dr. Peter Ewins of WWF-Canada and his team tagged nine individuals in August of this year to try and establish how the elusive narwhal would cope with shrinking sea ice. Dr. Ewins is waiting on the results of their movement patterns to compare with anecdotal evidence of local Inuit's to try and initiate a successful conservation plan. This is because narwhals are classed as near threatened by the IUCN, with their population at only approximately 50,000 – 80,000 individuals due to hunting practices for their meat and tusk.
Their long, helical tusk was thought to have initiated the fairytales of unicorns and who could blame anyone for being inspired by this mysterious species! The tusks originate from their left canine tooth and males can have tusks that reach up to 3m in length and in 1 out of 500 males, two are produced! Females also possess a tusk, but it is shorter and is not helical in shape. It is thought the tusk has evolved via sexual selection in a similar process to that of the peacock and its feathers. In addition to this, you may have thought the tusk could be used to break through ice patches enabling the narwhal to migrate with ease. However, it is thought the tusk is only used as a visual display to others as they are very rarely observed using their tusk in aggressive behavior.
They are the preyed upon by polar bears, orca and of course, humans, which further depletes their population. In addition to this, narwhals have a highly specialized diet (and therefore restricted) possibly hampering the recovery of their population in the future. When the results from this study are published it will provide greater knowledge to the scientific community when the time comes for a conservation plan for this unique species.
Check out Frontier's blog for more science news!