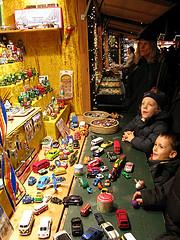 photo : Rinaldo Wurglitsch
With 12 amazing Advent markets, the capital of Styria is surely somewhere you might want to go this winter for a fantastic start to the festive season.
Christkindlmarkts in the Capital
Graz is the capital of Steiermark, Austria's second largest province and home to no less than 12 Christmas markets. All are within easy walking distance of each other and each has its own unique theme. Most markets begin on 23rd November and run through until 23rd December. Opening hours vary, but most start around 10:00 and continue through the day until 20:00. Gastronomy stands (food stalls) are open until a little later.
Rathaus -in front of the Town Hall is a village of cosy chalets selling traditional crafts and treats. There's mulled wine and Styrian delicacies to tempt the taste buds. A marquee provides shelter from the cold of the winter weather whilst you watch and wonder at a range of events provided. For children there's a traditional carousel. The great fir tree has fairy lights and a Fuerzangenbowle glows nearby providing warm punch to add a little glow right through to the cockles of your heart. And in the background a huge Advent Calendar lights up the facade of the Town Hall, counting down the days to Christmas
Eisernes Tor – this is where the meaning of  Christmas is most prominent in the Christkindl markets. The stalls are run for and by charities. There's mulled wine, warm cider and non-alcoholic drinks available to accompany the many Styrian delicacies on sale
Färberplatz – for over 25 years, this has been the home of the Styrian Arts and Crafts market. With local, national and international craftsmen and women exhibiting and selling their products, it's the market for connoisseurs of crafts. There are wood, clay, paper, wax and glass treasures to behold and buy
Glockenspielplatz – this is where you'll find the theme of Styria at its most marked. Delicacies, drinks and handicrafts from the heart of Austria, abound
Mehlplatz – an arts and crafts market with a variety of goods from some of the most talented artisans around. Sundays are special for children, with a range of activities for them to enjoy
Franziskanerviertal – set in front of the Franciscan church, this is the oldest traditional market in the city. Here you will find traditional Styrian handcrafts alongside delicacies from the kitchens of some of the finest cooks and chefs in Europe. You'll also be able to buy some of the best farm produced goods and wines in all of Austria
Tummelplatz – here you will find the world as one. The market has crafts from all over the world – Bohemians, globetrotters and artisans of all kinds congregate to make their cultural contribution to the Christkindlmarkts. There are goods in silver, wax and wood. The sweet smells of incense mingle amid the aromas of mulled wine and super Kaiserwurst from the sausage stands
Kleine Neutorgasse – this is a market specially for children. Set in front of the Franciscan church, there's a traditional carousel, ferris wheel  and fairy-tale train. Children's punch is served to complement the Schaumbecher – a sugary sweet confection in a cone. But best of all is 1 euro Wednesday. Each week Wednesdays are a day of delight for children, when everything costs 1 euro
Johanneumsviertal – this is where you can savour the sights, sounds and sensations of a modern urban location and a traditional market in one place. It's right in the heart of the city where art and culture take pride of place
Karmeliterplatz – is a children's winter world where they can skate and play for free on a 600 square metre rink. As well as the skating, there's curling and ice hockey to enjoy. But don't despair if you haven't got your own equipment to take, hiring is available. And subject to reservation, you can enjoy the delights of the Eis cafe – a special seasonal eatery
Aufsteirern Christmas market – the Aufsteirern is a Styrian Folk and Culture Festival held every September in Graz. It's the biggest popular cultural event in Austria, with folk dancing, costumes and music. So expect this market to showcase the pride of the province in Dirndl, Lederhosen and with plenty of dance. It's set on Schlossburg which you access by Schlossbergbahn Funicular railway. And from the heights of the Schlossburg Restaurant you can see the delights of all the markets and sights that Graz has to offer.
So you think I can't count?
Maybe you're right, but market stalls alongside the Mur are too many to remember!
Now is a good time to take a break and get your Christmas shopping done at an Advent market in Austria – it's so much better than stomping about in the supermarkets of home. But don't take my word for it. Check out the flights from an airport near you – they're often more affordable than you might think.
Chalet Lowonahill is an all-season, rustic style holiday home in Styria. It's the perfect place for you to discover the delights of the 9 provinces of Austria. To find out more, simply click here.