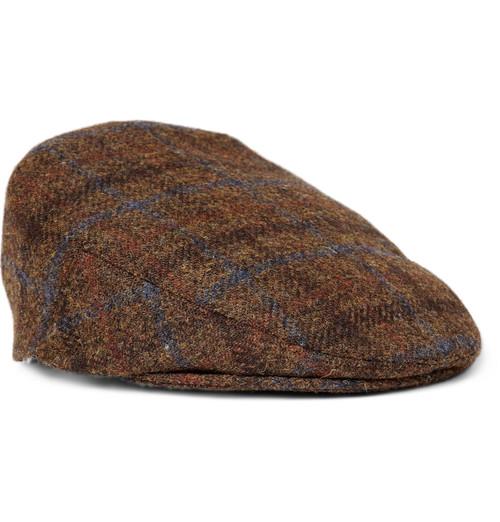 There's probably no head covering that's easier to wear than what's known as the ivy, driving, or golf cap. It's one of the few remaining styles of hats (at least in classic men's clothing) that a man can wear without making anyone raise an eyebrow. I recently bought the checked tweed one you see above, made by Lock & Co, from Mr. Porter. Established in 1676, Lock & Co. is the oldest hat shop in the world, as well as one of the oldest family businesses still in existence. It's said that a postcard from abroad was once delivered to the shop, simply addressed to "the best hatters in the world, London." Now that's reputation.
The company has a few different models. The two most popular are the Gill and the Glen, the first being handmade by Mr. Gill (hence the name), an employee of theirs for the last thirty years. Mr. Gill cuts about twenty patterns a day and relies on five different girls to stitch them up. The caps are then handblocked in order to give them a deeper shape without the need of adding an extra panel (like they use for the Oslo). This gives them a slimmer profile and allows them to hug the back of the head a bit more securely. The Glen is a similar model, just not handmade or handblocked, so it comes in at a more affordable price.
They also have the Turnberry, which is a wider style with a prominent peak. It's commonly worn to shootings and race meetings. Their other line, the Lock & Roll, is a slightly more contemporary and citified version of their mainline offerings.
The tweed cap I bought is my first from Lock & Co, and the quality was so nice that I went ahead and ordered three more. The construction on these seem a bit better than most other caps I've come across. Checked ones like you see here, for example, are carefully pattern matched along the back seam, just as you would expect on a well tailored jacket or pair of trousers. The fabrics are also just superb. 
There's still time to wear a tweed cap for winter, though when the seasons turn, there will be an opportunity for linen. Combine these with casual ensembles, such as heavy woolen trousers and four pocket field jackets. Note, I may also do a roundup of different cap options at Put This On sometime in the next month or two. Check back there if you're interested.