Thanks to the attendees at my The Basic Art of a Tuscan Picnic Class at Bucks County Community College in Newtown, Pa this past weekend. As promised here are some of the recipes.. And if you missed it you can also come out to my Cooking Authentic Tuscan Event at Nordon Culinary Center, 1 Cabot Drive in Langhorne, Pa on May 12th at 6:30..Hurry..first 25 registrants get a copy of my book The Basic Art of Italian Cooking:DaVinci Style. Call Nordon at 215-504-4700 to register.
\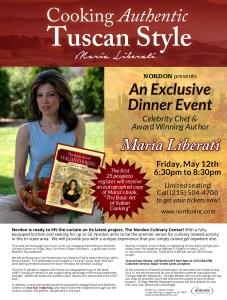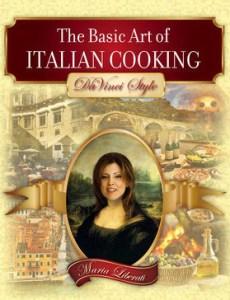 Lasagne with Beschamel Sauce
½ lb (250 gr) fresh spinach,washed ,cleaned and chopped
2 cups beschamel sauce (see below for recipe)
1 -2 ounce package of  dried funghi porcini mushrooms, soaked in 1/2 cup warm water for 15 minutes or 1 8 ounce package of fresh mushrooms that have been cleaned and stems removed.
1- 8 ounce package of frozen or fresh peas
5 tblsps (75 gr) freshly grated parmigiana reggiano cheese
1 tblsp (15 grams) extra virgin olive oil
1 clove garlic
1 lb (500 gr) fresh or dry pasta for lasagna
2 tblsps (30 gr) plain breadcrumbs
Preheat oven to 400 degrees F (200 C). Satue peas and mushrooms in 1 tblsp olive oil with 1 clove garlic. Place beschamel in saucepan and add in  3 tblsps (45 gr) parmigiana-reggiano cheese. Heat for 3 minutes. Remove from heat.
Butter a lasagna pan and place  2 tablespoons of beschamel sauce in bottom of pan, cover with one layer of pasta, Place 2 tblsps (30 gr) of beschamel sauce on top of pasta and top woth sauteed peas and mushrooms. Cover with another layer of pasta, beschamel sauce ,peas and mushrooms and repeat till ingredients are finished. Last layer on top should be pasta topped with beshcamel sauce and remaining parmigiana reggiano cheese. Sprinkle with plain breadcrumbs. Bake for 20-30 minutes.or until golden on top.
Beschamel sauce:
1 cup milk
2 tblsps flour
2 tbsps butter
pinch of salt
1 tblsp parmigiano-reggiano cheese
Place butter in saucepan and melt. Quickly remove from heat. Sift  flour into the butter , a little at a time, mixing in well with wooden spoon or whisk. When well blended, whisk in milk. Place over heat and add in mushrooms and their liquid, then parmigiano-reggiano cheese.  Stir mixture continuously till it becomes a thick sauce, remove from heat.
The menu for this class was:
Lasagna with Beschamel Sauce
Bruschetta with red beans
Panzanella Salad
Tiramisu with coconut chocolate cream pudding
cream puffs
Will be posting other recipes in consecutive blog posts..
If you would  like to have Tuscan Picnic event at your venue, email us at : [email protected]
For more recipes get your copy of The Basic Art of Italian cooking:Holidays and Special Occasions -2nd edition(available at www.marialiberati.com and exclusively at Amazon and Kindle)