On Wednesday we reported that London Walks guide Brian had been out cleaning up on the steps off The Greenway (scroll down, or catch up with the story HERE).
Well here's a picture of those self same steps with London Walks guide Andy Rashleigh leading his Olympic Walking tour.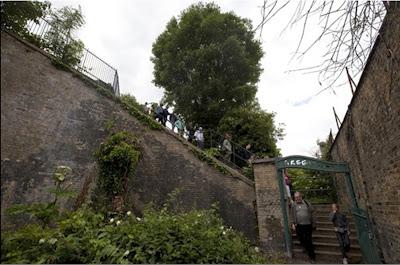 The picture comes from a feature in The Washington Post:  


"Of all the tours [Andy] leads, the Olympic walk is special to Rashleigh. His grandfather worked in the area's railyards, his father at the docks and he was born in 1949 in an East End heavily damaged by the bombings of the Second World War. He later taught school there.
'As long as I've know it, it's been one of the poorest areas of the country. It needed something. There's a chance - we hope - that it will get a good injection of money and work from the Games.'" ***
A little more about Andy… Andy crewed yachts in the Caribbean, was held at gunpoint in Haiti and delivered cars across the USA. He's a grizzled old actor/playwright with a wealth of experience, knowledge, unbeatable London stories and a deep love of his native city.
Andy guides the Olympic Walk at 2.15pm on Mondays meeting at West Ham Station. 
To read – and subscribe – to The Washington Post click HERE.