A few nights ago my husband and I decided to explore some of the vegetarian restaurants in our area. We came across Herbivore which is an all-vegan eclectic restaurant in Berkeley (they also have locations in SF). We were both in the need of some healthy, fresh, flavorful food but had no desire to cook (being still in unpacking mode and pretty tired!)
Herbivore is an amazing foodie find: their menu has an international flair with everything from vegan chili, to an indonesian noodle salad, to baked falafel to vegan lasagna to thai red curry! There is something here for everyone and the best part is how fresh, light and tasty their food is. They also have an extensive drinks menu. We started with a green smoothie (for me) and a beer (for the husband).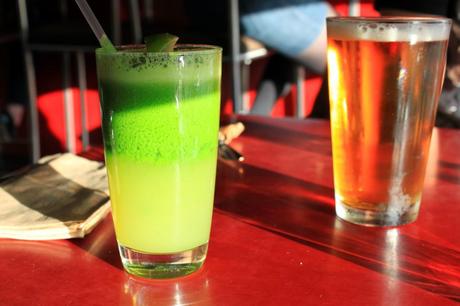 Then it was on to our entrees – both of which came with a side salad of mixed greens, beets, cherry tomatoes, cucumbers and mint with a homemade dressing.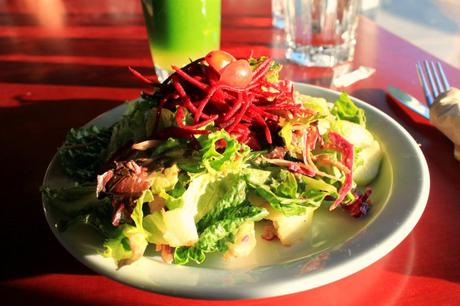 I ordered the Thai Red Curry which was served with char-broiled vegetables, potatoes, cilantro, tofu and quinoa!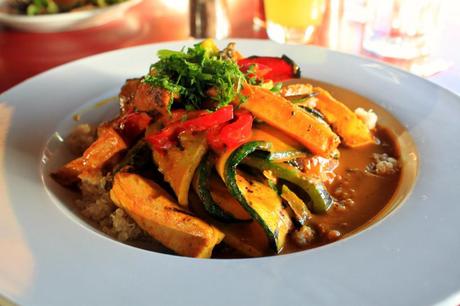 The sauce was rich and spicy, the quinoa was fluffy and light, and the vegetables had a great crispness that just burst in my mouth. My husband was equally happy with his dish – he ordered the Grilled Seitan Shawarma Wrap with seasoned onions, tomatoes, hummus, hot sauce, pickles, potatoes, and tahini in a whole grain wrap.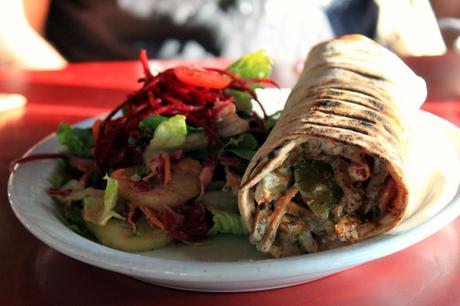 Now normally, I'm not a big fan of seitan. It's usually too tough and kind of freaks me out. But this wrap was absolutely amazing. The seitan was soft and melted in your mouth, and the texture of the wrap was perfect. The tahini/hot sauce/hummus combo added layers of flavor that kept me wanting to constantly steal bites of my husbands dish, which he wasn't too happy about because he LOVED this dish! This will satisfy both vegetarians and meat eaters alike.
Even though we were totally stuffed from dinner, we were intrigued when our waitress brought out the dessert menu and "Vegan Donuts" were on there. So we decided to try the glazed vegan donut to see how it was.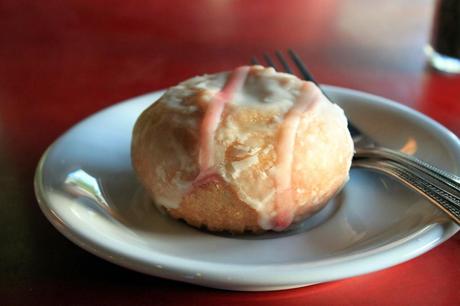 I have to say – both my husband and I were HUGE fans of this donut. And that's saying a lot – especially since my husband grew up eating 3 donuts for breakfast from Dunkin Donuts, and always thought of vegan donuts as somewhat sketchy (e.g. "not a real donut"). Now, to be clear, this donut didn't taste exactly like a regular donut. In my opinion – it tasted better. It had all the great flavor/sweetness and "cakiness" of a regular donut, but it was much lighter and didn't weigh me down after I ate it. My guess is, that's because all dairy (butter/eggs/etc) aren't in this donut – since it's vegan. My husband and I devoured the whole thing in under 5 minutes. We were both surprised as to how good it was.
When we were leaving the restaurant, my husband asked me a good question – he said "so since that donut was vegan, does that mean it's good for you?" Which reminded me of a common misconception about vegan food. Generally, yes, vegan food can be healthy for you. But vegan dishes can still have tons of sugar, fat, and even processed ingredients sometimes that aren't good for you. In the case of the donut – it might have been slightly less in calories since it probably didn't have butter, eggs, etc. But it definitely had a lot of sugar, and at the end of the day – a donut is fried dough, vegan or not

But hey – that's what dessert should be. I wouldn't recommend making a vegan donut your breakfast, but for dessert or a treat – it was perfect. The perfect end to a perfect meal.