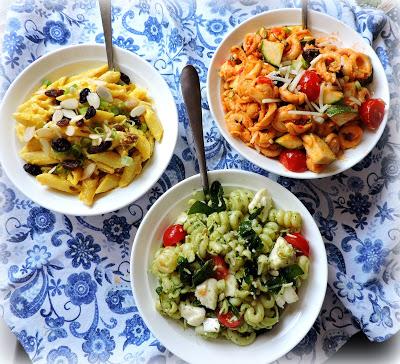 We have had the loveliest May Bank Holiday this past weekend with beautiful sunshine and warm temperatures.  We have had to dig out fans out of storage and have been cranking them up all weekend. Its almost been too hot to do much in the kitchen.  Its all supposed to change again before next weekend, but c'est la vie.  Here in the UK, we know that we must make hay while the sun shines and make it we have! I took advantage of the warmer weather to make up some delicious pasta salads for us to enjoy over these past few days.  Whilst Todd is not a HUGE fan of pasta, he said that these were quite good, which coming from him is a HIGH compliment indeed!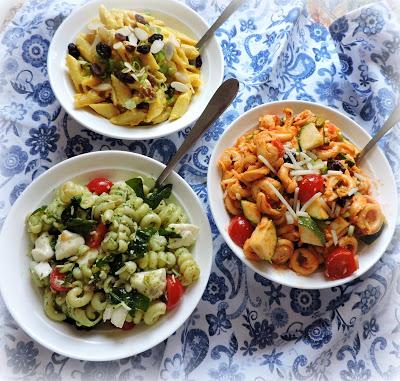 Pasta salads are great for bringing along to pot lucks and picnics during the warmer months. You can easily throw them together quickly and with a bit of ingenuity they can either serve as a main course, with the addition of protein, or as a side to all of your grilled meats and poultry. They are also really versatile as you can throw just about any vegetable or meat into them so long as you have a few things right, and that is, the type of pasta and the flavor of dressing used.  You don't even have to make a dressing from scratch if you don't want as many bottled dressings work perfectly.  Think Caesar salad dressing with some cooked pasta, shredded romaine, chopped grilled chicken, bacon bits, crouton crumbles and coarsely grated parmesan.  Easy peasy.
Here are some sure fire tips to help to make your summer pasta salads the very best that they can be! 
1. Use a pasta shape that will cup and cling to the dressing.  Pasta twists and shapes are the best.  Flat noodles are not as good at holding onto the dressing.  Pasta twists and shapes are also much more interesting.
2. Cook the pasta to al dente and no longer. You don't want to have soggy pasta in a pasta salad.  Al Dente works best and bear in mind that it will continue to soften a bit as it absorbs some of the dressing as it stands.
3. Reserve some of the dressing aside to add just prior to serving. (See #2) This helps to insure that your salads are nice and creamy and not dry. (Note, the longer your salad waits before serving, the more dressing it will absorb.)
4. Use an equal amount of pasta and vegetables/add ins. Too much pasta and your salad will lack colour, crunch and interest. Also be sure to chop your vegetables/ meat/cheese to bite-sized. You don't want anything to be much larger than that or people will struggle when eating them.
5. Pay attention to shapes, colours and flavours when putting together a pasta salad.  Bear in mind what flavours and textures go well together and work from there.
If you follow those simple tips you are sure to have some really winning combinations when you are putting together your pasta salads this year!  And now, the three that I made at the weekend.  A lovely curried Coronation one, a Pesto one and a creamy Sundried Tomato one.  All were lovely.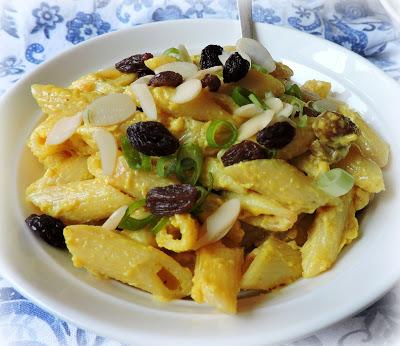 *Coronation Pasta Salad*Serves 4Printable Recipe 
A delicious curried pasta salad.  Excellent served with cold or grilled meats or poultry. 
200g uncooked pasta (2 cups)5 TBS mayonnaise5 TBS yogurt3 TBS mango chutney40g raisins (1/3 cup)3 TBS flaked almonds3 spring onions, chopped1 heaped TBS curry powdersalt and pepper to taste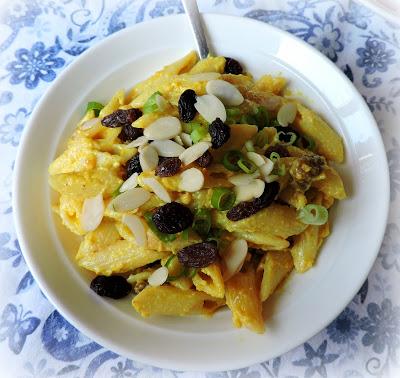 Cook the pasta according to package directions.  Drain well, rinse in cold water and drain again.  Pour into a bowl.
Whisk together the curry powder, mayonnaise, yogurt and mango chutney. Stir into the pasta and coat evenly. Add most of the raisins, spring onions and flaked almonds, reserving some to sprinkle on top. Taste and adjust th  seasoning in the salad.  Spoon into a serving bowl and scatter the reserved onion, raisins and almonds on top.  Chill until ready to serve.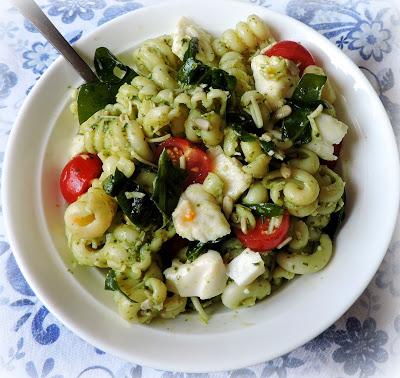 *Pesto Pasta Salad*Serves 4Printable Recipe  
A delicious combination of pesto, pasta and some fresh ingredients. 
200g pasta twists, uncooked (2 cups)1 pint cherry tomatoes, halved8 ounces fresh mozarella cheese, torn35g toasted pinenuts (1/4 cup) (can use sunflower seeds also)a few handfuls of fresh spinach shredded6 TBS mayonnaise6 TBS fresh basil pesto salt and black peppera few TBS of grated parmesan cheese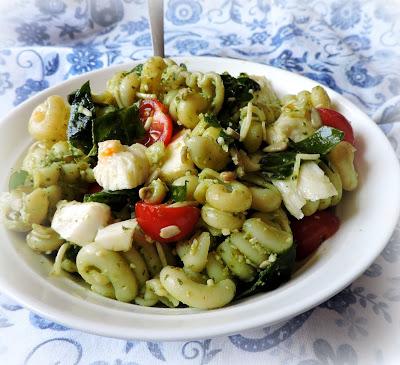 Cook the pasta according to the package directions, drain and rinse well under cold running water. Drain again. Pop into a bowl, along with the cherry tomatoes, mozzarella cheese, pine nuts, and spinach.  Mix together the mayonnaise and pesto. Add to the salad, and toss all together well, adding a few TBS of parmesan cheese if desired.  Taste and adjust seasoning as required.  Chill, covered until ready to serve. If the pasta has absorbed to much of the dressing, you can add a bit more at serving time to make it creamier. (No more than 1 TBS each mayonnaise and pesto.)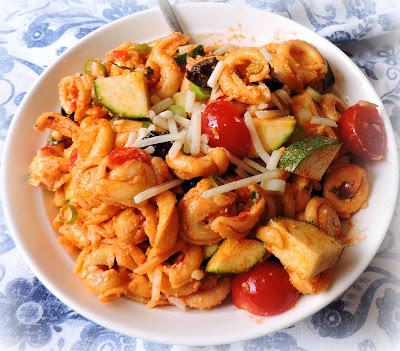 *Mediterranean Pasta Salad*Serves 4Printable Recipe  

A delicious pasta salad with a punch sun dried tomato dressing, and plenty of crunchy Mediterranean add-ins!
200g pasta shapes, uncooked (2 cups)1 pint cherry tomatoes, halved1 small courgette (zucchini) cubeda handful of black olives chopped2 TBS chopped red bell pepper2 spring onions, finely sliced4 TBS coarsely grated Parmesan Cheese
For the Vinaigrette:
1/4 cup (50ml) drained oil packed sun dried tomatoes
2 TBS good quality Balsamic vinegar
1/2 cup (125ml) cold water
1 fat clove of garlic, peeled and minced
1 tsp dried oregano
1/2 tsp caster sugar
1/4 tsp black pepper
pinch of salt
1/3 cup extra virgin olive oil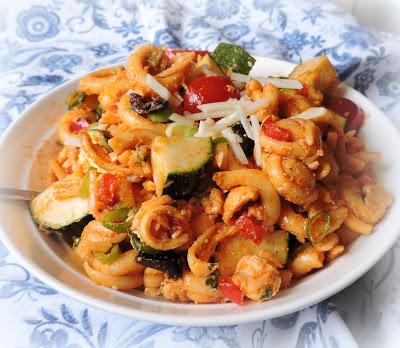 Place all of the ingredients for the vinaigrette into a blender or food processor and blitz until smooth.  Set aside. 
Cook the pasta according to package directions in lightly salted boiling water.  Drain well, rinse with cold water and drain again. Place into a bowl along with the prepared vegetables and enough of the prepared vinaigrette to moisten amply.  Stir in the Parmesan cheese, reserving some to sprinkle on top.  Chill until you are ready to serve.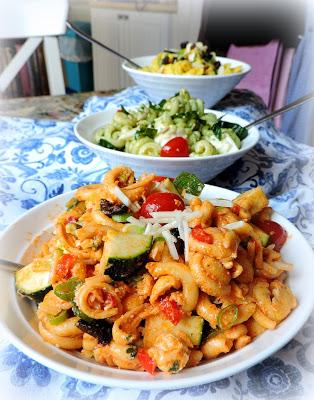 All three of these were really nice and for different reasons.  The Mediterranean one would go really well with grilled tuna or sardines.  It had some lovely flavours and textures and the dressing was WOW!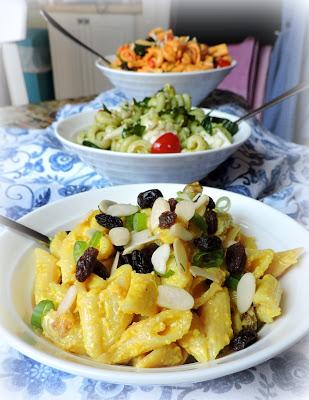 The Coronation one was a tiny bit sweet from the sultanas, and packed a bit of a spicy punch with the curry flavor.  It went really well with the cold chicken I served.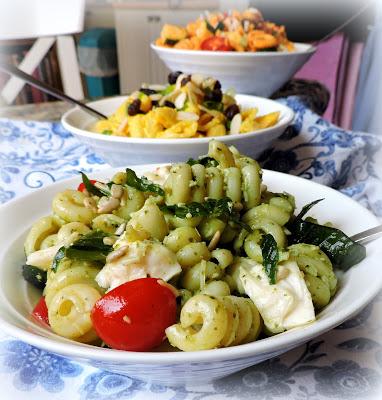 Of the three I think my favorite was the Pesto one . . . I loved the flavours of the pesto with the creaminess of the mozzarella cheese and the sharp sweetness of the tomatoes!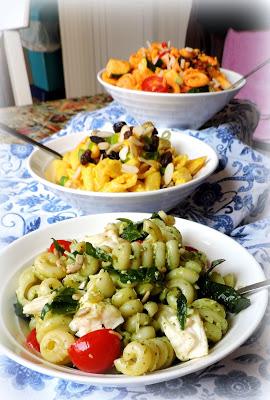 Altogether these were three really nice salads and I hope that we have a chance to enjoy them at least several times in the coming months!  I hope you will too!  Bon Appetit!