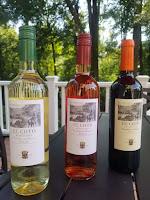 El Coto de Rioja consists of twelve separate cellars and wineries, each designated with a distinct task. This includes the original winery that first opened in 1976, six years after their very first harvest. Today, that winery building operates as the administration offices, but there are new facilities that operate to process just white wines, others to just process Crianzas and Coto Real. Still another to age the Crianza and others for aging the Reservas and Grandes Reservas.  The vinification is carried out in small tanks that do not exceed 50,000 liters and all our red wines are aged in oak barrels, which are replaced annually. 
Last month I received samples from this brand that is a leader not only in Rioja, but all of Spain. 
El Coto Blanco 2022 ($11.99)
This wine is primarily Viura (with smaller percentages of Sauvignon Blanc and Verdejo) that was grown in the Finca Carbonera vineyard. This vineyard was first planted in 2010 right when the  Regulatory Council authorized the planting of white wine grape varieties. The additional of white wine became so popular that in 2017 El Coto built a separate facility at Finca Carbonera to process these grapes. This is a fundamental summer wine -- begging for shellfish. It starts with a floral aromas that transitions to a saline driven center of white peaches, white grapefruit, and lemon, then finishes with racy acids.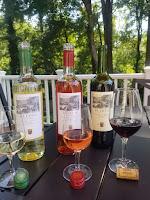 El Coto Rosé 2021
($11.99)
This rosé is dominantly Tempranillo 10% Garnacha  harvested from the Los Almendros vineyards. This site is the largest vineyard in all of the Denomination of Origin Rioja. The wine is made in the Provence style with light pressing, short skin maceration, and fermenting under low temperatures. This rosé is all red berries but what separates it from others is a noticeable herbaceousness with slight tannins and a fuller body.
El Coto Crianza 2019 ($16.99)
This savory wine is composed of 100% Tempranillo and processed using the regional requirements -- fermented and aged in oak for at least 12 months with an additional six months resting in bottle, prior to release.  The wine starts with a vibrant aroma of dark fruit, tobacco, mint that leads to a juicy, earthy, and herbaceous core. The finish is long dominated by approachable tannins.