Adam writes…
Mooching around in deepest, darkest Islington yesterday, I was delighted to come across this piece of stencilled street art…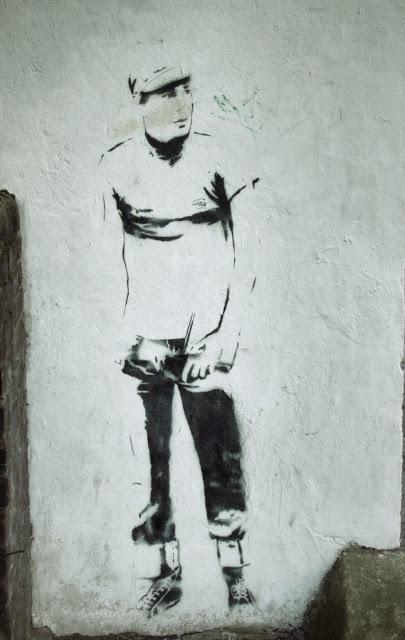 It's a tribute to local boy playwright Joe Orton – local insomuch as he resided in Islington in the 60s, when that north London enclave was far from fashionable.
Orton was born in Leicester in 1933, studied to be an actor at RADA, took digs first on Gower Street and then moved in with Kenneth Halliwell – fellow student, mentor, sometime lover – into a what was little more than a bedsit in Noel Road N1.
His first hit play - Entertaining Mr Sloane – transferred from the Arts Theatre in Great Newport Street to the Wyndham's Theatre round the corner. The follow-up, Loot - a black farce involving a bank job, the Catholic church, the disposal of a dead body and police brutality – endured a troubled genesis but was eventually a hit at the Criterion Theatre, Piccadilly in 1966.
The barely concealed gay relationship at the core of Loot (and, indeed, Sloane) was risky and highly scandalous back in '66.
Orton was murdered by Halliwell - at the Noel Road flat – on 9th August 1967. Halliwell took his own life moments later. Orton was cremated at Golders Green Crematorium and his ashes were mixed with Halliwell's.


Orton's plays are no less entertaining today, but may seem a little tame to the modern sensibility. That's why I loved this street art tribute. The faint whiff of danger in this most elicit of art forms reminds us that, in his day, Orton was a great subversive. It is a fitting tribute.




It made me consider other playwrights and their London commemorations…


Harold Pinter has a theatre…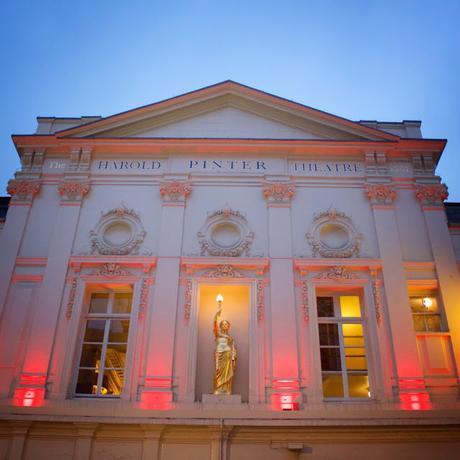 … which was renamed in his honor in 2011. It had formerly been The Comedy Theatre which led Tom Stoppard to quip, "Wouldn't it just be easier for Harold to change his name to Harold Comedy?
Back in the 1990's The Royal Court theatre in exile at the Duke of York's on St Martin's Lane had a cat – a highly effective mouser by the name of Osborne. It is, to my knowledge, the only tribute to the abrasive king of Kitchen Sink Drama John Osborne yet to feature in the landscape of the West End.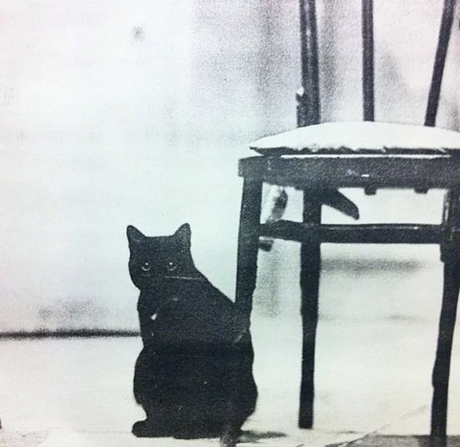 (The picture of Osborne comes from a rather wonderful article in The Guardian about Theatre Cats.)
Finally, I've always found it odd that only one West End theater features a likeness of William Shakespeare – the Wyndham's Theatre on Charing Cross Road…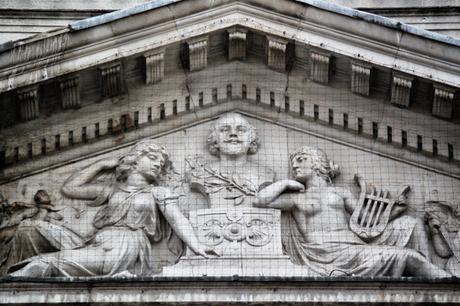 Have I missed your favorite playwright tribute? Drop me a line at the usual address or leave a comment below.
(P.S. I'll be coming back to Joe Orton later in the year – his Noel Road plaque will feature in The Daily Constitutional's #plaque366 project)
Earlier posts featuring Joe Orton…
The Orton Diaries – The London Walks Reading List
Golders Green - The Dead Centre of London
The London Walks Crime & Punishment Podcast

A London Walk costs £10 – £8 concession. To join a London Walk, simply meet your guide at the designated tube station at the appointed time. Details of all London Walks can be found at

www.walks.com

.