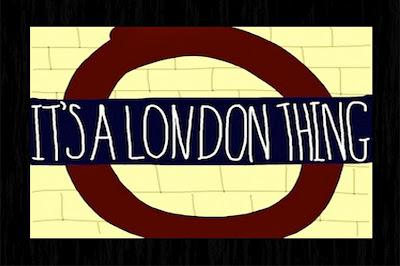 It's A London Thing has been running here on The Daily Constitutional since summer 2010. 


In that time we've covered everything from The London Underground to Fanny Blankers Koen, from rain to the song I'm Forever Blowing Bubbles. 
This week's installment is No.78 – and it's the very last in the series. 


We're letting the curtain fall on this particular strand of our blog in memory of Jean.
Jean, our London Walks colleague, passionate Londoner and inspirational walking tour guide, passed away recently. We miss her.
Jean was London to the core – and we can't think of a single London Thing that could surpass her. We close our series with tributes from her fellow London Walks guides…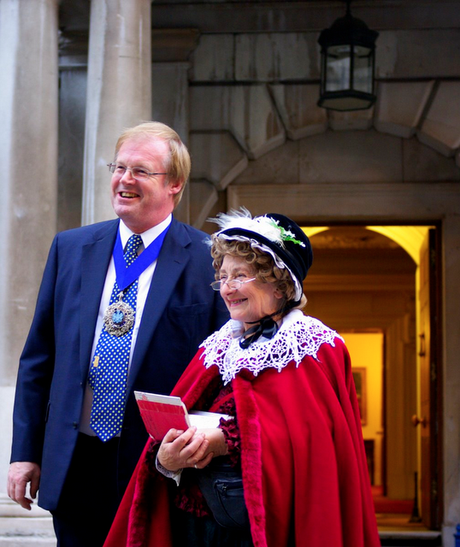 Jean with the Lord Mayor of London

David leads the tributes…
In today's Guardian the wonderful Suzanne Moore talks about seeing "her youngest son leave school, where classmates announced their plans: 'Many wanted to be actors or footballers. But I liked the little boy who just wanted to live in a mansion with his best friend.'"
This "little boy" (David) just wants to live in - and guide in - the mansion called London. Guide in it with his London Walks colleagues and friends.
And there, just like that, is one of my soft spots. The collegiality of London Walks. And, yeah, sure, everybody's busy - on the go all the time - there's sometimes some chafing, there's this season's fraying (compliments of the weather and the 2012 juggernaut) - etc.... but for all that "this old spot is a bloody good place to be." And by "this old spot" I mean London AND London Walks. And the collegiality of London Walks is an important strand of the weave.
And so we come to the point: nobody was more "collegial" than Jean.
Not only did she know London better than anyone else, she was always so helpful, so willing to share those boundless (they seemed to me) riches she'd unearthed and stored in that wonderful mind of hers. (So quintessentially a bred-and-born, full-on Londoner's mind. I often think of her unswerving, if slightly wistful apothegm about married life taking her "out" to Hertfordshire, "I sold my birthright for a mess of pottage." Not entirely fair to Hertfordshire, but that was Jean, that was how she felt about London, about her city, about where she belonged. Decades she lived up in Hertfordshire, but always up there she was Ruth [noun as well as proper noun], "amid the alien corn". She'd give me a hug for that line - because she loved Keats. She wasn't just a Dickens girl.)
With Jean's passing the London Walks repertory has just decreased by a shocking number of walks, of titles. 10-15 percent, I should think. And that's really a lot when you bear in mind that the full London Walks Repertory runs to some 550 walks. So 60-75 walks, something like that - that's how many Jean created over the getting-on-for-a-quarter-of-a-century that she guided for London Walks.
But maybe they won't be lost. Anybody remember the film Fahreheit 451? Set in some ghastly future where books have been banned. And a small group of "out-laws", of non-compliers, have taken it upon themselves to memorise, each of them, one great book apiece. So Shakespeare and Tolstoy and Cervantes and Dickens and Joyce, etc. aren't lost. Barbarism isn't able to put out the flame.
Well, that's what we're hoping will happen with Jean's walks. That each London Walks guide will "adopt" one of the orphans. Keep it alive - with the not inconsiderable help from Jean's notes. The idea was put to her a few weeks before she died and she was thrilled with it. Very much wanted it to happen. We as guides now have to make it happen. And what's not to like about it...
Jean will be walking with us. Walking in her beloved London...  
Alan writes…
Where do you begin with Jean? When I first began with London Walks the first guide I ever went with was Jean 'In The Footsteps of Sherlock Holmes'. The lesson was well learned. To be a good guide you must have a thorough knowledge and love of subject matter and the ability to impart it with enthusiasm and humor. If you're not enjoying it don't be surprised if the walkers aren't.
Jean could quote entire passages of the books verbatim! She could deliver a 'The quality of mercy" and make it sound like you'd never heard it before. These things are what made her a GREAT guide.
Jean raised the bar. In an age of 'Google Guides' she gave you the well researched facts. If anyone shouted then—and they did—'Don't believe a word they say' you could believe every word SHE said. It was flawless. Jean set the standard! We all stumble behind. And the rate at which Jean could move so would Usain Bolt!
No walker ever came with me who had been with her without mentioning the fact and with a smile and a twinkle in the eye that made you realize just how admired she was.
We are all the poorer now but richer for having the privilege of having known and learned from her.
God bless Jean and thank you.
Alison writes…
Jean was an inspiration to all guides. I have never met anyone so knowledgeable about so many subjects and who was always so prepared to pass on her stories or share in her considerable research. The last time I saw her we discussed "The Mystery of Edwin Drood "at length and she offered a completely plausible ending to the book. It was one I had never even considered before yet now I am sure she was right.
It is not only her family, friends and guides who will miss her but also, I am sure, the streets of London and Rochester which will miss her sure footsteps and the whisper of her Victorian skirts as she glided through them. It was as if she was part of them and they belonged together.
There are not enough statues to women in London and I would love to see Jean in her Victorian bonnet joining some of the literary greats in the City in perpetuity.
She was a remarkable woman!
Sue adds…
It was my good fortune to be asked to learn one or two of Jean's walks many years ago when I first joined London Walks.  I soon learned that she set the bar very high and you'd better not come in under it. All her walks were packed with entertaining information and thoroughly researched. This was the benchmark.  She was a superb guide and extremely generous with both her time and material.  All her walks wove many strands into the story and anyone lucky to enjoy one of her performances would come away enriched and rather in awe of her.
Last word to David…
Malcolm, near the beginning of Shakespeare's Macbeth, describes how "execution was done on Cawdor."* Though of course what the lines really impart is the insouciance, the unflinching courage with which Cawdor stepped off the edge into eternity.  
   Nothing in his life Became him like the leaving it. He died As one that had been studied in his death To throw away the dearest thing he owed As 'twere a careless trifle.
Ok, that marker down, let's regroup for a second.
We've lost three friends, three great ladies, three marvelous guides in the last few years.
June. And Mary Frost. And now Jean.
And the Cawdor connection? Well, you can certainly draw a line through - not under - the first five words. Because pretty much everything in June's and Mary's and Jean's lives "became them". They were generous, fun, bright, resourceful, hard working. They were good gals. Good news. Life enhancers.
But there's a qualified "yes" to the Cawdor quote.
I'm just going to say it. You'll see it as soon as I do.
Starting with June. Gone now, how long? But certainly not forgotten. (Thinking about guiding generally it's often occurred to me that we're not dissimilar to that Scott character after whom his novel Old Mortality is named - the old boy who's taken it upon himself, hammer and chisel at the ready, to keep the names on the gravestones from fading into oblivion. As guides we chisel away at the past, keep the present from encrusting it, burying it. And that's sort of what's going on here - that's why June and Mary are here, on this page, as well as Jean.)
But, yes, starting with June. June. Gap-toothed, bawdy June. London Walks' very own Wife of Bath.
June and Jean were especially close. Jean wrote the chapter on Dickens in London Stories. The end of her author "bio" reads "Jean's chapter is dedicated to the memory of June Street, a great guide and a good friend."
June died in Bali. Was cremated on the beach there. Very June, that. Very London Walks. And by that I mean characterful. Cawdoresque. You all - addressing London Walks guides specifically here - may be a bunch of bonhomous Brits extending the hand of welcome to the strangers in your midst. But that isn't the half of it. The main thing is you're a bit and more than a bit of a character. You have to be to do this job. If personalities had plumage London Walks' guides' would be instantly spottable.
June's flared up on that beach in Bali. As it does in our memories, most every day. And I daresay in the memories, from time to time, of the thousands of walkers to whom she opened up London.
And Mary. Big hearted Mary. Forever late Mary. I of course didn't know at the time that the incident I'm going to recount was actually Mary's farewell to me. And that in the form it took - she was gifting me. Many of you already know this story. It was a job down in Docklands. They'd laid down the law to me: "three guides, one for each coach, and they absolutely must be on time. We have to be at the Tower by 6.15 pm."
Judy and I were on time.
Not Mary though.
I was fuming. When she did finally come rushing up, well, surely she read my face and - well, you couldn't make this stuff up. "Oh, oh, oh," she said, "I left in plenty of time but there were two train crashes and a fire on the line."
First thing that came into her mind. Not even remotely "crafted". It was panic, not thought. Who knows, there may have been a delay. But whatever it was that was going to "unfault" her - she stampeded it, "steroided" it. Spectacularly. Character-fully.
And in the event, it was okay. We got them to the Tower on time.
Now Jean. Gearing up to write this I turned to Gray's great classic poem, Elegy Written in a Country Church-yard. And sure enough, there it was. For Jean, London and its history was a "living lyre". A "living lyre" that she always could "wake to ecstasy" in the minds of her walkers. And indeed in the minds of her friends and fellow guides.
It wouldn't be right for Jean, the consummate London, to lie in a country church-yard. She's going to be here in London. Just up the road from us.
When I mapped out the Summer 2012 London Walks programme Jean asked to do a new walk, a West Hampstead walk. A West Hampstead walk the centrepiece of which would be a very good look at the cemetery up here.
Then she was, as you all know, taken very ill, very suddenly. So Mary (Chilton-Tucker) stepped in and will do that walk on the appointed day next month.
The last time Mary talked to Jean - just a day or two before she died - the subject of the walk came up.
Jean said, cheerfully, "I'll be there when you do it."
*Cawdor is the Thane of Cawdor, the traitor whose rebellion mainlines us into the world of 11th-century Scotland as imagined and dramatised by WS.