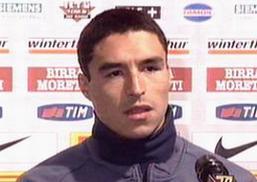 This past Sunday was the cherry on top of a wonderful career for a player that became an idol at Inter.  Iván Ramiro Córdoba came in the 86th minute in the Derby della Madonnina and his Inter Milan side would defeat AC Milan 4-2, thus ending the Rossoneri in Serie A.   For him that marked an era where he was one of the most undisputed defenders in an era that was rather bleak at times and glorious in others.
How things would have changed should he not have answered Hernán Darío Gómez phone call asking him to report to the national team and head to New York for a friendly match. At that point he decided that he was going to quit playing football and he would dedicate himself to his studies in environmental engineering at the University of Antioquia.
In his first years, his size was questioned as a central defender. Many imagined a player with size being able to handle forwards with a great deal of power. His days as a defender at his hometown club of Deportivo Ríonegro made him a player to be looked at by one of the biggest sides in Colombian football- Atlético Nacional.
That was part of the reason he would hold very near and dear to him the honor of having to wear the number two on the Colombian national team.  That number was worn just a few year prior by the late Andrés Escobar.
Fresh off their Copa Libertadores final appearance, Córdoba's transition would keep him in the Aburrá Valley, but the spotlight made it feel like the transcontinental voyage he would embark on years later.
Colombia would take part in the 1999 Copa América and the national team under Javier Álvarez looked to take different route as the Maturana and Gómez era seemed to have ended. Córdoba was one of the key players on that squad that had players the likes of Mario Yepes, whom he would eventually see on the opposite bench at the Stadio Giuseppe Meazza when the Cali native signed with AC Milan. He would also team up with Edwin Congo, who after that tournament would be signed by Real Madrid. During that time, Colombian players were starting to head over to Spain and Congo followed the footsteps of Víctor Hugo Aristizábal who had signed with Valencia back in 1994 but would end up heading back to South America rather quickly.
Iván had many tools that would make him a top line defender- speed, technical skills, vision, strength and of course an uncanny ability to jump high and be able to fight against some taller forwards.  His leaping ability was great but also his technique and positioning helped him obtain an edge in several set pieces and in several areas throughout the pitch.
His career saw him go from Colombia to San Lorenzo in Argentina where Alfio Basile misused him and his career saw itself stuck in a rut.  Basile would not be at the club for long and that would bring about the arrival of Oscar Ruggeri.  The former World Cup winner  would wisen up and decided place the young Colombian at center back, at the two spot and Córdoba would began to emerge and the potential soared big time.  Such was the attention that he was receiving that Ruggeri's former team, Real Madrid showed an interest in the Colombian player.  In the end he would avoid all the eventual advances by the Spanish club and would end up signing with Inter.
Córdoba would play in that infamously memorable match where he would beat Inter teammate Javier Zanetti 3-0; but that was not the main storyline as it would be Martín Palermo that would garner Guinness World Record headlines when he missed three penalties in one match.
This tribute might not be a so long, at this for this humble observer. It could be a see you soon, or so I thought. There are reasons that could see him leave the game for good. His playing time at Inter is scarce and his deterioration was evident in the past few years. Of course, that was evident as he was no longer capable of breaking into the starting lineup after his knee injury and also with players like Lúcio and Walter Samuel becoming obstacles in his way back. Those players as well as the future being almost set on Andrea Ranocchia as well as the purchase of Juan from Internacional who was being considered the heir apparent to his Brazilian teammate.
Yet despite all of the clamors for him to continue his career, he made it evident in an interview with RCN.
"You should leave when fans still want to see you play and want to see you play."- Iván Ramiro Córdoba on his retirement. 
In 2001, Córdoba would return to Colombia as an established defender in one of the best leagues in world with one of the best squads in Serie A. He was also the keystone to Colombia's run towards a title that was questioned by the absence of many top candidates as was the case with Argentina and many of Brazil's stars.   His goal in the final against Mexico was amongst one of the happiest of his career.  That goal, helped unite a country that had become several regions that just sniped at each other and prevented it from advancing further in all aspects.  For a moment, Colombia was not known for all the negative stigmas it had all over the world.
That happiness would be very brief as their first World Cup qualifying match against Peru would be a loss that would end up leaving them out of the 2002 edition of the biggest sporting event in the planet.  That, to him, was still not the saddest moment of his career- but it would be one that ended in a podium position.
He always wanted to be an important part of the Colombian national team's return to the World Cup, an experience he was able to have in the early part of his career back in 1998.  A return trip never became reality.
Titles won at Inter
Five Scudetti
Three Coppa Italias
Three Italian Supercups
One UEFA Champions League
One FIFA Club World Cup
His saddest moment, according to him, was that fateful match against Lazio back in 2002.  That match only required a draw and the neroazzurri would win their first Scudetto in over 13 years. That failure allowed Juventus to conquer the Scudetto and the desire  to win the title remained there.  It would be until the 2004-2005 season where he would be able to start seeing trophies come the way of Inter.  The first of his three Coppa Italia triumphs came that year.
How important had he become to the club?  Córdoba was the captain during that match because Javier Zanetti was taking part in the Confederations Cup.  The triumph ended a seven-year drought.  The following year, Inter would be awarded the Scudetto bacause of the Calciopoli scandal.  That was the beginning of an era of dominance for the Neroazzurri in which they would win the next four consecutive crowns and would battle AS Roma for the Coppa Italia title as well.
Wherever he went he was amongst the most popular players on the squads he was on.  His combative style on the pitch was not the reflection of how he was off of it.  Iván Ramiro was philanthropic as well as socially aware and he was well aware of that image.  He helps out with charities such as Uno Más Uno, a charity that works with children with vision problems. Those as well as many others are charities helped out byt the Colombian international.
Iván Ramiro was more than just a top quality defender with a penchant for the occasional goal. He became one of the best representatives of Colombia abroad. He's now a major idol at the club that gave him essentially. This is what makes him so interesting as a player and as a person.
He himself said that this was not a retirement, it was a new beginning and he was looking forward to the challenges that the next stage of his life will being him.

Subscribe to our newsletter