Published as:  Skin Deep A creative twist on the traditional shingle clads a Connecticut home.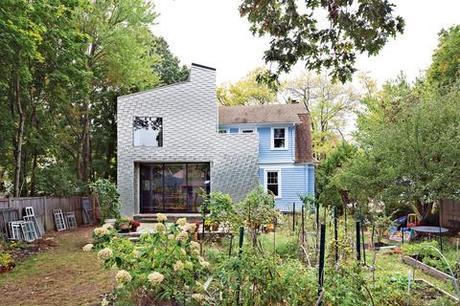 Adventurous but subtle. Something different that doesn't scream for attention. These were the prompts John and Erika Jessen gave to architect Elijah Huge for the addition to their 1920s home in New Haven, Connecticut. With those in mind, Huge set out to find a cladding material that was both eye-catching and cost-effective. "They wanted the skin to be exciting," he says. "I thought the shingles would be a good choice because they would echo the texture of the existing house without trying to imitate it." Even better, the stamped recycled aluminum shingles cost just two dollars per square foot—on par with run-of-the-mill vinyl siding, which "wasn't an option!" exclaims Huge.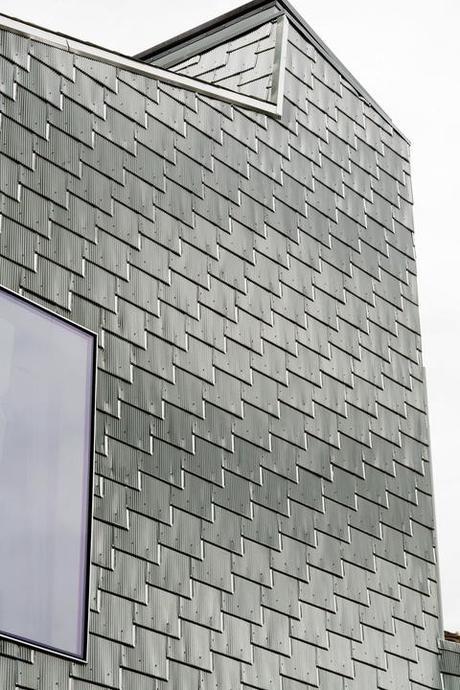 "Good design doesn't require the most expensive materials. However, it does take time to explore ideas and find innovative solutions," says Huge, who, through online sleuthing, discovered the shingles from Reinke Shakes, a Nebraska manufacturer that usually sells its product to builders of barns and geodesic domes. For a contemporary look that accentuates the visual continuity around the structure, he arranged them in a diagonal pattern rather than in a conventional series of stacks.
Thanks to its reflective surface, the extension receives soft and subtle light that gently illuminates the tree-shrouded yard and never casts a harsh glare. "It picks up the hues and intonations around it—yellow-orange in fall, gray in winter, green in summer," says Erika. "It's almost like a chameleon." peripheryprojects.com
reinkeshakes.com