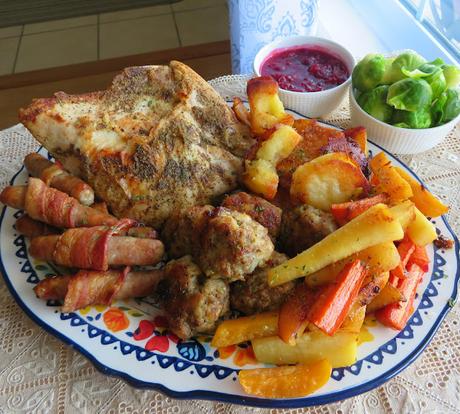 When I first moved over to the UK in the year 2000 I was thinking I was moving to an English speaking country and that things would not really be all that different. Oh how wrong I was.
Nothing would ever be the same for the next 20 years!  And I say that in the nicest possible way! It was not just the accent that was different. Things had totally different names and the foods and traditions were vastly different than what I had grown up and lived with throughout my whole life. 
I have to say that I came to embrace and love everything and there are many, many things that I am missing and will continue to miss in the coming years.  The UK really holds a special place in my heart and always will.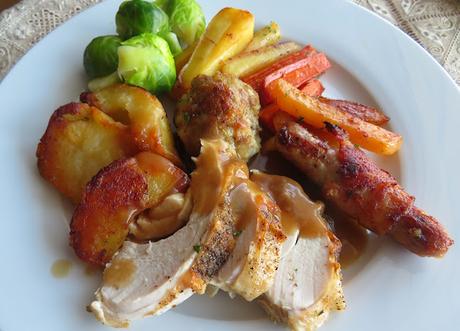 One thing which I loved and totally embraced were their Christmas foods and traditions! The
Christmas Cake
,
Christmas Pudding
and
Mince Pies
were only a very small part of it all!  
I adored the Christmas dinner, with Christmas Crackers, funny hats, jokes around the table and all the fixings.  The dishes served in some ways were very similar to what I was used to eating at Christmas in Canada, but at the same time very different!! 
Nobody does Christmas like the British.  The whole month is a beautiful feast for the eyes, ears and palate!  I really miss it. 
To that end I decided to cook myself a little  mini Christmas Dinner in the British Tradition, sized perfectly for two, with turkey, roast potatoes, sausage stuffing balls, pigs in blankets, parsnips, sprouts and all the other trimmings!!  Minus the crackers, party hats and jokes, sigh . . .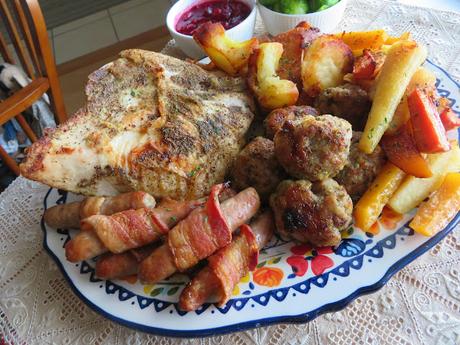 And the whole thing was cooked in pretty much an hour and a half and all on one tray for the most part!  It was also delicious and very much enjoyed by myself.   I am really going enjoy the leftovers today!
If you are only one or two and are up for it, or for trying something totally new this year follow along!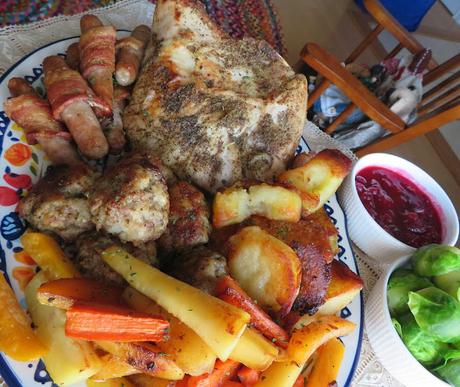 I had bought a couple of bone-in, skin-on split turkey breasts back in October. I cooked one then and I used one yesterday.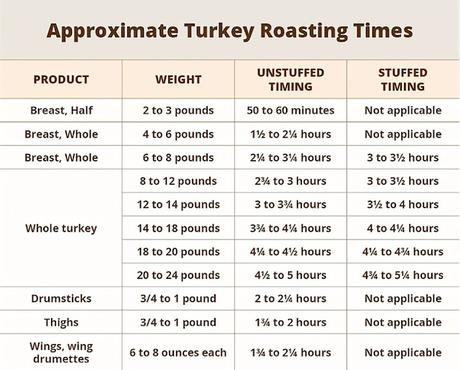 (source)
It weighed .588kg/1 1/4 pounds.  The perfect size for just two people and took approximately 45 minutes according to the above chart.
To prepare it I placed it onto a baking sheet, patted it dry with some paper towels, rubbed it all over with butter, and seasoned it with salt, pepper and some
Bell's seasoning
.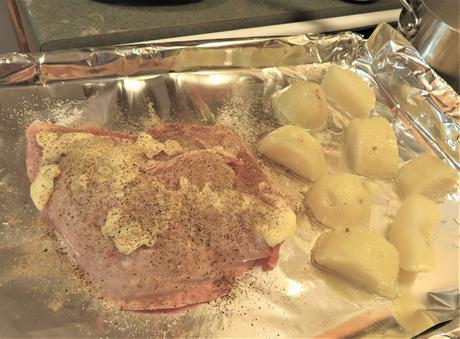 I had preheated my oven to 375*F/190*C/gas mark 5.  I popped it onto a foil lined baking sheet and added some potatoes for roasting at the side.
I used one large baking potato, which I had peeled and cut into large chunks.  I par-boiled these chunks for 5 minutes in boiling water and then drained them really well, returned them to the saucepan. Banged them about a little bit, drizzled with about 1 TBS of oil, turning them to coat them.
These then got added to the end of the baking tray and I popped the whole thing into the oven.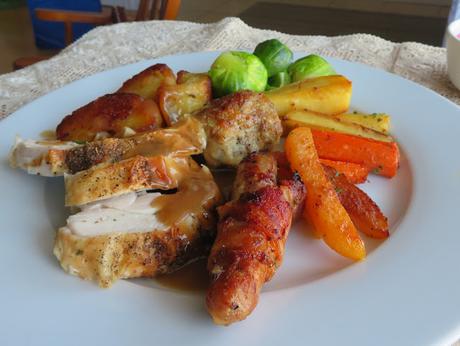 While that was roasting, I got on with the business of preparing the remaining sides and turkey garnishes which is what the pigs in blankets and sausage stuffing balls, etc. are often called.  
One thing you will note is that the British Christmas Dinner, or Christmas Lunch as it is also called is very heavy on the meat.  Typically there is sausage meat in the stuffing and there are pigs in blankets (chipolata sausages wrapped in bacon) served on the side as a tasty garnish.
In fact you will often find that the turkey itself, if being roasted as a whole, will be blanketed with bacon strips to help to prevent the breast meat from drying out.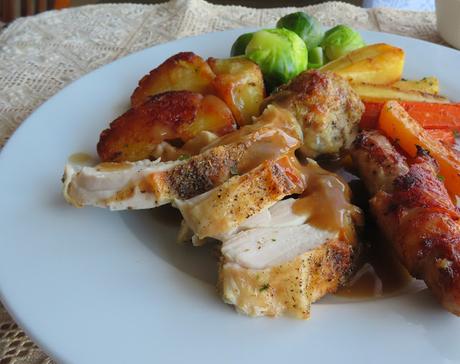 The stuffing is an easy one to make. I used Delia Smiths recipe from her  book, Delia Smith's Complete Cookery Course, the classic edition, for Pork Sage and Onion stuffing.
Of course I had to cut it back substantially as the original made enough to stuff a 12 to 14 lb. turkey!  I did not quite need that much!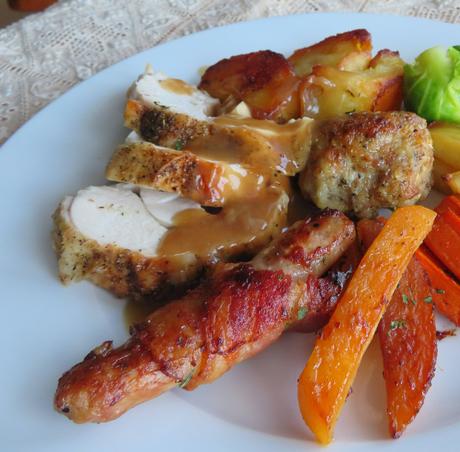 Pork, Sage & Onion Stuffing
Yield:
2 - 3
Author:
Marie Rayner
This is a small portion designed to serve only a few people. It lacks none of the deliciousness of the full version!
Ingredients
1/2 a largish stale Ciabatta roll (70g) (The roll was 6 inches square in size)
2 fat banger sausages, skinned (about 1/3 pound/about 115g)
1/2 cooking onion, peeled and minced
1 TBS dried sage leaves
salt and black pepper to taste
Instructions
Make your bread into coarse crumbs. Place into a bowl along with the onion and sage and some seasoning. Mix together well and add about 2 TBS of hot water.
Add the sausage meat and mix well together with your hands. The mixture should hold together well. If you find it is crumbly or falling apart, you can add a tiny bit more water or an egg yolk.
Shape into balls using wet hands.
Did you make this recipe?
Tag @marierayner5530 on instagram and hashtag it #marierayner5530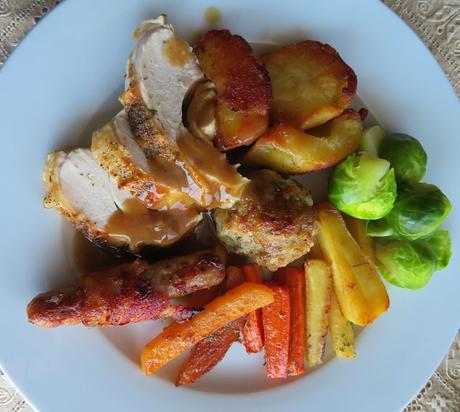 Once I had made the stuffing and shaped it into balls, I set them aside on a plate. It made about six 2 inch balls.
I then got on with making the pigs in blankets.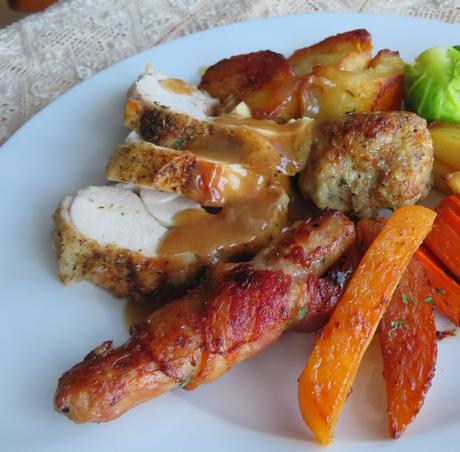 Pigs in Blankets
Yield:
2 - 3
Author:
Marie Rayner
This is a small portion designed to serve only a few people. It lacks none of the deliciousness of the full version!
Ingredients
6 chipolata sausages (in North American use breakfast sausage links)
3 slices of streaky smoked bacon, cut in half crosswise
Instructions
Once you have cut your bacon in half crosswise, stretch each piece a bit and wrap one piece around each sausage link. Place onto the plate/oven tray seam side down.
Did you make this recipe?
Tag @marierayner5530 on instagram and hashtag it #marierayner5530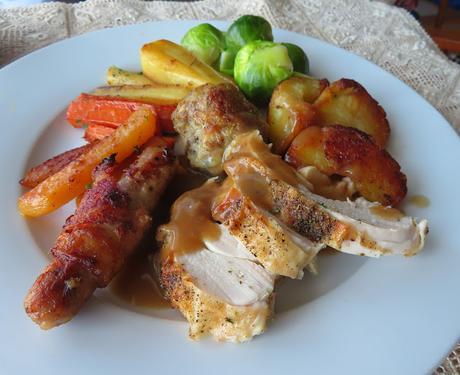 These were also placed on a plate and then I popped the plate into the refrigerator to keep the meat chilled while I prepped the other vegetables. 
I trimmed the brussels sprouts and cut them in half. 
I peeled one carrot, one parsnip and a 1-inch thick slice of a small rutabaga/swede/turnip.  I cut each vegetable into evenly sized batons/sticks, and then par-boiled them in some boiling water for about 5 minutes.
I then tossed them together with 1/2 TBS  honey, 1/2 TBS melted butter and the finely grated zest of 1/2 unwaxed lemon. (Or a waxed one scrubbed in warm water. In any case I scrub my lemons anyways.)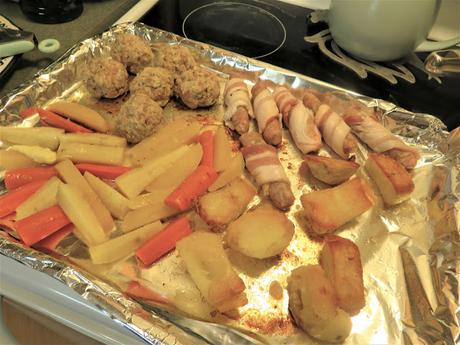 I then removed the tray from the oven. I tested the breast meat and it was done. (Internal temp of 165*F/75*C.  Note that if you cook it to just short of that (162/73), it will continue to cook while it rests and your meat won't be dried out.)
I set the meat aside, lightly tented and kept warm while the rest of the dinner cooked. 
As you can see the potatoes are starting to get a nice golden crust on them. I flipped them over and then added the sausage balls, pigs in blankets and roasting vegetables to the tray, and increased the oven temperature to 400*F/200*C/ Gas mark 6.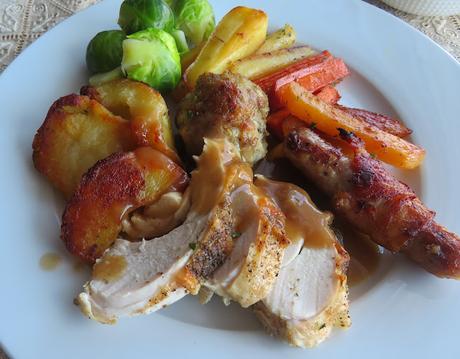 I then returned the tray to the oven to cook at the higher temperature for about 35 minutes, flipping everything over halfway through the cook time.
While they were cooking I got on with making the gravy and cooking my brussels sprouts.  I used my
Perfect Gravy from Scratch
recipe, and then steamed my brussels sprouts for about 5 minutes. (They were large and cut in half.)  Those I cooked right at the last minute.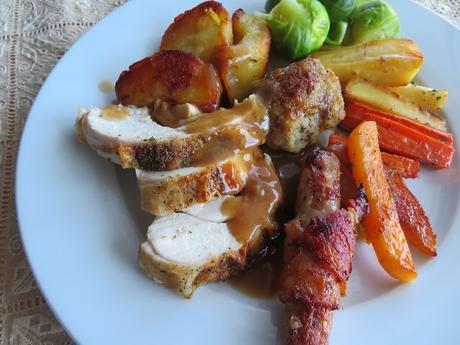 The stuffing balls and pigs in blankets were done when no longer pink inside and the vegetables were nicely caramelized as you can see.
You can also see how nice and crispy my roasted potatoes were.
Everything was simply cooked to perfection, and I wasn't long sitting down and enjoying my beautiful traditional British Christmas Dinner/Lunch for Two!!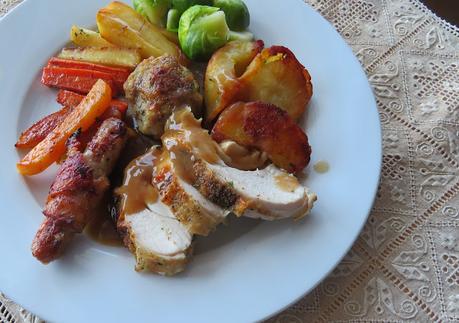 TIMELINE FOR COOKING THE DINNER
Place the turkey and prepped potatoes onto a foil lined baking tray. Put the turkey in about 1 1/2 hour prior to you wanting to serve the meal along with the parboiled potatoes for roasting, at 375*F/190*C/ gas mark 5.
While they are cooking make your sausage stuffing and pigs in blankets.  Prep any other vegetables needed.
Remove the turkey about 45 minutes to one hour later. The exact time will depend on the size of your piece of meat.  Remove it, tent and set aside to keep warm.
Turn over your potatoes. Place the stuffing balls, pigs in blankets and prepped parsnips/carrots and swede the baking tray. Increase the oven temperature to 400*F/200*C/gas mark 6.  Return the baking tray to the oven and cook for a further 30 to 35 minutes until everything is cooked through, golden brown and the vegetables are just beginning to caramelize.
While the stuffing, etc. is cooking make your gravy and then steam your brussels sprouts at the last minute. 
Carve the turkey and serve.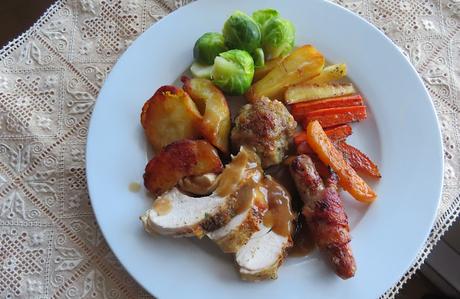 And there you have it!  The perfect Traditional British Christmas Dinner, perfectly sized for just two to three people from start to finish.
I have not included the dessert.  Most people will have mince pies, Christmas Pudding, Christmas Cake and often a Trifle.  You can
find my recipe for a Traditional Christmas Trifle here
.  Its delicious and very traditional.   It is also full sized.
For the smaller family I would cut  recipe in half, but set it up in individual dessert glasses, You will have enough dessert for two days, but I don't think anyone will be complaining!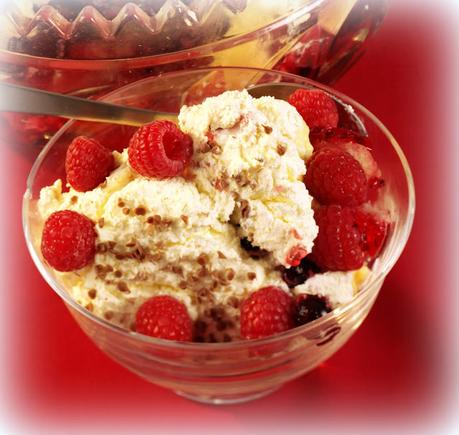 All in all this is a lovely meal.  I really enjoyed it and am contemplating doing a full sized one for my family come Christmas time. My oldest boy is supposed to come over with his wife and two sons.  I am not sure they would appreciate all the extras however, so I will ponder on that!
If you would like full sized recipes for the stuffing or anything else just ask and I will happily give them to you! 
This content (written and photography) is the sole property of The English Kitchen. Any reposting or misuse is not permitted. If you are reading this elsewhere, please know that it is stolen content and you may report it to me at: mariealicejoan at aol dot com Thanks so much for visiting. Do come again! 
Follow my blog with Bloglovin